On July 4th NOAA updated its monthly graph tracking the monthly activity of sunspots on the Sun's visible hemisphere. Below is that updated graph, annotated by me to show the past and new solar cycle predictions.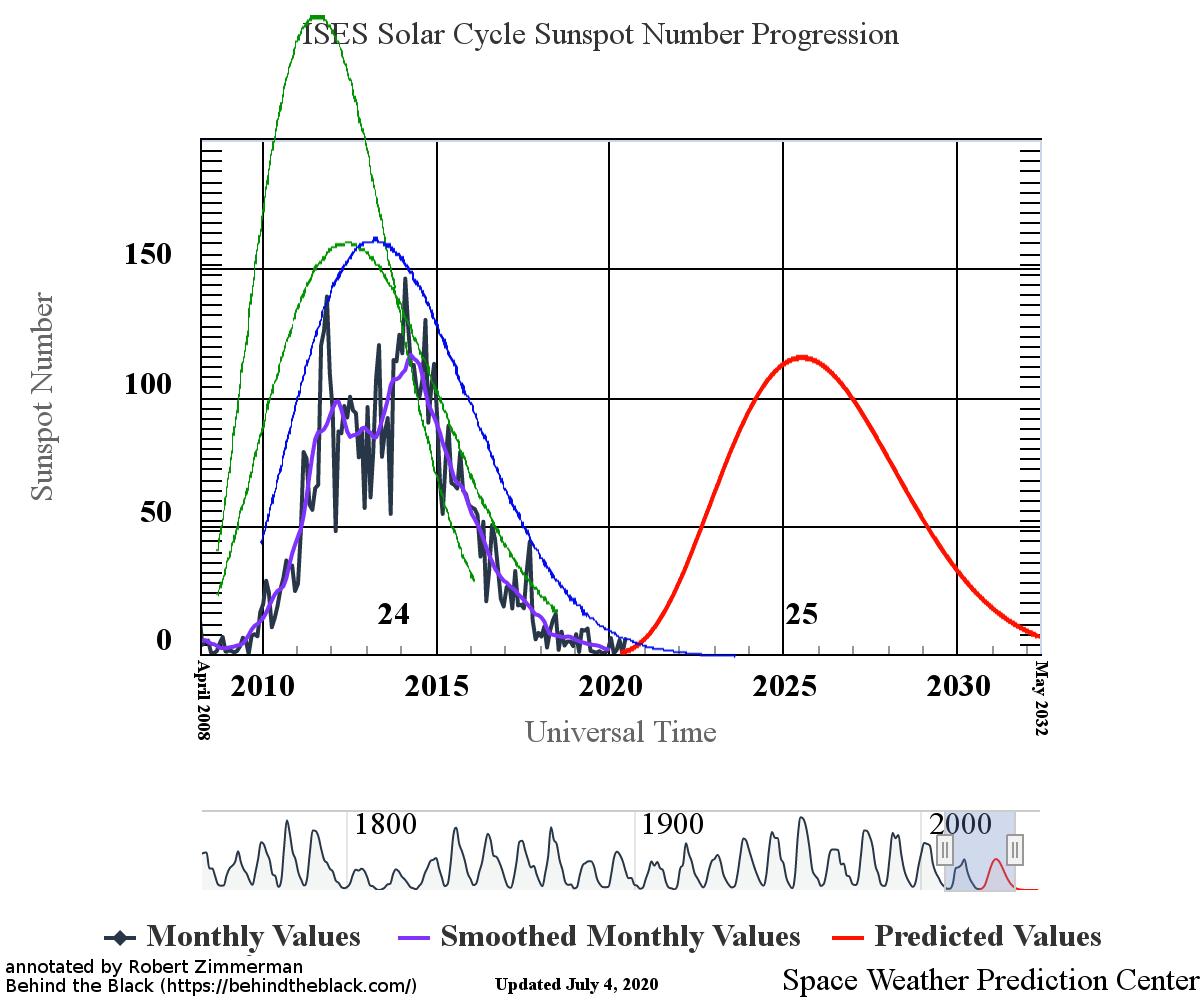 The graph above has been modified to show the predictions of the solar science community for both the previous and upcoming solar maximums. The green curves show the community's two original predictions from April 2007 for the previous maximum, with half the scientists predicting a very strong maximum and half predicting a weak one. The blue curve is their revised May 2009 prediction. The red curve is the new prediction, first posted by NOAA in April 2020.
June saw an uptick of activity since my last update, though that activity remains quite low. We saw two sunspots during the month, both with polarities that link them to the next maximum and thus providing evidence that we will have a maximum in about five or six years. The first of those sunspots was also one of the strongest new cycle sunspots yet seen, and lasted for almost two weeks before it rotated off the visible face of the sun.
The ratio of next cycle sunspots vs sunspots from the past maximum has also been shifting. More and more, the new sunspots belong to the next cycle and less to the last. The ramp up to the next maximum is definitely beginning, though to call it a "ramp up" at this point is a big exaggeration. Sunspot activity remains low, though the last few months have seen some activity, unlike the seven months of nothing seen during the second half of last year.
The upcoming prediction for the next maximum calls for it to be very weak. Interestingly, the activity in June surpassed that prediction. This does not mean that the prediction will be wrong, only that June was more active when compared to the smooth prediction curve. As the cycle unfolds the monthly numbers will fluctuate up and down, as they did last cycle. The question will be whether their overall numbers will match closely with the prediction. In the past cycle actual sunspot activity was consistently below all predictions. It is too soon to say how well the new prediction is doing.
Readers!
Please consider donating to Behind the Black, by giving either a one-time contribution or a regular subscription, as outlined in the tip jar below. Your support will allow me to continue covering science and culture as I have for the past twenty years, independent and free from any outside influence.
Your support is even more essential to me because I keep this site free from advertisements and do not participate in corrupt social media companies like Google, Twitter, and Facebook. I depend wholly on the direct support of my readers.
You can provide that support to Behind The Black with a contribution via Patreon or PayPal. To use Patreon, go to my website there and pick one of five monthly subscription amounts, or by making a one-time donation. For PayPal click one of the following buttons:

If Patreon or Paypal don't work for you, you can support Behind The Black directly by sending your donation by check, payable to Robert Zimmerman, to


Behind The Black
c/o Robert Zimmerman
P.O.Box 1262
Cortaro, AZ 85652