My monthly sunspot for December is late this month because I simply forgot to do it. (Thanks to reader Phill Oltmann for prodding my memory.)
Below is NOAA's monthly graph for tracking the Sun's monthly sunspot activity, annotated by me to show the past solar cycle predictions.
The increasing sunspot activity we saw in October continued spectacularly in November. In fact, the amount of activity was the most seen since the summer of 2017, when the last solar maximum gave us its last big outburst.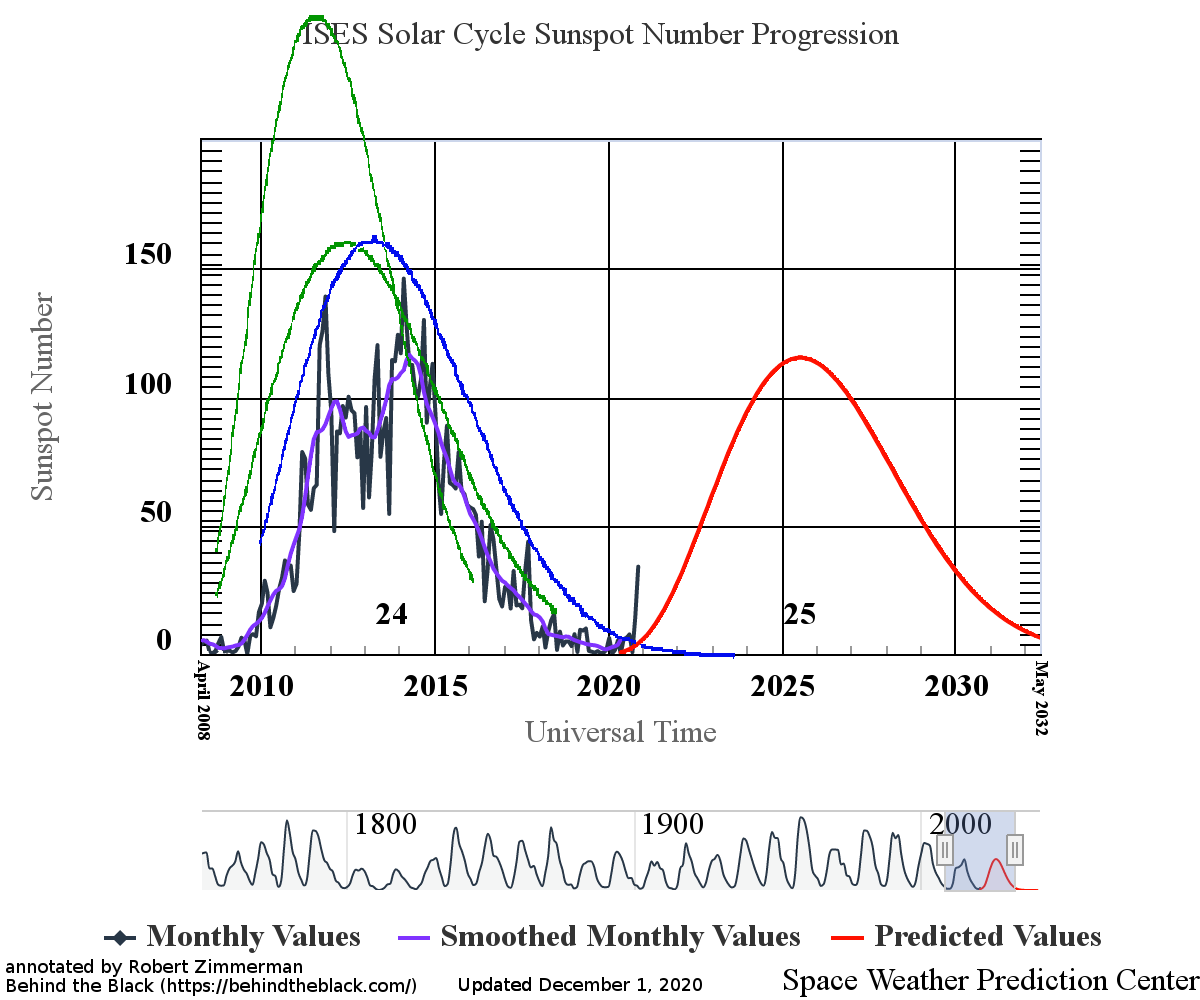 The graph above has been modified to show the predictions of the solar science community for the previous solar maximum. The green curves show the community's two original predictions from April 2007 for the previous maximum, with half the scientists predicting a very strong maximum and half predicting a weak one. The blue curve is their revised May 2009 prediction. The red curve is the new prediction, first posted by NOAA in April 2020.
November's activity proves unequivocally that a new solar maximum is coming. We will have no grand minimum this cycle, despite the unprecedented knowledge it would bring us. The sudden increase in November is not unusual during the initial ramp up to solar maximum, but if a grand minimum was coming we would have likely not seen such a burst of activity.
November's outburst demonstrates again that solar scientists still don't understand the fundamental processes that cause the Sun's magnetic dynamo to cycle as it does. In the past decade we have had predictions calling for either a decline in sunspots, a significant increase, or no significant change during this upcoming cycle.
While the middle prediction now appears more correct, it is still too soon to say. As I noted in 2019, "The range of predictions here is so great that essentially it shows that there really is no consensus on what will happen."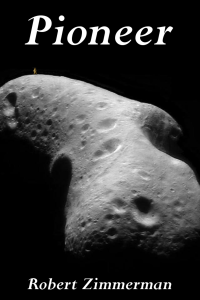 From the press release: From the moment he is handed a possibility of making the first alien contact, Saunders Maxwell decides he will do it, even if doing so takes him through hell and back.
Unfortunately, that is exactly where that journey takes him. The vision that Zimmerman paints of vibrant human colonies on the Moon, Mars, the asteroids, and beyond, indomitably fighting the harsh lifeless environment of space to build new societies, captures perfectly the emerging space race we see today. He also captures in Pioneer the heart of the human spirit, willing to push forward no matter the odds, no matter the cost. It is that spirit that will make the exploration of the heavens possible, forever, into the never-ending future. Available everywhere for $3.99 (before discount) at
amazon
,
Barnes & Noble
, all ebook vendors, or direct from the ebook publisher,
ebookit
. And if you buy it from
ebookit
you don't support the big tech companies and I get a bigger cut much sooner.