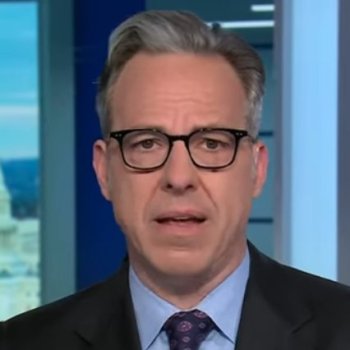 CNN's Jake Tapper, the face of the corrupt mainstream
media
The release of the Durham final report [pdf] this week has produced a flurry of stories, reiterating the wholly unsurprising news that there was never any evidence of collusion between Trump and the Russians and the entire story was a fraud, based on no evidence and drummed up by Democratic Party operatives working for Hillary Clinton both inside and outside of the FBI and Department of Justice.
The leftist mainstream press and the Democratic Party-controlled federal government of course reacted in mixed ways. First, Jake Tapper at CNN reluctantly admitted that the report is "devastating to the FBI, and to a degree it does exonerate Donald Trump." In the same breath however he also tried to minimize the reports damning conclusions, which proved unequivocally that the reporting on this story from day one by him and everyone at CNN was either incompetent or outright lies.
The FBI meanwhile responded to the report with a short three sentence statement, admitting "missteps" were made but "dozens of corrective actions" have been taken since to make sure the agency "continues to do its work with the rigor, objectivity, and professionalism the American people deserve and rightly expect."
Yeah, right. If you believe this hogwash from the FBI I have a bridge in Brooklyn I can sell you, cheap.
Meanwhile other leftist mainstream news outlets scrambled to spin the report, to discredit it without even reading it.
Liars in 2017 and liars now, in 2023.
In truth, the facts brought out by the Durham report, detailed nicely in analyses here and here, simply restate what was patently obvious in 2017, for anyone with the willingness to look dispassionately at the plain facts. As I wrote in July 2017,

I haven't posted anything about the Russian collusion story until now, because on its face it is absurd. As noted repeatedly by even Trump's critics, there is no evidence of any illegal acts by anyone. Moreover, the media focus on the Russians distracts from the heart of the DNC hack, that it revealed illegal pay-offs and corruption by Hillary Clinton, John Podesta, and others in the Democratic Party. I don't really care that much how these emails were obtained since what they uncovered is far worse.
This 2017 conclusion was of course confirmed when Robert Mueller released his final report in 2019, which completely exonerated Trump, though with a reluctance that revealed the partisan hack that Robert Mueller was. And if you doubt me, make sure you watch the video here of Robert Mueller being questioned during a House hearing in 2013. As I concluded, "Mueller comes off clearly as a tool of the Democrats, something he still is today."
The attacks on Trump were always a lie, but what made them worse was the eager cooperation of the entire mainstream press to amplify and spread those lies. And these news hacks did so loudly, endlessly, and without any credible evidence, and appear to be still doing it. They are frauds. Why anyone listens or watches any of them, when there are now many different sources of much better reporting available on the web, baffles me entirely. I haven't watched television or cable news in almost thirty years, for all these reasons.
Do you still rely on these fake mainstream news sources? Why? Are you a fool? Are you willfully ignorant? Or are you so biased and partisan and close-minded that no alternative facts can ever be allowed to enter your mind?
Perhaps this short piece from the Babylon Bee sums up this whole disgusting affair most cogently:
Media Admits They Lied About That Russia Collusion Thing But Are Totally Telling The Truth About Everything Else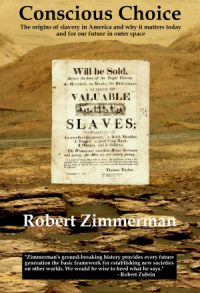 Now available in hardback and paperback as well as ebook!
From the press release: In this ground-breaking new history of early America, historian Robert Zimmerman not only exposes the lie behind The New York Times 1619 Project that falsely claims slavery is central to the history of the United States, he also provides profound lessons about the nature of human societies, lessons important for Americans today as well as for all future settlers on Mars and elsewhere in space.
Conscious Choice: The origins of slavery in America and why it matters today and for our future in outer space
, is a riveting page-turning story that documents how slavery slowly became pervasive in the southern British colonies of North America, colonies founded by a people and culture that not only did not allow slavery but in every way were hostile to the practice.
Conscious Choice
does more however. In telling the tragic history of the Virginia colony and the rise of slavery there, Zimmerman lays out the proper path for creating healthy societies in places like the Moon and Mars.
"Zimmerman's ground-breaking history provides every future generation the basic framework for establishing new societies on other worlds. We would be wise to heed what he says." —Robert Zubrin, founder of founder of the Mars Society.
All editions are available at Amazon, Barnes & Noble, and all book vendors, with the ebook priced at $5.99 before discount. The ebook can also be purchased direct from my ebook publisher, ebookit, in which case you don't support the big tech companies and I get a bigger cut much sooner.
Autographed printed copies are also available at discount directly from me (hardback $24.95; paperback $14.95; Shipping cost for either: $5.00). Just email me at zimmerman @ nasw dot org.