Click for most recent page.
The dark age has arrived! The screen capture on the right, cropped, rearranged, and color adjusted slightly to fit here, comes from the front page of the conservative news aggregate site Rantingly from tonight, the evening of January 8, 2021, only two days after Congress certified Joe Biden as president-elect and only three days after the Democrats had confirmed that they will have majority control of the both the House and Senate in Congress.
I have highlighted in red the pertinent stories. Very quickly, the Democratic Party's allies in at Google, Twitter, Facebook, and Apple have moved to shut down many legitimate and popular conservative and Republican news outlets, including the Twitter feed of the President of the United States. With the Democrats in control of the government, these leftist internet platforms know they have nothing to fear by doing this, that if anything the Democrats controlling Congress will applaud them and encourage them to censor more conservative and Republican outlets, to shut them all down if possible.
Beforehand, these social media platforms had held their fire somewhat out of fear that the Republicans would change their special tax status exemptions that define them as open platforms, not publishers. No longer. Their desire to silence their opponents can now swing into high gear, and they are pushing it for all it is worth, including attempting to silence their direct competitors, such as Parler, a twitter-like platform that prides itself on censoring no one.
It is also very important to recognize that this isn't being done only by the big corporate bosses. No, sirree, this censorship of conservatives and Republicans is fully endorsed by the workforce at these companies. Today's young generation, properly indoctrinated in leftist-controlled universities to hate conservatives and view them all as white supremacists, have been eager to do this for the last two years, and have actually been held back by their corporate bosses. The reins are now off, and their modern culture of oppression and intolerance has moved to the forefront. Persecution is now cool!
This is only the beginning. Even as I wrote this post more links appeared at Rantingly of more examples of censorship.
For myself, because I for years refused to do business with corrupt companies like Google, Apple, Facebook, and Twitter, there is not much they can do right now to hurt me. But these actions today point to the future, and I am not confident my immunity will last very long. The leftists doing this have the power and the willing support of a large percentage of the population. They will use that power and support to jam their boot into every one of their opponent's faces, given time.
The worst part of this horror is that the people who should read it and learn from it, the low information Democratic Party supporters who really don't understand how evil that party has become, will never see it. My readers generally agree with me. Those that do not generally fall into two categories, those who are strongly partisan and will deny these facts whole-heartedly, or hacks working for the Democratic Party who come here merely to spread misinformation and lies.
The decent and moderate people who are knee-jerk Democrats and who desperately need to read this and to see the intolerance spreading across America from the party they support are just not interested. They will turn away, dismissing what I write with a wave of the hand. This can't be true! It must be some mad conspiracy claims of the racist alt-right! And maybe those sites are bad and should be silenced!
And I write this from direct knowledge. I have been surrounded by these people my entire life, being a secular Jew who has also been a college teacher, a film maker, and a science journalist. All these communities are dominated by low information Democrats. I have known them all and have I spent my life trying to get them to wake up, all to no avail.
They will not see. They will not hear. And they will not speak up. And so, worse is coming. We no longer live in the land of the free and the home of the brave.
Soon, it will be a land of oppression and murder and genocide, all because too many Americans decided to close their minds and do nothing.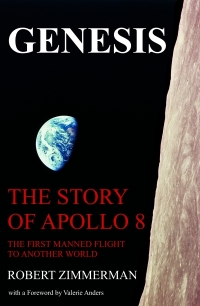 On Christmas Eve 1968 three Americans became the first humans to visit another world. What they did to celebrate was unexpected and profound, and will be remembered throughout all human history. Genesis: the Story of Apollo 8, Robert Zimmerman's classic history of humanity's first journey to another world, tells that story, and it is now available as both an ebook and an audiobook, both with a foreword by Valerie Anders and a new introduction by Robert Zimmerman.
The ebook is available everywhere for $5.99 (before discount) at
amazon
, or direct from my ebook publisher,
ebookit
. If you buy it from
ebookit
you don't support the big tech companies and the author gets a bigger cut much sooner.
The audiobook is also available at all these vendors, and is also
free with a 30-day trial membership to Audible.
"Not simply about one mission, [Genesis] is also the history of America's quest for the moon... Zimmerman has done a masterful job of tying disparate events together into a solid account of one of America's greatest human triumphs."--San Antonio Express-News