In the past week or so there have been numerous stories in the press suggesting that Americans have finally lost patience with the unreasonable Wuhan flu lock downs that have been arbitrarily imposed in the past two months by elected officials, sometimes indefinitely, for no justifiably rational reasons.
In Michigan there were armed protests, and then barbers began publicly defying the lock down orders of their fascist governor.
In New Jersey a health club defied the order of that state's fascist governor and reopened to cheers from its customers.
In Baltimore a pastor stood at the pulpit and ripped apart the shut down order by that city's health department.
In Minnesota the Catholic church announced it was reopening for church services, in direct defiance of the orders of that state's governor.
I could cite many other examples, across the country, in both conservative and liberal states.
Are these push backs necessary? Certainly. These fascist governors and mayors, most of whom have been Democrats, have imposed unreasonable and blatantly illegal arbitrary restrictions on the freedoms of Americans, which must be resisted at all costs.
Are these push backs real? Forgive me if I must sadly remain skeptical. For fifty years I have watched as politicians, mostly from the Democratic Party but with more than ample support from large numbers of Republican Party hacks, have slowly but steadily worked to erode the freedoms of Americans.

For fifty years I, like many other conservative supporters of liberty, have written and spoken about this corrosive process, calling on Americans to fight back, to demand it stop, to fire these corrupt politicians and replace them with those that at least publicly mouth a support for freedom.
All to no avail. The authoritarians and lovers of big government, almost all Democrats, have kept winning elections. Even when they have lost, such as the landslide Congressional elections in 2010 and 2014, the victories were Pyrrhic. Obamacare was not repealed, the federal government and its regulatory state kept growing, and the rights and freedoms of Americans were continually squelched.
The 2018 congressional elections illustrated this well. Despite a slander campaign just before the election by Democratic politicians in Washington against Supreme Court nominee Brett Kavanaugh that would have made Goebbels proud, the Democrats in that subsequent election were rewarded by the voters, able to limit Republican wins in the Senate, while solidly retaking the House of Representatives.
Even Trump's election victory in 2016 has been somewhat hollow, so far. While he has clearly shown a willingness to push back against the Washington power-brokers, causing them to even attempt a coup against him, he has also shown a fearful unwillingness to fire many of these same unelected bureaucrats who helped institute that coup attempt. In this sense Trump has so far been a paper tiger.
Thus, my skepticism at the strength or sincerity of the public push back against big government and the corruption in Washington in the past month. It might be real, but I have doubts about how serious it is. My skepticism is further fueled by the extremes that the these power-hungry thugs have gone to in the past two months to nullify the Bill of Rights, and the remarkable willingness of too many Americans to meekly obey, without protest.
Not only have these modern dictators insisted they have the right, by edict not law, to imprison people for arbitrary reasons and to arbitrarily shut down businesses and bankrupt them, with no compensation, they have now begun mandating the use of masks in public, when the science behind such a demand is murky, uncertain, and even suggests that masks when indiscriminately used actually increases the health risk.
They have freed large numbers of criminals from jail, even as they arrest and jailed housewives, mothers, fathers, ordinary businessmen who were simply trying to get along with their lives.
They have arrested beach-goers, simply because they are on the beach.
They have gone after the children and life savings of salon owners, merely because those salon owners want to make a living to feed their children.
They have arrested church-goers and religious leaders, merely because they want to pray together in public.
They have outlawed civil protests, in direct violation of the First Amendment.
They have demanded citizens snitch and spy on their neighbors, so that they will have the power to arrest and punish more violators.
In my own recent experience I have found that while many friends and acquaintances have expressed private support for my public positions, almost none of them have been willing to publicly support me and face the wrath of the petty dictators who want to run out lives. Doing so publicly might cause them trouble, something they'd rather avoid. So they stay quiet, and thus help prop up the cultural and social rule of these petty dictators.
So, forgive me if I remain pessimistic. Until I actually see a change in the corridors of power, with incumbents and most especially Democrats thrown out of office during elections because of their unconstitutional and illegal abuses of power, I will look at these recent gestures of resistance as exactly that, mere gestures soon to be overruled by the thugs in power, still in power because American voters were unwilling to vote them out, when the chance came.
I hope I am wrong. I hope that come November, the free American people, from both political parties, will rise up gloriously to loudly tell the storm troopers (mostly Democrats but including more than a few Republican thugs) in Congress and in statehouses across the country that we do not consent to your rule and we are firing you. Go get a real job, and leave the rest of us free to pursuit our lives, our liberty, and our happiness, without hindrance.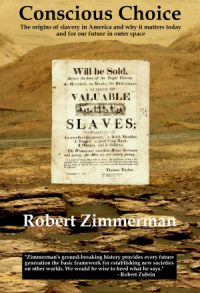 Now available in hardback and paperback as well as ebook!
From the press release: In this ground-breaking new history of early America, historian Robert Zimmerman not only exposes the lie behind The New York Times 1619 Project that falsely claims slavery is central to the history of the United States, he also provides profound lessons about the nature of human societies, lessons important for Americans today as well as for all future settlers on Mars and elsewhere in space.
Conscious Choice: The origins of slavery in America and why it matters today and for our future in outer space
, is a riveting page-turning story that documents how slavery slowly became pervasive in the southern British colonies of North America, colonies founded by a people and culture that not only did not allow slavery but in every way were hostile to the practice.
Conscious Choice
does more however. In telling the tragic history of the Virginia colony and the rise of slavery there, Zimmerman lays out the proper path for creating healthy societies in places like the Moon and Mars.
"Zimmerman's ground-breaking history provides every future generation the basic framework for establishing new societies on other worlds. We would be wise to heed what he says." —Robert Zubrin, founder of founder of the Mars Society.
All editions are available at Amazon, Barnes & Noble, and all book vendors, with the ebook priced at $5.99 before discount. The ebook can also be purchased direct from my ebook publisher, ebookit, in which case you don't support the big tech companies and I get a bigger cut much sooner.
Autographed printed copies are also available at discount directly from me (hardback $24.95; paperback $14.95; Shipping cost for either: $5.00). Just email me at zimmerman @ nasw dot org.