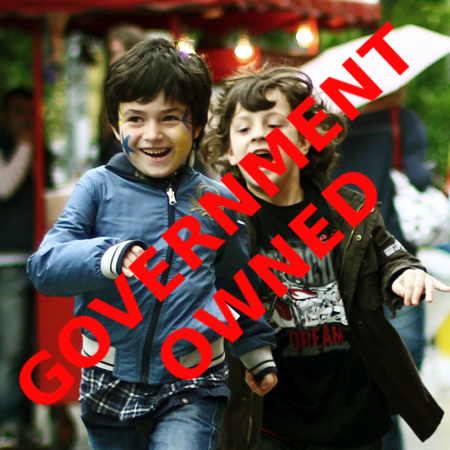 Parents are rejecting this mantra in droves
It has been clear for decades that the public schools in most major urban areas — all of which have been run by Democrats — have been failing badly at their primary task of educating children. Two recent stories underlined this failure.
First, in Baltimore a study found that not one student in twenty-three of the city's schools was proficient in math.
Through an analysis of 150 Baltimore City Schools, 23 of them, including 10 high schools, eight elementary schools, three high schools and two middle schools, no students met math grade-level expectations, according to a report by Project Baltimore. Approximately 2,000 students took the state administered math exams that tested proficiency levels.

…An additional 20 schools in the district had no more than two students proficient in math, Project Baltimore reported. Another three schools in the district, which are for incarcerated students and students with disabilities, had no students that met grade-level expectations.
Essentially, just under one third of all of Baltimore's public schools failed to teach any of their students math. Period. For any school system to accept this level of failure is beyond disgusting. Everyone who works for Baltimore's schools should be canned, now.
Then, just days later, another story revealed that fifty-five of Chicago's public schools were also totally incompetent at teaching math or reading, and should find other work.

In 55 Chicago Public Schools, not one student met grade level expectations in either math or reading during the 2021-2022 school year, according to a Wirepoints report.

Out of 649 Chicago Public Schools, 22 schools have zero students who met grade level expectations for reading while no students were proficient in math in 33 schools during the 2021-2022 school year, according to a Wirepoints report. The data analyzed is from the Illinois State Board of Education annual report which details how schools within the state are performing.
What is important about both stories is how totally unremarkable they are. Such stories have been reported over and over again for decades, not just in cities like Baltimore or Chicago, but in all the country's major cities, from New York to Philadelphia to Detroit to Los Angeles to San Francisco. The Democrats who have controlled the local governments in these cities for decades have failed utterly in this most basic task of local government, even as these politicos succeeded wonderfully in funneling a lot of money to the incompetent union teachers and administrators at these schools.
Even more disturbing has been the utter disinterest in such stories for decades by parents in these cities. Their kids were not being educated, but still those parents in these cities continued to vote for Democrats to run the schools. Still they sent their kids there. And still for years they made no outcry when they found out their kids had learned nothing.
Something however changed as a result of the Wuhan panic. For two years all school instruction in these cities was limited to zoom sessions, therefore allowing parents to watch very closely what the schools were doing. To their horror parents found that not only were these schools doing a very bad job, it appears they were doing so almost intentionally, with their priorities shifting from reading, writing, and arithmetic to promoting queer sex and racial bigotry, almost non-stop.
The result has been a strong shift away from the public schools since the end of the COVID panic. Though this trend had been increasingly noticeable since 2021, recent data underlines it, in a startling way.
The first two stories above describe enrollment drops in specific urban cities (Seattle and New York), trends that have become typical of many urban cities. The next two provide national figures for the past year, showing that instead of enrollment numbers recovering after the end of lockdowns, they continued to drop. Parents have clearly decided to go elsewhere to educate their kids.
Where? According to data cited in the last link above, large numbers have decided to home school their children.
The share of families choosing to homeschool their children doubled in 2020, according to a Census survey. By that fall, about 11% of households with school-age children were homeschooling, up from 5.4% that spring and about 3% in prior years. The shift was especially dramatic among Black families, whose share of homeschooling families grew fivefold in 2020.

In the 21 states and the District of Columbia that track homeschooling, enrollment soared by 30% from fall 2019 to fall 2021, according to the Stanford and AP analysis.
These numbers are impressive, and indicate a shift that is likely permanent. The third story in the list above underlines this, noting the large numbers of students who have literally vanished from the system after COVID. While it is likely that many have simply given up, it is also likely that many are now being home schooled, with their parents not bothering to tell anyone this fact.
There is also ample evidence that many students have switched to private and religious schools.
Nor is this shift limited only to the K though 12 levels. The imposition by traditional public universities of critical race theory and the queer agenda, often by force and blacklisting, has resulted in an increasing shift from those institutions.
It is important to note that this shift away from public schools at all levels is not universal, that in local regions where the public schools are still well run there has been no exodus of students. Consider for example this video of this high school in Carmel, Indiana. This school facilities are numerous, from several gyms to television studios to a planetarium to a weight room to several cafeterias. Not only are students well educated, the school system does it for about $9,600 per student, about half of what Baltimore taxpayers pay per student, $16K. Parents in Carmel are not fleeing their public schools, they are very happy with them.
The bottom line is the need for competition. For decades the public schools had a monopoly on education, a monopoly that parents accepted without question. The result was a public school system where failure became the norm, because there was no competition to challenge it.
This has now changed. Expect many more options beside home-schooling and private religious schools in the coming years. Soon for example we shall see the return of the equivalent of the traditional small private one-room schoolhouse, paid for not by the residents of a small village but by a group of big city parents who have pooled their resources to make sure their kids are well educated. Many now call these pods, but they are really no different than those pioneer schoolhouses.
And their existence is all to the good. The more the merrier.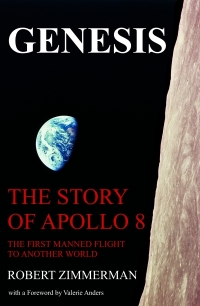 On Christmas Eve 1968 three Americans became the first humans to visit another world. What they did to celebrate was unexpected and profound, and will be remembered throughout all human history. Genesis: the Story of Apollo 8, Robert Zimmerman's classic history of humanity's first journey to another world, tells that story, and it is now available as both an ebook and an audiobook, both with a foreword by Valerie Anders and a new introduction by Robert Zimmerman.
The ebook is available everywhere for $5.99 (before discount) at
amazon
, or direct from my ebook publisher,
ebookit
. If you buy it from
ebookit
you don't support the big tech companies and the author gets a bigger cut much sooner.
The audiobook is also available at all these vendors, and is also
free with a 30-day trial membership to Audible.
"Not simply about one mission, [Genesis] is also the history of America's quest for the moon... Zimmerman has done a masterful job of tying disparate events together into a solid account of one of America's greatest human triumphs."--San Antonio Express-News