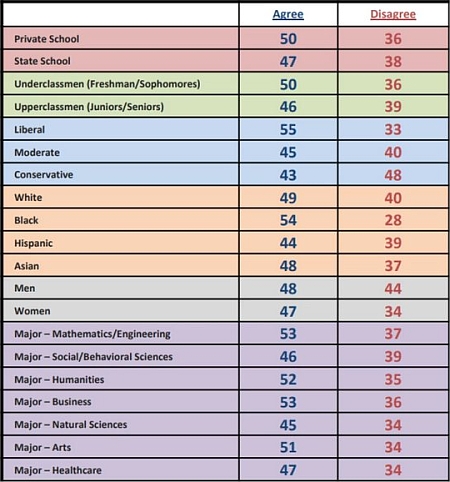 The poll numbers, across all demographics
This is no longer a land of the free: According to a new poll, half of today's college students now believe that the death penalty is justified for some people should they dare express an opinion that offends.
Specifically, the students were asked if they agreed or disagreed with the statement:
Violence in response to offensive speech is not a new phenomenon. In some cultures, some types of offensive speech even merit the death penalty. Some speech can be so offensive in certain cases that it merits such harsh punishment.
As shown in the graph to the right, across the board, 43% to 55% of students from private and public schools, from all types of majors, from all levels of income, and from across the political spectrum, all agreed with this statement. The results were remarkably consistent. Tolerance was not their watchword, but oppression and dictatorship. If you say something that offends, half of today's students feel justified in calling for your death.

"The college student disillusionment with free speech is growing at an alarming pace," Buckley Program founder and Executive Director Lauren Noble told us. "More students are intimidated from speaking freely, and more students are willing to intimidate others from speaking freely than at any time in the history of the survey. In many ways, America's undergraduate student body seems to be abandoning the very ideas that made America the great country it is today," said Noble.

The survey is the eighth time the Buckley Program has surveyed students for their support for the Constitution and the furthest it has found students straying from basic American freedoms and values.
Some will take comfort by the fact that half the students don't agree, but since the other half is enthused by the idea of violence and force to impose its will, the intolerant students are going to be in charge in the coming decades. The future does not look bright. You will not be free to speak your mind. And if you do, you will almost certainly face harsh punishment, some merely social, but increasingly legal and brutal.
The rule of this intolerant class will be strengthened because the students who do favor freedom also appear cowed. This group is no longer willing to fight for its rights. Instead, they increasingly go silent, and look the other way when someone is blacklisted or attacked.
As a result, the intolerant half of students will more and more impose intolerant rules that will shut down not only free speech, but free elections and free competition. Soon, this same large cohort of totalitarians will decide that silence itself is dissent, that if you do not enthusiastically declare your support for their agenda you must be expunged from society.
We shall all be invited daily to attend our Orwellian hate sessions. And if you do not, that hate will immediately be aimed at you.
Am I being paranoid? The introduction of critical race theory in almost all levels of society, corporate, education, entertainment, and government, proves that I am not. There are now political agents in all these industries and agencies whose only job is to make sure everyone abides by the racist political agendas of the day, and impose harsh punishments for any dissent. Please note also that I myself have already experienced an ugly but relatively mild form of this type of blacklisting.
Give such people the reins of power, which they increasingly have, and it is guaranteed that mildness will not describe their future actions. Genocide will come, as surely as the sun rises.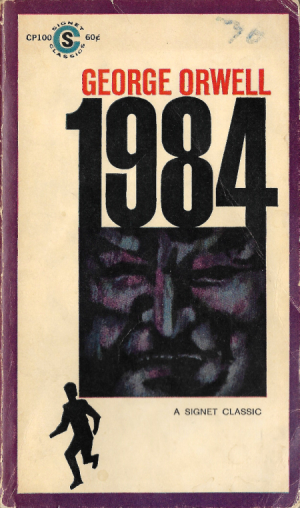 The political instruction manual of the future
Those who honor freedom and free speech had better recognize this reality real soon. It is going to involve some real fighting and some real pain to win the coming battles, as the intolerant will be in charge, and will be quite willing to use force to maintain their control.
For example, assume you have never been political in any way but consider yourself in favor of free speech. Would you be willing hide a person whom the police wish to arrest and execute, merely because of something that person said? This was the choice faced by many in the fascist dictatorships in 1930s Europe. A few had the courage to do the right thing. Far more took the easy way.
I strongly doubt there are many Americans today willing to do the courageous thing. More likely most Americans today will say, "I can't get involved. Ask someone else for help. And please, don't tell anyone you spoke to me."
As I wrote last week, it is time to face some hard truths about America's political future. It is no longer the open and free society it once was. To resist those who rule will involve real personal risk, especially because those taking those risks will be in what appears to be a steadily shrinking minority.
We must each therefore ask this question of ourselves, and answer the question with cold, intellectual honesty: Do I believe in freedom enough to take such risks?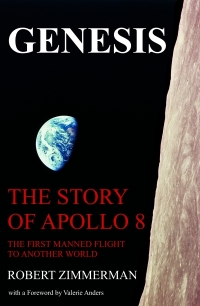 On Christmas Eve 1968 three Americans became the first humans to visit another world. What they did to celebrate was unexpected and profound, and will be remembered throughout all human history. Genesis: the Story of Apollo 8, Robert Zimmerman's classic history of humanity's first journey to another world, tells that story, and it is now available as both an ebook and an audiobook, both with a foreword by Valerie Anders and a new introduction by Robert Zimmerman.
The ebook is available everywhere for $5.99 (before discount) at
amazon
, or direct from my ebook publisher,
ebookit
. If you buy it from
ebookit
you don't support the big tech companies and the author gets a bigger cut much sooner.
The audiobook is also available at all these vendors, and is also
free with a 30-day trial membership to Audible.
"Not simply about one mission, [Genesis] is also the history of America's quest for the moon... Zimmerman has done a masterful job of tying disparate events together into a solid account of one of America's greatest human triumphs."--San Antonio Express-News