They're coming for you next: Journalist Andy Ngo has spent the last two years being pretty much one of the few real journalists covering the violent, fascist, storm-trooper tactics of the leftist Antifa and Black Lives Matter movements, carefully documenting in both print and visuals their riots and attacks of innocent citizens.
His reporting has been so effective that Antifa thugs attacked him in 2019, sending him to the emergency room in Portland.
Furthermore, those same Portland brownshirts stormed a local bookstore, causing its evacuation and early closure, because it happened to be selling Ngo's book on Antifa activities in Portland, Unmasked. The protests eventually forced the bookstore to remove the book from its shelves, though it still sells it online.
Nor has that been the sum total of Antifa's effort to blacklist Ngo. They have been issuing him death threats, and even though Ngo told the Portland police, even naming some names, the police did nothing.
Ngo was thus forced to flee Portland temporarily, moving to London. The irony is that his parents were refugees who came to the United States to gain freedom and the right to speak freely. Now their son has fled the U.S. for the same reasons.
When asked how he would describe Antifa in one sentence, he said, "For their world to live and thrive, America has to die."
The worst part of these attacks has been the shallow willingness of the mainstream media to go along with the false slanders and lies against Ngo and to spread them.
National publications, such as Rolling Stone and Salon used a local alternative weekly "blog," as Ngo puts it, to smear him using epithets with which we're only all too familiar: racist extremist. "And then so whenever you google me now and [view] my Wikipedia page, all you see are these false accusations," he explained. "All of this has been an attempt to get me canceled; to make me out to be someone I'm not, make me out to be a far-right extremist."
It is all part of Obama's legacy of hate, where slanders and libels by the left are now their first go-to argument in any debate.
Ngo deserves great kudos and support, however. Unlike many who fold to this fascist pressure, he has stood strong, and continued his reporting, honestly and in detail. Furthermore, the attacks have actually helped sales of Unmasked, making it a major bestseller. For a short while was number one on Amazon, and is still #37 as of today.
His fearless willingness to fight is of course the right response. Buying his book is another. We must not bow to these bullies and tyrants. We must look them in the eye and defy them. Only then will we ever have the chance to once again become free.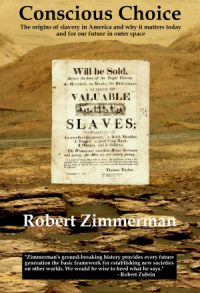 Now available in hardback and paperback as well as ebook!
From the press release: In this ground-breaking new history of early America, historian Robert Zimmerman not only exposes the lie behind The New York Times 1619 Project that falsely claims slavery is central to the history of the United States, he also provides profound lessons about the nature of human societies, lessons important for Americans today as well as for all future settlers on Mars and elsewhere in space.
Conscious Choice: The origins of slavery in America and why it matters today and for our future in outer space
, is a riveting page-turning story that documents how slavery slowly became pervasive in the southern British colonies of North America, colonies founded by a people and culture that not only did not allow slavery but in every way were hostile to the practice.
Conscious Choice
does more however. In telling the tragic history of the Virginia colony and the rise of slavery there, Zimmerman lays out the proper path for creating healthy societies in places like the Moon and Mars.
"Zimmerman's ground-breaking history provides every future generation the basic framework for establishing new societies on other worlds. We would be wise to heed what he says." —Robert Zubrin, founder of founder of the Mars Society.
All editions are available at Amazon, Barnes & Noble, and all book vendors, with the ebook priced at $5.99 before discount. The ebook can also be purchased direct from my ebook publisher, ebookit, in which case you don't support the big tech companies and I get a bigger cut much sooner.
Autographed printed copies are also available at discount directly from me (hardback $24.95; paperback $14.95; Shipping cost for either: $5.00). Just email me at zimmerman @ nasw dot org.