They're coming for you next: Journalist Andy Ngo has spent the last two years being pretty much one of the few real journalists covering the violent, fascist, storm-trooper tactics of the leftist Antifa and Black Lives Matter movements, carefully documenting in both print and visuals their riots and attacks of innocent citizens.
His reporting has been so effective that Antifa thugs attacked him in 2019, sending him to the emergency room in Portland.
Furthermore, those same Portland brownshirts stormed a local bookstore, causing its evacuation and early closure, because it happened to be selling Ngo's book on Antifa activities in Portland, Unmasked. The protests eventually forced the bookstore to remove the book from its shelves, though it still sells it online.
Nor has that been the sum total of Antifa's effort to blacklist Ngo. They have been issuing him death threats, and even though Ngo told the Portland police, even naming some names, the police did nothing.
Ngo was thus forced to flee Portland temporarily, moving to London. The irony is that his parents were refugees who came to the United States to gain freedom and the right to speak freely. Now their son has fled the U.S. for the same reasons.
When asked how he would describe Antifa in one sentence, he said, "For their world to live and thrive, America has to die."
The worst part of these attacks has been the shallow willingness of the mainstream media to go along with the false slanders and lies against Ngo and to spread them.
National publications, such as Rolling Stone and Salon used a local alternative weekly "blog," as Ngo puts it, to smear him using epithets with which we're only all too familiar: racist extremist. "And then so whenever you google me now and [view] my Wikipedia page, all you see are these false accusations," he explained. "All of this has been an attempt to get me canceled; to make me out to be someone I'm not, make me out to be a far-right extremist."
It is all part of Obama's legacy of hate, where slanders and libels by the left are now their first go-to argument in any debate.
Ngo deserves great kudos and support, however. Unlike many who fold to this fascist pressure, he has stood strong, and continued his reporting, honestly and in detail. Furthermore, the attacks have actually helped sales of Unmasked, making it a major bestseller. For a short while was number one on Amazon, and is still #37 as of today.
His fearless willingness to fight is of course the right response. Buying his book is another. We must not bow to these bullies and tyrants. We must look them in the eye and defy them. Only then will we ever have the chance to once again become free.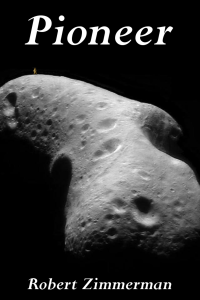 From the press release: From the moment he is handed a possibility of making the first alien contact, Saunders Maxwell decides he will do it, even if doing so takes him through hell and back.
Unfortunately, that is exactly where that journey takes him. The vision that Zimmerman paints of vibrant human colonies on the Moon, Mars, the asteroids, and beyond, indomitably fighting the harsh lifeless environment of space to build new societies, captures perfectly the emerging space race we see today. He also captures in Pioneer the heart of the human spirit, willing to push forward no matter the odds, no matter the cost. It is that spirit that will make the exploration of the heavens possible, forever, into the never-ending future. Available everywhere for $3.99 (before discount) at
amazon
,
Barnes & Noble
, all ebook vendors, or direct from the ebook publisher,
ebookit
. And if you buy it from
ebookit
you don't support the big tech companies and I get a bigger cut much sooner.