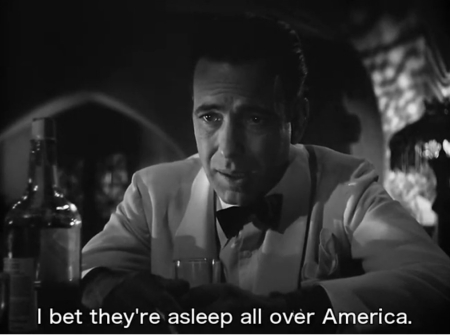 Click for video.
Today's column on blacklisting won't point out any particular person or group being blacklisted. Instead, I want to make it clear to my readers how completely dominate the intolerant culture of blackballing and censorship has become in America.
This intolerance has been well documented for years in the political, academic, and artistic communities. If you dare to be an outspoken conservative or Republican you will quickly find yourself an outcast, your job threatened and your future squashed. I know. I have been both a filmmaker and a film teacher, and am now a journalist writing often about political matters, and have had to face blacklisting myself more than a few times.
It is only in the last year that it has become evident that the the business community wishes to join in.
To fight this, many open-minded and tolerant Americans try to avoid companies that oppress people for their political views or ethnicity, in the hope that the loss of income will force these companies to change their behavior. In fact, there is now even a webpage, Cancel This Company, that tries to provide a complete list of the worst and most oppressive companies, while also carefully documenting that bad behavior so you know your decision is based on fact.
Sounds good, doesn't it? Well it ain't that easy.

As my readers know, I do not use Twitter, Facebook, and Google expressly because I think they are corrupt and unethical companies who eagerly participate in the blacklisting of conservatives. I also make a dedicated effort to buy goods from decent businesses, avoiding companies whom have proven themselves bigoted.
Yet, in reviewing the list of businesses on CancelThisCompany, I discovered that there are vast areas of modern American business where it is almost impossible to avoid supporting such companies, especially in the computer and communications world. For example, to avoid Google I use DuckDuckGo. Yet, it appears that it is, like Google, a partisan search engine that has been shaping searches to shadow-ban conservative sites.
Similarly, I try to limit my use of Amazon but as a writer who wants to sell his books this is literally impossible.
Want to buy groceries from a company that treats everyone equally? Can't do it where I live. All the nearby supermarkets are on the list. There are no options otherwise.
There are many other examples. Take a look for yourself.
Nonetheless, I encourage all my readers to use this website as a guide for taking your business to rational and fair-minded companies and away from businesses that have decided that oppression is their business.
But be warned. You are going to find it difficult to succeed. The modern American culture of oppression has become widespread, dominant, and enthusiastic. It has its tentacles in everything, and fighting it will take great courage and possibly a great deal of sacrifice.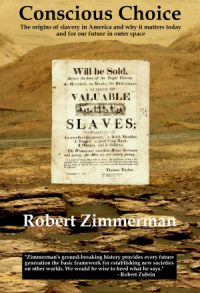 Now available in hardback and paperback as well as ebook!
From the press release: In this ground-breaking new history of early America, historian Robert Zimmerman not only exposes the lie behind The New York Times 1619 Project that falsely claims slavery is central to the history of the United States, he also provides profound lessons about the nature of human societies, lessons important for Americans today as well as for all future settlers on Mars and elsewhere in space.
Conscious Choice: The origins of slavery in America and why it matters today and for our future in outer space
, is a riveting page-turning story that documents how slavery slowly became pervasive in the southern British colonies of North America, colonies founded by a people and culture that not only did not allow slavery but in every way were hostile to the practice.
Conscious Choice
does more however. In telling the tragic history of the Virginia colony and the rise of slavery there, Zimmerman lays out the proper path for creating healthy societies in places like the Moon and Mars.
"Zimmerman's ground-breaking history provides every future generation the basic framework for establishing new societies on other worlds. We would be wise to heed what he says." —Robert Zubrin, founder of founder of the Mars Society.
All editions are available at Amazon, Barnes & Noble, and all book vendors, with the ebook priced at $5.99 before discount. The ebook can also be purchased direct from my ebook publisher, ebookit, in which case you don't support the big tech companies and I get a bigger cut much sooner.
Autographed printed copies are also available at discount directly from me (hardback $24.95; paperback $14.95; Shipping cost for either: $5.00). Just email me at zimmerman @ nasw dot org.