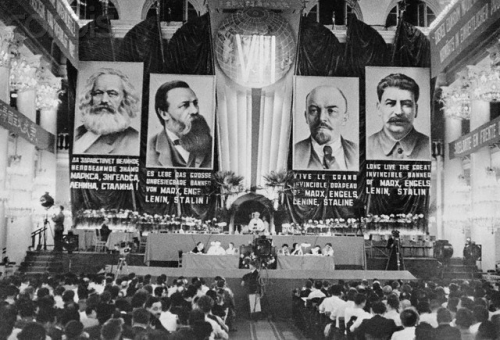 Show trials: Debate as Twitter sees it.
Blacklists are back and Twitter's got 'em: Rather than write today about a single specific individual being blacklisted and destroyed by today's intolerant left, let's take a look at one of that left's most intolerant and oppressive blacklister, Twitter.
Like all the big tech social media companies such as Google and Facebook, Twitter is essentially run like a leftwing fiefdom. Though it allows conservative writers to post there, it makes it very clear that they are always under a probation that can be withdrawn immediately if someone in company's workforce finds itself offended or disagreeing with something that conservative posted.
For example, in January religious radio host Michael Brown got banned from Twitter for twelve hours for simply posting a tweet where he asked this simple question: "Will I get punished by Twitter for saying that, in God's sight, 'Rachel' Levine (nominated by Biden to be his assistant secretary for HHS) is a man?"

Since Levine is a man who simply likes to wear woman's clothing, this statement is a fact. However, from the modern leftist worldview endorsed by Twitter, you must bow to Levine's personal sexual fantasies and call him a woman, because he demands you do so, or you must be blackballed. And Twitter is happy to do the blackballing.
In another example, Twitter banned journalist Andy Ngo temporarily in November for stating some documented facts about the murders of men like Levine, disproving some of the claims of this cross-dressing community (which also demands we call them the "transgender" movement, a shortening of the term "transitioning gender" because they actually haven't had any surgery to change their gender but are merely thinking about it).
Ngo made the mistake of daring to question Chelsea Clinton and the left-wing activist organization Human Rights Campaign for peddling the pervasive myth that transgender people are the subjects of mass hate crimes and identity-targeted murder. "Since 2013, more than 150 trans people have been murdered in the U.S., the majority Black transgender women. On #TDoR2019, we remember and honor the lives lost, hold their loved ones in our hearts and must commit to doing all we can to end this epidemic of violence and hate." [tweeted] Chelsea Clinton [on] November 20, 2019.

Of course, while all of these deaths are tragic, most of these people were not targeted or murdered on the basis of their identity. Rather, they just happened to be transgender and they were murdered. So Ngo questioned this dubious narrative, as to both murder rates and the fact that many are carried out not by evil cisgender white males but by black men. According to the Post Millennial, he tweeted, "The US is one of the safest countries for trans people. The murder rate of trans victims is actually lower than that for cis population. Also, who is behind the murders? Mostly black men."
Blowing the bubble on this sexual political movement cannot be allowed, and Ngo's Twitter account was quickly suspended.
More recently Twitter shutdown the account of the conservative news organization Project Veritas, claiming it had violated "the Twitter Rules on platform manipulation and spam" while also "operating fake accounts."
Mario Balaban of Project Veritas told the Washington Examiner that two other Twitter accounts associated with Project Veritas, besides O'Keefe's account, have already been banned by Twitter, and so there are no other active Twitter accounts that the group uses. The account for Project Veritas was permanently suspended from Twitter, and O'Keefe was temporarily locked from his account for violating the tech giant's "private information policy" in February.

"Twitter won't tell us what fake accounts they're talking about. They're making it up, it's all just nonsense," Balaban said. [emphasis mine]
The highlighted text above is very typical of all of Twitter's bans. They give some vague reason, but never document it in any way. And then refuse to provide the banned individuals or organizations any way to appeal or obtain more information.
Since there is no evidence at all that Project Veritas ever operated any fake accounts, it is presently suing Twitter for defamation.
Of course the most famous example of Twitter's political bias was its decision to permanently shutdown Donald Trump's Twitter account. They claimed he was inciting violence by spreading misinformation about election fraud during the November election, but that claim is absurd. There is evidence that there was widespread election fraud in November. The only fact that has not yet been proven is whether Trump's victory was stolen from him by this fraud. He claims it was. Others say no. This is a valid debate that should be answered not by Twitter censorship but by a careful investigation into the election itself.
More revealing was Twitter's refusal, at the same time, to do anything about the use of its platform by leftists to organize rioting and looting. As Ngo himself documented, Twitter did nothing to rein in the use of its platform by Antifa:
"In Seattle and Portland, there were simultaneous riots that were pre-planned and organized, and also advertised weeks ahead of time on Twitter," Ngo said in an interview with The Epoch Times' American Thought Leaders program, ahead of the Feb. 2 publication of his book, "Unmasked: Inside Antifa's Radical Plan to Destroy Democracy."

"Twitter did nothing to take down some of these accounts that were promoting these riots," he said.

Twitter didn't immediately respond to a request for comment by The Epoch Times.
In fact, such cancellations and suspensions almost never happen to Democrat politicians or those expressing leftist opinions, no matter how vile or even illegal. In another example only two weeks ago, Twitter featured a news article in the leftist newspaper The Guardian that used hacked data to dox a number of private individuals, merely because they donated anonymously to the legal defense funds of several people whom the Guardian dislikes.
This was a clear violation of Twitter's rules about misusing private information. Yet instead of banning the Guardian it promoted the story.
Nor have I mentioned Twitter's blocking of the New York Post in October because of its scoop outlining the illegal payoffs to Joe Biden's son Hunter in connection with his dealings with the Chinese government. The story was quite legitimate and has since been repeatedly proven to be valid. Yet, Twitter, along with Google and Facebook, did whatever it could to bury it as it was quite harmful to the campaign of its political partner, Joe Biden and the Democratic Party.
Twitter should be considered a Democratic Party operative, which also works to promote the political and violent agenda of Antifa and BLM. Why any fair-minded journalist uses it is beyond me. I do not, nor will I ever. It is a cesspool of hate and mob rule. Not only does its format promote mindless, emotional, and childish stupidity, it does so with a clear leftist agenda that also endorses the idea of blacklists and the destruction of people who disagree with that agenda.
Time for all intelligent people from both sides of the political spectrum to go elsewhere for their political debates.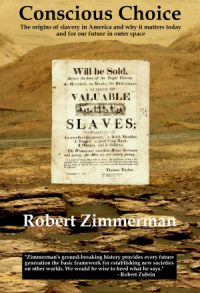 Now available in hardback and paperback as well as ebook!
From the press release: In this ground-breaking new history of early America, historian Robert Zimmerman not only exposes the lie behind The New York Times 1619 Project that falsely claims slavery is central to the history of the United States, he also provides profound lessons about the nature of human societies, lessons important for Americans today as well as for all future settlers on Mars and elsewhere in space.
Conscious Choice: The origins of slavery in America and why it matters today and for our future in outer space
, is a riveting page-turning story that documents how slavery slowly became pervasive in the southern British colonies of North America, colonies founded by a people and culture that not only did not allow slavery but in every way were hostile to the practice.
Conscious Choice
does more however. In telling the tragic history of the Virginia colony and the rise of slavery there, Zimmerman lays out the proper path for creating healthy societies in places like the Moon and Mars.
"Zimmerman's ground-breaking history provides every future generation the basic framework for establishing new societies on other worlds. We would be wise to heed what he says." —Robert Zubrin, founder of founder of the Mars Society.
All editions are available at Amazon, Barnes & Noble, and all book vendors, with the ebook priced at $5.99 before discount. The ebook can also be purchased direct from my ebook publisher, ebookit, in which case you don't support the big tech companies and I get a bigger cut much sooner.
Autographed printed copies are also available at discount directly from me (hardback $24.95; paperback $14.95; Shipping cost for either: $5.00). Just email me at zimmerman @ nasw dot org.