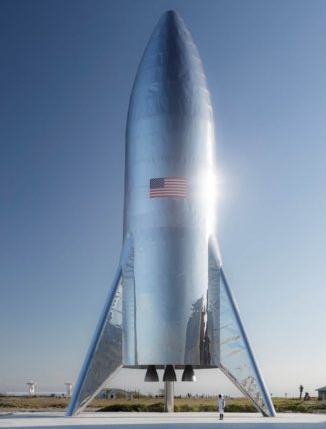 SpaceX's first Starship mock-up,
January 2019
Three days ago it appeared that the past weekend would see four private Americans companies attempt to launch six different times with five different rockets from four different spaceports, all in less than two days.
Not surprisingly, things didn't happen as planned. Of the six launches, three were rescheduled because of poor weather. First, bad weather in Kodiak, Alaska forced the new startup Astra to cancel its first attempt to complete an orbital flight with its Rocket 3.0, rescheduling to no earlier than September 10th.
Then, in Boca Chica, Texas, SpaceX twice tried on August 30th to launch its sixth Starship prototype on a 500 meter hop, both times scrubbing because of high winds. They are going to wait a few days before trying again.
Finally, in Florida SpaceX scrubbed its first Falcon 9 launch on August 30th for the same reason, rescheduling it for tomorrow, September 1st.
A fourth cancelled launch, by ULA using its Delta 4 Heavy rocket, occurred when the rocket did an automatic launch abort three seconds before liftoff. The company has not yet rescheduled as they try to figure out what caused the problem.
Two launches however did get off this weekend. both on August 30th. First the weather at Cape Canaveral cleared enough by evening for SpaceX to successfully launch a Falcon 9 rocket, putting an Argentinian satellite into orbit. Next that same evening Rocket Lab returned to flight after a July failure with the launch of its Electron rocket from New Zealand.
So, only two of six launches lifted off. While some of today's fear-mongers and fans of misfortune would call this a sign of failure, it is nothing of the sort. If anything, it illustrates the slow maturing of American rocketry, from a technology that once only rarely could launch to one that now has the potential to dominate the world with multiple companies competing aggressively in an open free market, assuming of course that our increasingly fascist society doesn't decide to shut it down.

In fact, the state of modern rocketry has strong parallels with the ship industry in the early 1800s. Before 1800, sailing ships were never expected to sail on any kind of schedule. Ships left port only when their holds were filled with cargo, something that could take weeks and was never set by any timetable. More important, they were always at the mercy of the tides and weather.
The result was that if you wished to sail from New York to London you might book your ticket, but you recognized that you could not predict the day you would leave. You could only wait in port, sometimes for weeks, for your captain to finally tell you it was time to board, that he finally had a ship ready to sail and with acceptable weather.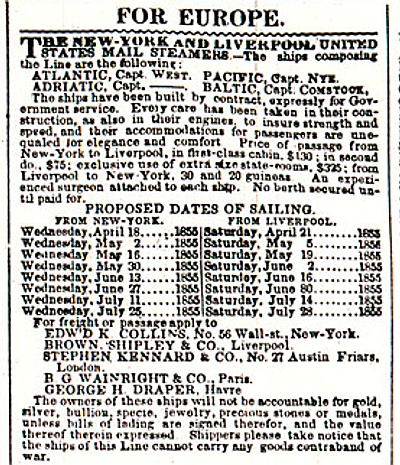 Published steamship schedule from 1855
Then, in the 1830s the competition for customers, mostly immigrants coming to America from Europe, caused American ship companies to start publishing set schedules. No longer did a passenger have to wait in port for weeks. They could arrive, buy a ticket for a specific date and ship, and sail more or less on that date on that ship.
This change was fueled by the free competition between companies which fueled the quick development of new technology. First sailing ship technology improved, using new designs that made possible many sail combinations depending on weather and wind so that the ships could cross the Atlantic faster and more reliably. Next came the steamships, with powered technology that was not dependent on wind at all.
For rocketry it is much the same today. The weather often cancels flights. Technical problems often cause launches to abort or be scrubbed. The engineering is simply not that mature to function with full reliability in all circumstances. Launches can be scheduled but no one can guarantee if they will take off as planned.
Competition and freedom however is changing this dynamic. New rocket designs, some reusable, have lowered the cost while making it possible for more rockets to launch more frequently. This in turn has resulted in more customers able to buy tickets.
The consequence? This past weekend we had six launches scheduled from four spaceports from four companies using five different rockets. That a majority of launches did not take off means little, as the customers and the rockets still remain. They will take off, and as long as their freedom to compete and operate is not snatched from them, they will certainly follow with better and cheaper rockets capable of launching more customers on more missions at an even more hectic pace.
That is what really happened this past weekend in American rocketry. These launch companies gave us a glimpse into a very bright future, if only we allow freedom to function. Left to their own devices, human beings always come up with a better way to do things. It is the best part of our nature.
The secret is freedom, and the willingness to let people alone to do what they want. We need only the courage to let it happen.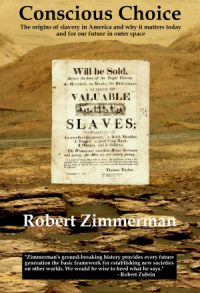 Now available in hardback and paperback as well as ebook!
From the press release: In this ground-breaking new history of early America, historian Robert Zimmerman not only exposes the lie behind The New York Times 1619 Project that falsely claims slavery is central to the history of the United States, he also provides profound lessons about the nature of human societies, lessons important for Americans today as well as for all future settlers on Mars and elsewhere in space.
Conscious Choice: The origins of slavery in America and why it matters today and for our future in outer space
, is a riveting page-turning story that documents how slavery slowly became pervasive in the southern British colonies of North America, colonies founded by a people and culture that not only did not allow slavery but in every way were hostile to the practice.
Conscious Choice
does more however. In telling the tragic history of the Virginia colony and the rise of slavery there, Zimmerman lays out the proper path for creating healthy societies in places like the Moon and Mars.
"Zimmerman's ground-breaking history provides every future generation the basic framework for establishing new societies on other worlds. We would be wise to heed what he says." —Robert Zubrin, founder of founder of the Mars Society.
All editions available at Amazon, Barnes & Noble, and all book vendors. The ebook can be purchased direct from my ebook publisher, ebookit, in which case you don't support the big tech companies and I get a bigger cut much sooner. Note that the price for the ebook, $3.99, goes up to $5.99 on September 1, 2022.
Autographed printed copies are also available at discount directly from me (hardback $24.95; paperback $14.95). Just email me at zimmerman @ nasw dot org.