A relaxed crater on Mars

echo do_shortcode( '[xyz-ihs snippet="post-header-html-snippet"]' ); ?>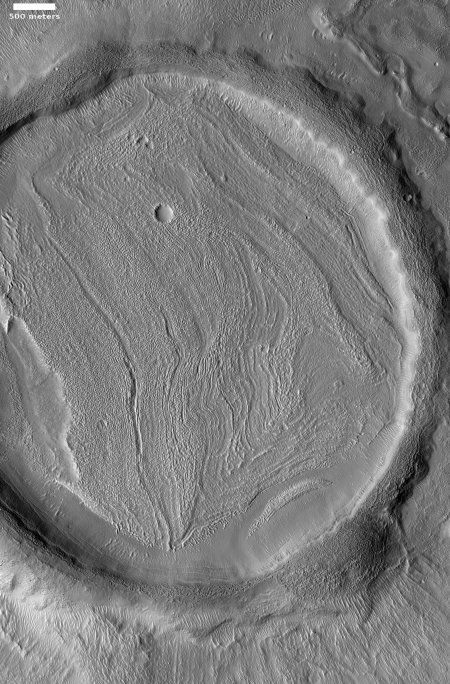 Click for full image.
Cool image time! The photo to the right, rotated, cropped, and reduced to post here, shows what the science team for the high resolution camera on Mars Reconnaissance Orbiter (MRO) call a "Relaxed Crater." This particular image was taken in July 2014. A more recent photo was taken in March 2020 to create a stereo pair, but because this older image shows more of the crater I decided to highlight it.
The crater is considered relaxed because it is very shallow and appears as if, after impact, some process caused the interior to in-fill with material even as the rim became less pronounced and degraded (as explained in this paper [pdf]). The process could have involved either molten magma or melted ice. As this crater is located in the northern highlands to the southwest of Erebus Mountains, in a region that research has consistently suggested has a great deal of ice just below the surface, the latter seems likely. This assumption is further reinforced in that the crater is also located in the mid-latitudes where scientists have found a lot of craters they think are filled with buried glaciers. This certainly seems the case here.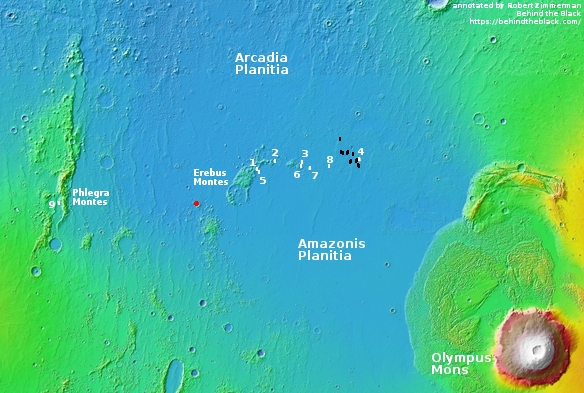 This image is also southwest of the prime candidate landing site for SpaceX's Starship spaceship, chosen because it is believed that ice could as little as a few inches below the surface.

The red cross indicates this crater's location. The black and white rectangles were images taken by MRO for SpaceX.

There is a lot of evidence of easily accessible ice in this region. All the more reason to head there, as quickly as possible.

echo do_shortcode( '[xyz-ihs snippet="post-above-comments-html-snippet"]' ); ?>