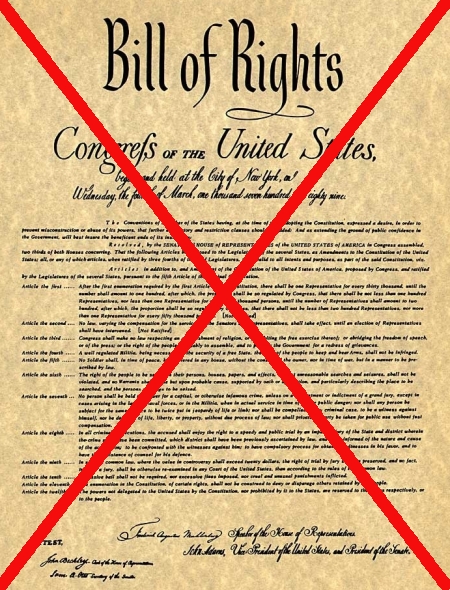 They're coming for you next: Today's post about the new effort by leftists and Democrats to blacklist all their opponents does not concern any single individual (as has been the focus of my previous posts), but instead will focus on the all-encompassing effort by the Democratic Party and its leftist supporters to blacklist anyone who worked in Trump administration, so they can never get work again.
Thus, today have three stories illustrating the left's oppressive and intolerant effort to destroy any who oppose them.
First, there is a bill introduced in Congress by a congresswoman Stephanie Murphy (D-Florida) that would ban any person from federal employment or military service who might have attended any protest rally that claimed the November 3rd election was stolen, or even suggested that there was voter fraud.
This level of attempted government repression is breathtaking in its scope. As a rule, anyone who is convicted (and that's a key word) of having breached the Capitol building on January 6th and committing acts of vandalism or attacks on law enforcement officers will likely disqualify themselves from obtaining a security clearance. (And hence, a federal job in most cases.) The same is true for all serious offenses, though you can generally receive a waiver for misdemeanors and minor violations. No new legislation would be needed to make that happen.

But this bill is something entirely different. It would effectively criminalize every person who showed up for the rally and remained out in the streets protesting. The same would go for the hundreds of other rallies held across the nation in the preceding months. Further, depending on how the legislation is interpreted, if you ever engaged with Q-anon believers on social media or other discussion groups, you could be similarly canceled from working in the public sphere.
In other words, Democrat Murphy is aiming to make second class citizens of anyone who dared protest the election of Joe Biden. While it is doubtful her legislation will pass as is, do not be surprised if it gets slipped into a larger omnibus bill somewhere, when no one can spot it. And don't be surprised when the Democrats controlling Congress help her get this done.
Next we have an effort by leftist activists to develop a real blacklist and use it to prevent anyone who worked for the Trump administration from getting a job in the private sector.
» Read more