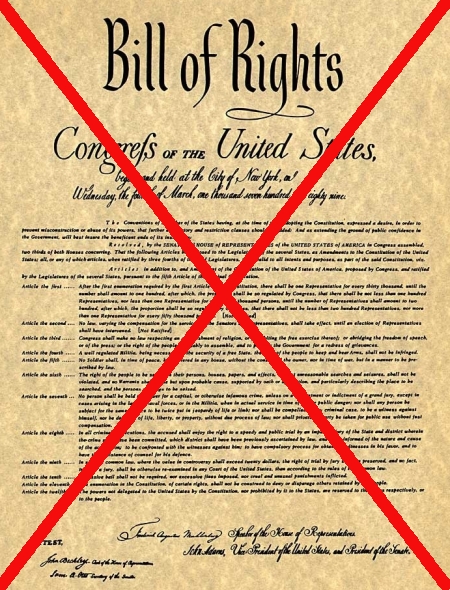 They're coming for you next: Today's post about the new effort by leftists and Democrats to blacklist all their opponents does not concern any single individual (as has been the focus of my previous posts), but instead will focus on the all-encompassing effort by the Democratic Party and its leftist supporters to blacklist anyone who worked in Trump administration, so they can never get work again.
Thus, today have three stories illustrating the left's oppressive and intolerant effort to destroy any who oppose them.
First, there is a bill introduced in Congress by a congresswoman Stephanie Murphy (D-Florida) that would ban any person from federal employment or military service who might have attended any protest rally that claimed the November 3rd election was stolen, or even suggested that there was voter fraud.
This level of attempted government repression is breathtaking in its scope. As a rule, anyone who is convicted (and that's a key word) of having breached the Capitol building on January 6th and committing acts of vandalism or attacks on law enforcement officers will likely disqualify themselves from obtaining a security clearance. (And hence, a federal job in most cases.) The same is true for all serious offenses, though you can generally receive a waiver for misdemeanors and minor violations. No new legislation would be needed to make that happen.

But this bill is something entirely different. It would effectively criminalize every person who showed up for the rally and remained out in the streets protesting. The same would go for the hundreds of other rallies held across the nation in the preceding months. Further, depending on how the legislation is interpreted, if you ever engaged with Q-anon believers on social media or other discussion groups, you could be similarly canceled from working in the public sphere.
In other words, Democrat Murphy is aiming to make second class citizens of anyone who dared protest the election of Joe Biden. While it is doubtful her legislation will pass as is, do not be surprised if it gets slipped into a larger omnibus bill somewhere, when no one can spot it. And don't be surprised when the Democrats controlling Congress help her get this done.
Next we have an effort by leftist activists to develop a real blacklist and use it to prevent anyone who worked for the Trump administration from getting a job in the private sector.

Left-wing activists are forming a database to profile and target organizations that hire former Trump White House officials in the hopes of making these persons unemployable and unable to feed their families.

"Government service does not guarantee private employment. In fact, it should not. And American business should not reward the behavior of the Trump administration with the well-oiled revolving door that traditionally spins at moments of transition," the Campaign Against Corporate Complicity said in a statement announcing their existence.

This new group intends to trigger digital lynch mobs so they harass companies that hire former Trump administration officials. The Campaign Against Corporate Complicity is being set up as a joint project of Accountable.US and American Oversight.
The article outlines the many links between these organizations and the Democratic Party.
Considering how private employers seem very willing to fire any conservative after simply receiving a single anonymous complaining tweet, this kind of mob action should be very effective. And once they get it to work at blacklisting former Trump officials, they will certainly be tempted to use it to blacklist all who oppose them. Be warned: they're coming for you next.
Finally, simply preventing former Trump officials from getting jobs is not enough for our modern fascist Democratic Party and its supporters. No, those same officials must be hounded and banned in every other way, including preventing them from ever publishing any books.
Hundreds of publishing officials, professors, and academics have signed a petition to blacklist Trump administration alumni from receiving book deals. It is the latest step in a rapidly expanding anti-free speech movement in the United States.

In the wake of the Capitol riot, Democratic members and others are calling for a crackdown on free speech and punitive actions for those viewed as complicit with Trump. What is striking is how censorship, blacklists, and speech controls are being repackaged as righteous and virtuous. Indeed, the failure to sign such anti-free speech screeds is a precarious choice for many. It is as easy as calling for tolerance through intolerance. After all, why burn books if you can just effectively ban them?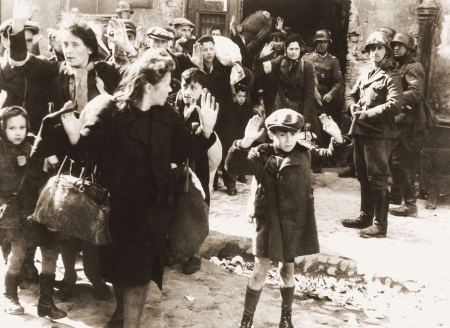 Nazi roundup of Jews during the Warsaw uprising
The list of people who have signed this petition (which you can view here) and are major players in the book publishing business is quite startling. As inconceivable as it may seem, book publishers and editors are actually calling for book banning. The brainless idiocy of this action boggles the mind.
It is crucial to once again note that this intolerant movement to shut down dissent is not merely coming from Democratic Party politicians. No, it is also being instigated by that party's rank and file, from below, as shown by the second two stories above.
If you are a believer in free speech be very afraid. There is a large mass of ordinary people who would be sincerely glad if you were made to go away, in whatever manner possible. For these storm-troopers, having a genocide of their opponents would not really bother them that much.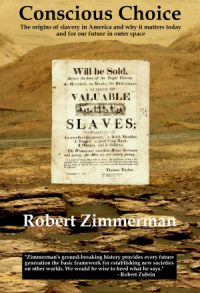 Now available in hardback and paperback as well as ebook!
From the press release: In this ground-breaking new history of early America, historian Robert Zimmerman not only exposes the lie behind The New York Times 1619 Project that falsely claims slavery is central to the history of the United States, he also provides profound lessons about the nature of human societies, lessons important for Americans today as well as for all future settlers on Mars and elsewhere in space.
Conscious Choice: The origins of slavery in America and why it matters today and for our future in outer space
, is a riveting page-turning story that documents how slavery slowly became pervasive in the southern British colonies of North America, colonies founded by a people and culture that not only did not allow slavery but in every way were hostile to the practice.
Conscious Choice
does more however. In telling the tragic history of the Virginia colony and the rise of slavery there, Zimmerman lays out the proper path for creating healthy societies in places like the Moon and Mars.
"Zimmerman's ground-breaking history provides every future generation the basic framework for establishing new societies on other worlds. We would be wise to heed what he says." —Robert Zubrin, founder of founder of the Mars Society.
All editions are available at Amazon, Barnes & Noble, and all book vendors, with the ebook priced at $5.99 before discount. All editions can also be purchased direct from the ebook publisher, ebookit, in which case you don't support the big tech companies and the author gets a bigger cut much sooner.
Autographed printed copies are also available at discount directly from me (hardback $24.95; paperback $14.95; Shipping cost for either: $5.00). Just email me at zimmerman @ nasw dot org.