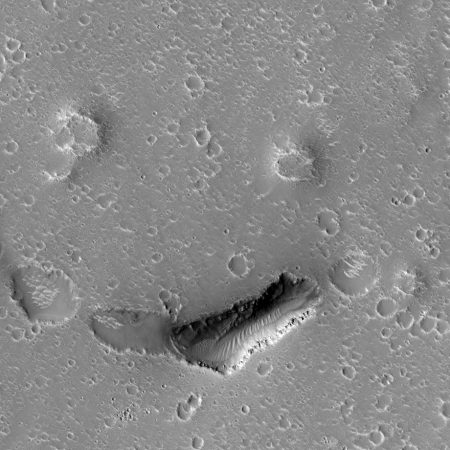 Cool image time! Buried in the catalog of recent high resolution images from Mars Reconnaissance Orbiter are places on Mars that are inexplicable and fascinating, while also indicative of its vastness. The image on the right, reduced in resolution and cropped to post here, shows us one such place. If you click on the image you can see the full image at high resolution.
The archive posting of this image is titled "Cones near Pits." As you can see, to the north and east of the pits are some mesas (why they call them cones I do not know).
The pits are unusual, and appear to be some form of collapse. In the larger image several additional mesas can be seen at farther distances, but most of the overall terrain is remarkably flat and featureless, except for numerous small craters that appear either partly buried by dust or significantly eroded.
I am not going to guess at the geology that caused the pits and mesas. What I do want to focus on is the vastness of Mars. This location is on the southern edge of Utopia Basin, the second deepest basin on Mars. It is part of the planet's endless northern plains, an immense region covering almost half the planet that tends to be at a lower elevation, is relatively smooth, and is thought by some scientists to be evidence of what was once an intermittent ocean. The global map of Mars below indicates the location of the above image with a black cross.
» Read more