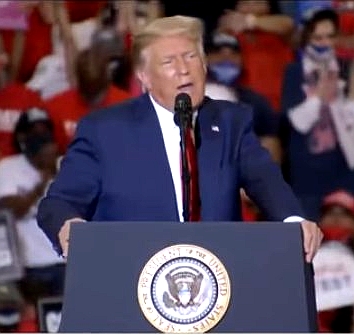 He does what he says.
In my long life, I have seen many politicians come and go. The one abiding constant for them all was that you could expect them to break their promises once elected.
Until 2000 Democrats routinely spouted moderate and even conservative ideas during campaigns, only to quickly move left once elected. Some, like Bill Clinton, lied routinely on all matters, simply to please whoever he was talking to. After he left office Democrats have since been more public about their socialist and even communist ideologies, but still they have often lied whenever they found it convenient, such as Barack Obama's support for normal marriage, until he found he could support perversion and get away with it.
Republicans have been even more dishonest. For decades they would paint themselves as the defenders of small and limited government, of freedom, of balanced budgets, only to throw all those ideas out the window once they gained control. Until 1994 they could make these claims without fear of revealing their untruthfulness, since they had not run both houses of Congress since just after World War II. They were the loyal opposition, whining from the sidelines about Democratic overreach.
After 1994 that excuse disappeared, and the result was blatant lying. Even though the Republican Congress during the latter half of Bill Clinton's administration managed to balance the federal budget for several years, they did not do this by reducing government. No, all they did was allow inflation to catch up so that a thriving economy would cover their big budgets. No agency got trimmed. No agency got eliminated. Power and money continued to flow into Washington and into the pockets of politicians of both parties.
Under George Bush Jr. this dishonesty became even more obvious. » Read more