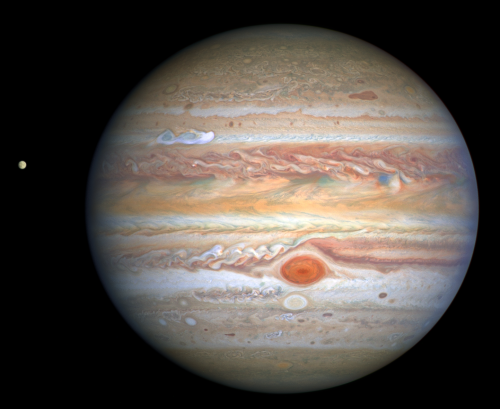 Click for full image.
Astronomers have used the Hubble Space Telescope to take a new global image of Jupiter, aimed to provide an global census of the gas giant's storm systems.
This latest image of Jupiter, taken by NASA's Hubble Space Telescope on August 25, 2020, was captured when the planet was 406 million miles from Earth. Hubble's sharp view is giving researchers an updated weather report on the monster planet's turbulent atmosphere, including a remarkable new storm brewing, and a cousin of the famous Great Red Spot region gearing up to change color – again.
The moon seen to the left is Europa. Hubble takes annual images of the planets outward from Earth in order to provide scientists this global view.