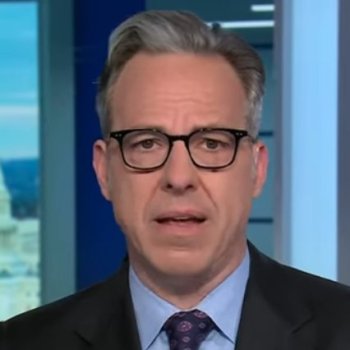 CNN's Jake Tapper, the face of the corrupt mainstream
media
The release of the Durham final report [pdf] this week has produced a flurry of stories, reiterating the wholly unsurprising news that there was never any evidence of collusion between Trump and the Russians and the entire story was a fraud, based on no evidence and drummed up by Democratic Party operatives working for Hillary Clinton both inside and outside of the FBI and Department of Justice.
The leftist mainstream press and the Democratic Party-controlled federal government of course reacted in mixed ways. First, Jake Tapper at CNN reluctantly admitted that the report is "devastating to the FBI, and to a degree it does exonerate Donald Trump." In the same breath however he also tried to minimize the reports damning conclusions, which proved unequivocally that the reporting on this story from day one by him and everyone at CNN was either incompetent or outright lies.
The FBI meanwhile responded to the report with a short three sentence statement, admitting "missteps" were made but "dozens of corrective actions" have been taken since to make sure the agency "continues to do its work with the rigor, objectivity, and professionalism the American people deserve and rightly expect."
Yeah, right. If you believe this hogwash from the FBI I have a bridge in Brooklyn I can sell you, cheap.
Meanwhile other leftist mainstream news outlets scrambled to spin the report, to discredit it without even reading it.
Liars in 2017 and liars now, in 2023.
In truth, the facts brought out by the Durham report, detailed nicely in analyses here and here, simply restate what was patently obvious in 2017, for anyone with the willingness to look dispassionately at the plain facts. As I wrote in July 2017,
» Read more