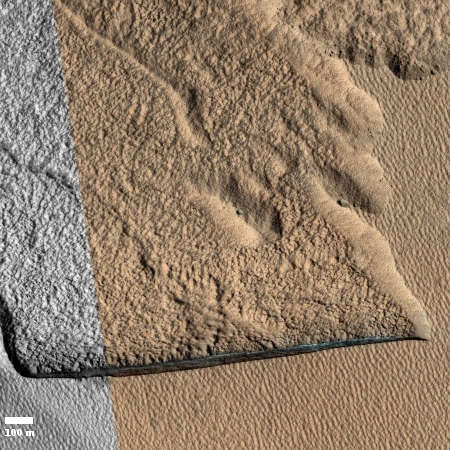 Click for full image.
In January 2018 scientists announced the discovery of exposed ice in a number scarp cliff faces found in the high-mid-latitudes of Mars.
These scarps, which have so far been found in one southern 50-55 degree latitude strip and in one crater, Milankovic, at the same latitude in the north, are important because they are one of the first places on Mars in its lower latitudes where we have found ice actually exposed and visible, not buried like the many buried glaciers very near the surface found in the 30 to 60 degree northern and southern latitude bands.
Since that press announcement, scientists have been monitoring these sites for changes, as well as expanding their survey to see if they can locate more of these scarps.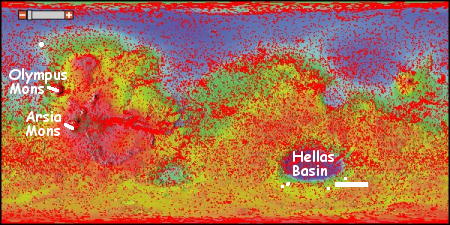 My previous posts on this subject were mostly focused on that southern strip near Hellas Basin, as shown on the map on the right. In reviewing the most recent image download from the high resolution camera on Mars Reconnaissance Orbiter (MRO), I noticed that the only new images of ice scarps were taken in the northern location, in Milankovic Crater, as indicated by the white dot north of Olympus Mons. The first image above shows the north-facing scarp of one of these images, cropped to focus in on the color section where, if you look close, you will see a strip of blue across the base of the scarp. That's the ice layer, exposed as the scarp sublimates away over time from the north to the south.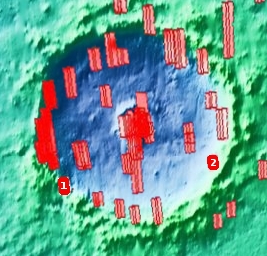 This scarp, labeled #2 on the overview map of Milankovic Crater on the right, is located inside the crater's eastern rim. The second image, posted below and labeled #1 on the overview map, shows a wider area of several ice scarps located on the inside of the crater's southwestern rim.
The red boxes in the overview map indicate all the images taken by MRO inside this crater. If you go to the camera's archive and focus in on Milankovic Crater at 54.5 degrees north latitude and 213.3 degrees longitude, you can then click on each red box to see the high resolution image. In practically every image along the crater's inside rim can be found numerous scarps.
» Read more