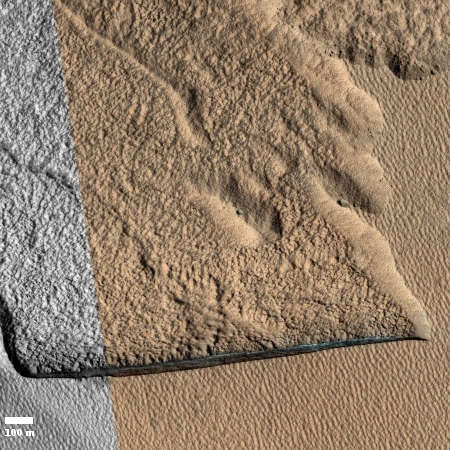 Click for full image.
In January 2018 scientists announced the discovery of exposed ice in a number scarp cliff faces found in the high-mid-latitudes of Mars.
These scarps, which have so far been found in one southern 50-55 degree latitude strip and in one crater, Milankovic, at the same latitude in the north, are important because they are one of the first places on Mars in its lower latitudes where we have found ice actually exposed and visible, not buried like the many buried glaciers very near the surface found in the 30 to 60 degree northern and southern latitude bands.
Since that press announcement, scientists have been monitoring these sites for changes, as well as expanding their survey to see if they can locate more of these scarps.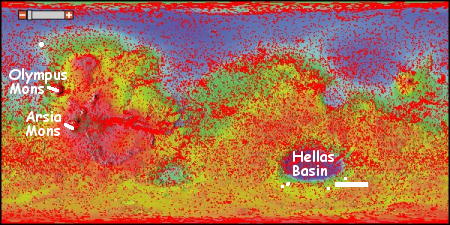 My previous posts on this subject were mostly focused on that southern strip near Hellas Basin, as shown on the map on the right. In reviewing the most recent image download from the high resolution camera on Mars Reconnaissance Orbiter (MRO), I noticed that the only new images of ice scarps were taken in the northern location, in Milankovic Crater, as indicated by the white dot north of Olympus Mons. The first image above shows the north-facing scarp of one of these images, cropped to focus in on the color section where, if you look close, you will see a strip of blue across the base of the scarp. That's the ice layer, exposed as the scarp sublimates away over time from the north to the south.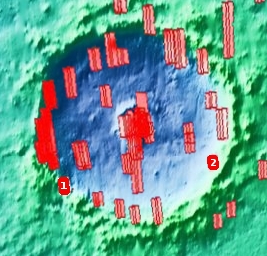 This scarp, labeled #2 on the overview map of Milankovic Crater on the right, is located inside the crater's eastern rim. The second image, posted below and labeled #1 on the overview map, shows a wider area of several ice scarps located on the inside of the crater's southwestern rim.
The red boxes in the overview map indicate all the images taken by MRO inside this crater. If you go to the camera's archive and focus in on Milankovic Crater at 54.5 degrees north latitude and 213.3 degrees longitude, you can then click on each red box to see the high resolution image. In practically every image along the crater's inside rim can be found numerous scarps.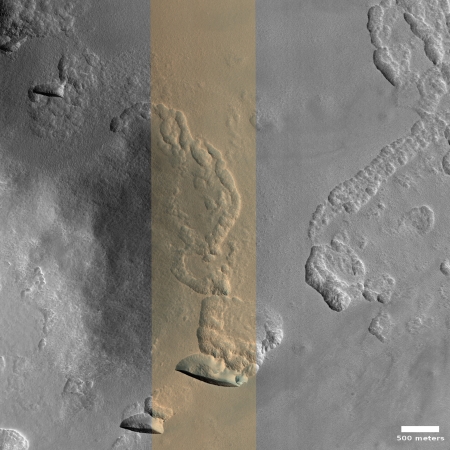 Click for full image.
In fact, image #1 to the right, rotated, cropped, and reduced to post here, illustrates how pervasive the scarps are in Milankovic Crater. In this one small area can be seen three scarps plus other several other features that are somewhat similar.
Why have scientists so far only discovered northern scarps inside Milankovic Crater, and why are there so many there? According to Colin Dundas of the U.S. Geological Survey's Astrogeology Science Center in Arizona, who requested these images and was the lead author in the original January 2018 paper, it is simply too early to answer that question.
I know of one small scarp elsewhere, but the survey of the north isn't complete. It's possible that there are other locations. Milankovic does appear to be a favorable location, but I'd rather not speculate on the reason until the survey is completed and has been through review.
As the scarps, both in the north and the south, are located within the 30 to 60 degree latitude bands where scientists have found numerous buried glaciers, I asked Dundas if they are related. He explained, "The scarps are forming in snow/ice deposits that are similar to glaciers, although the evidence for flow is limited. This ice may be colder and thinner, which will tend to reduce flow, but that's a subject that needs more study."
These scarps have so far been found in the highest latitudes of those two glacial bands, which might also explain why they appear more solid with the appearance of only the beginning of degradation. The buried glaciers found in the lower latitudes always look more degraded. As Dundas notes,
We expect that ice at lower latitudes will be less stable because the temperatures are warmer, so on average (over millions of years) at lower latitudes there will be less frequent deposition and more sublimation, so this fits together.
One striking conclusion that we can begin to draw from all this recent research is that ice is likely far more prevalent close to the Martian surface then previously believed. Not only will it be reachable by colonists by simply drilling down to an underground ice table, from 30 degrees latitude and higher there will be numerous places where it will be either close to the surface, or exposed and accessible.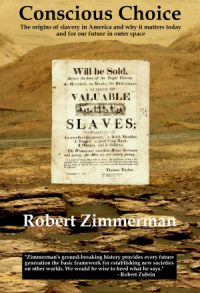 Now available in hardback and paperback as well as ebook!
From the press release: In this ground-breaking new history of early America, historian Robert Zimmerman not only exposes the lie behind The New York Times 1619 Project that falsely claims slavery is central to the history of the United States, he also provides profound lessons about the nature of human societies, lessons important for Americans today as well as for all future settlers on Mars and elsewhere in space.
Conscious Choice: The origins of slavery in America and why it matters today and for our future in outer space
, is a riveting page-turning story that documents how slavery slowly became pervasive in the southern British colonies of North America, colonies founded by a people and culture that not only did not allow slavery but in every way were hostile to the practice.
Conscious Choice
does more however. In telling the tragic history of the Virginia colony and the rise of slavery there, Zimmerman lays out the proper path for creating healthy societies in places like the Moon and Mars.
"Zimmerman's ground-breaking history provides every future generation the basic framework for establishing new societies on other worlds. We would be wise to heed what he says." —Robert Zubrin, founder of founder of the Mars Society.
All editions are available at Amazon, Barnes & Noble, and all book vendors, with the ebook priced at $5.99 before discount. The ebook can also be purchased direct from my ebook publisher, ebookit, in which case you don't support the big tech companies and I get a bigger cut much sooner.
Autographed printed copies are also available at discount directly from me (hardback $24.95; paperback $14.95; Shipping cost for either: $5.00). Just email me at zimmerman @ nasw dot org.