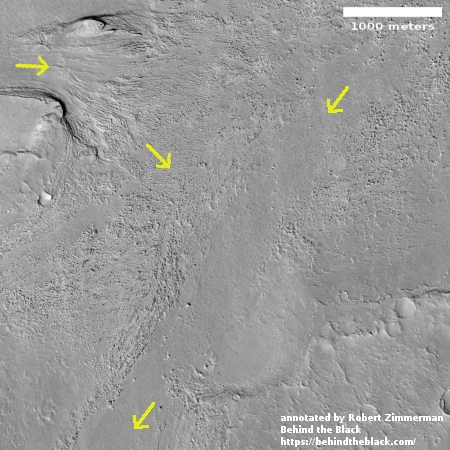 Click for full image.
Each month the Mars Reconnaissance Orbiter (MRO) science team highlights with captions about four out of the 300-500 new images released that month.
Of the four captioned images in February, the first was entitled "Almost Like Water," and focused on the waterlike nature of the lava flow. The image on the right is a cropped and annotated section of that featured photograph, with the yellow arrows indicating the flow directions.
The lava appears to have flowed smoothly around obstructions, almost like water, forming streamlined islands. In the southern part of this image, a branch of the flow diverts around a small crater, and eventually rejoins the main part of the flow. [Visible in the full photograph] Irregular-shaped ring structures appear on the northern end and are related to the volcanic activity that formed the flows.
You can see an example of one of those islands near the top of the above image.
This is hardly the only MRO image showing such flows. In fact, the February image release included a bunch, some of the more intriguing of which I highlight below. These lava flows are seen in many different places on Mars, in a wide variety of geological settings, facts that suggest that volcanic activity was once very widespread and ubiquitous on Mars.
» Read more