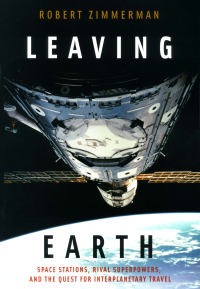 In 2019 I obtained from my former publisher the last 30 copies of the now out-of-print hardback of Leaving Earth. I sold about half of these, and with only a handful left in stock I have raised the price. To get your own autographed copy of this rare collector's item please send a $75 check (includes $5 shipping) payable to Robert Zimmerman to


Behind The Black, c/o Robert Zimmerman
P.O.Box 1262
Cortaro, AZ 85652


I will likely raise the price again when only ten books are left, so buy them now at this price while you still can!
Also available as an inexpensive ebook!
Leaving Earth: Space Stations, Rival Superpowers, and the Quest for Interplanetary Travel, is now available as an ebook everywhere for only $3.99 (before discount) at amazon, Barnes & Noble, all ebook vendors, or direct from my ebook publisher, ebookit.
"Leaving Earth is one of the best and certainly the most comprehensive summary of our drive into space that I have ever read. It will be invaluable to future scholars because it will tell them how the next chapter of human history opened." -- Arthur C. Clarke