As my regular readers know, I periodically take trips to Israel to visit family. When I return, I then post my impressions and what I have learned, thereby providing an eye-witness perspective to the Israeli-Palestinian conflict. Previous essays from earlier visits are as follows, with the first five from my 2013 visit and the last from my visit in 2014: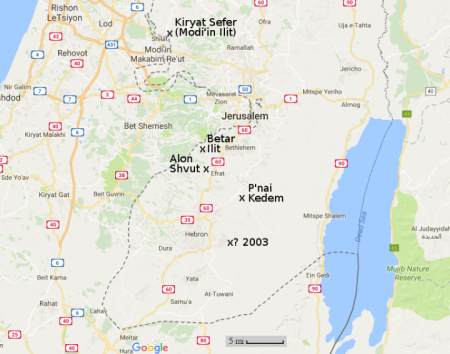 Having just returned from another visit, I have some new impressions. Above all, I think it worthwhile to note that in all these visits, I have routinely stayed with relatives who live in West Bank settlements. In fact, I have now visited or stayed in five different settlements. The map on the right shows the locations of these settlements, marked with an X. If you click on the image you can see a higher resolution version.
Unfortunately, I do not remember the name of the settlement from my 2003 visit, though I know it was west of Hebron. It might have been Carmel, but I am not sure. I do know I have indicated its location with reasonable accuracy.
Regardless, there are a number of things we can learn from my visits. The largest settlements, Alon Shvut, Kiryat Sefer, and Beitar, are all close to the 1949 Armistice border. They are also all relatively close to Jerusalem and thus act for many as suburbs of that larger city. As I wrote in 2013,
» Read more