Mars Reconnaissance Orbiter today released an image of a really spectacular transform fault on Mars, a spot where the ground cracked and two sections moved sideways to each other. In this case, the sideways movement was about 300 feet. The image is posted below the fold.
Compare that with the Japanese magnitude 9 earthquake on March 11, which only shifted the seabed sideways 165 feet while raising it 33 feet. The quake that moved these two pieces of Martian bedrock sideways must have been quite a ride.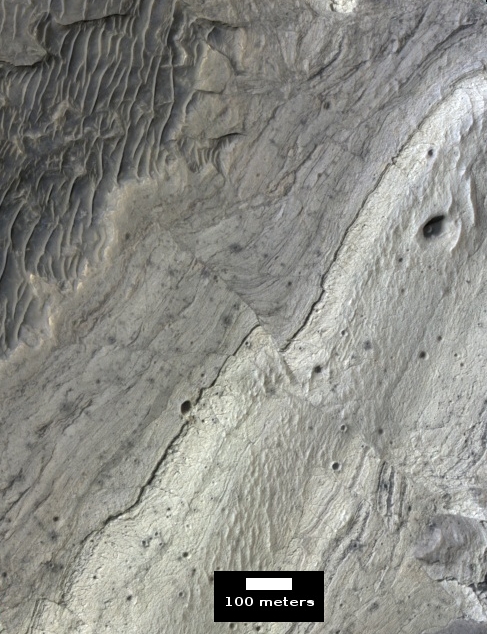 Some additional comparisons: The fault is located in Ius Chasma, a side canyon at the western end of Valles Marineris. Valles Marineris is the largest canyon in the solar system, and would completely cover the United States if you put it on Earth. Ius Chasma is only a small side canyon estimated to be about 550 miles long and about 5 to 6 miles deep. Yet, that makes it five times deeper than the Grand Canyon and twice as long.
The image below shows the overall region where the fault is located. Though the fault lines up with the northwest-to-southeast ridge to the southeast, there is no obvious evidence of faulting along or beyond the ridge (shown more clearly in the full uncropped image). A close look at the uncropped wide image also shows more faulting to the west on the same plateau, but none nearby below or above the plateau. This suggests that even though the ground shifted a great deal to produce these particular faults, it probably did it in a somewhat localized manner.
There are many other faults visible in the wider image, suggesting also that there were multiple events that shook the ground.
However, though it seems safe to assume an earthquake caused these faults, scientists really don't know at this point. We have never placed seismographs on the Martian surface, so we really have a limited understanding of its innards.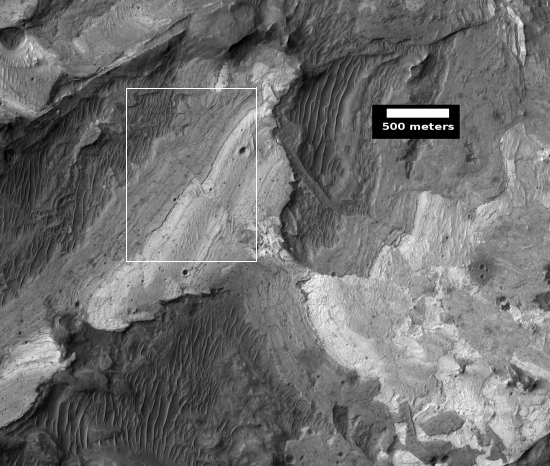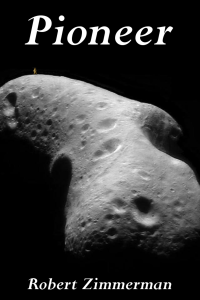 From the press release: From the moment he is handed a possibility of making the first alien contact, Saunders Maxwell decides he will do it, even if doing so takes him through hell and back.
Unfortunately, that is exactly where that journey takes him. The vision that Zimmerman paints of vibrant human colonies on the Moon, Mars, the asteroids, and beyond, indomitably fighting the harsh lifeless environment of space to build new societies, captures perfectly the emerging space race we see today. He also captures in Pioneer the heart of the human spirit, willing to push forward no matter the odds, no matter the cost. It is that spirit that will make the exploration of the heavens possible, forever, into the never-ending future. Available everywhere for $3.99 (before discount) at
amazon
,
Barnes & Noble
, all ebook vendors, or direct from the ebook publisher,
ebookit
. And if you buy it from
ebookit
you don't support the big tech companies and I get a bigger cut much sooner.