The Lunar Reconnaissance Orbiter team has released a wide angle side view image of the Apollo 15 landing site, showing the lunar module and the areas around Hadley Rille and the Apennine Mountain range that the astronauts explored using their lunar jeep. Below is a cropped close-up, showing the landing site near the top of the image with Hadley Rille near the bottom. Below the fold is a second image showing a wider view that includes the Apennine mountain slope that the astronauts drove their rover up.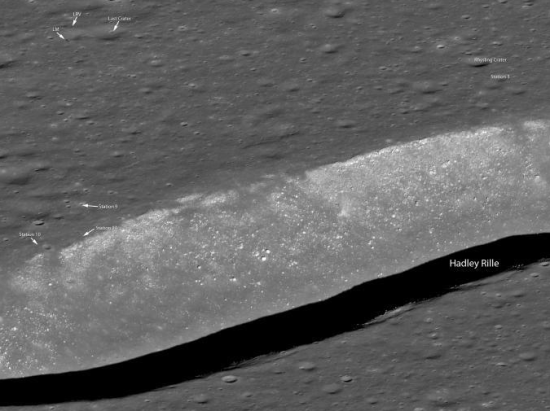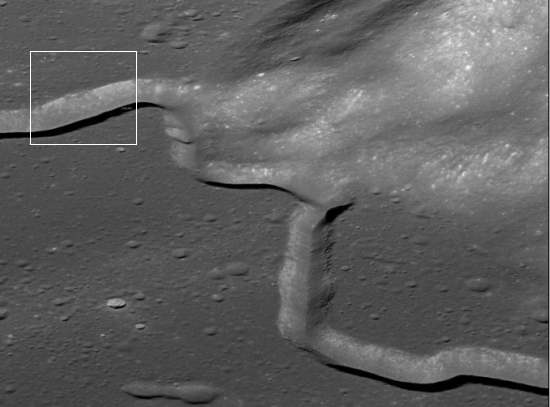 What makes these images so cool is that they give you a good sense of how much terrain the Apollo astronauts covered. While the astronauts didn't have the ability to go down into Hadley Rille, they traversed its rim extensively, then traveled far to the east to climb the slopes of the nearest mountains. If you look closely at the wider view you will see the tiny text labels indicating where they went. Or you can go to the full image at the LRO website and browse to your heart's content.
I see images such as these and am filled with both a sadness and excitement. As much as I remain totally confident that humans will someday be routinely wandering these barren hillsides, exploring or simply enjoying the sights, I find it deplorable that they might not do it in my lifetime. It is almost forty years since humans stood on these unexplored mountains. It also looks like it will probably be at least another decade before anyone goes back.
And yet, the Apollo program demonstrated that this is definitely something humans can do, with skill and panache. Why we haven't done such things since says more about us then it does about the difficulty of the task. In the 1960s and 1970s the American space program was shaped by the free society that funded it. Since then, it has been shaped by the bureaucratic, government-centered, risk-avoidance society we have since created, by our own choice. No wonder we can't get back to the moon, no less put astronauts in orbit. Rather than let people creatively follow their dreams, with no holds barred, we set down rules and regulations on everything anyone does, so that little new or creative can get done.
That Elon Musk and the other new space companies have still managed to arise out of the tangled web of restrictive handcuffs our culture has decided to impose upon itself is a testament to the undying creativity and hope of the human spirit. Wouldn't be nice if we would all now get out of their way and let them do it?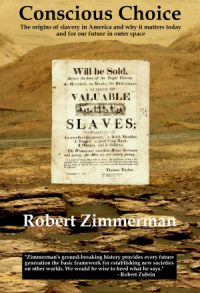 Now available in hardback and paperback as well as ebook!
From the press release: In this ground-breaking new history of early America, historian Robert Zimmerman not only exposes the lie behind The New York Times 1619 Project that falsely claims slavery is central to the history of the United States, he also provides profound lessons about the nature of human societies, lessons important for Americans today as well as for all future settlers on Mars and elsewhere in space.
Conscious Choice: The origins of slavery in America and why it matters today and for our future in outer space
, is a riveting page-turning story that documents how slavery slowly became pervasive in the southern British colonies of North America, colonies founded by a people and culture that not only did not allow slavery but in every way were hostile to the practice.
Conscious Choice
does more however. In telling the tragic history of the Virginia colony and the rise of slavery there, Zimmerman lays out the proper path for creating healthy societies in places like the Moon and Mars.
"Zimmerman's ground-breaking history provides every future generation the basic framework for establishing new societies on other worlds. We would be wise to heed what he says." —Robert Zubrin, founder of founder of the Mars Society.
All editions are available at Amazon, Barnes & Noble, and all book vendors, with the ebook priced at $5.99 before discount. The ebook can also be purchased direct from my ebook publisher, ebookit, in which case you don't support the big tech companies and I get a bigger cut much sooner.
Autographed printed copies are also available at discount directly from me (hardback $24.95; paperback $14.95; Shipping cost for either: $5.00). Just email me at zimmerman @ nasw dot org.