This week the Space Telescope Science Institute in Baltimore, Maryland was holding a conference on the future research possibilities of the James Webb Space Telescope, and ended the conference with a writer's workshop/press conference today.
Not surprisingly, there was not a lot of press interest. The Webb telescope is way behind schedule and over budget, and is not scheduled for launch until 2018. For most of the press, a press conference now on what Webb might someday do is really nothing more than a NASA sales pitch. Most reporters, including myself, don't find these kinds of press conferences of much worth.
However, after thinking about it a bit, I decided to go, with the hope that I might be able to find out some more details about the state of the telescope's construction.
To my astonishment, I discovered how little press interest there was, as it turned out I was the only journalist there! When the presentations ended, the whole workshop became an exercise in answering Bob Zimmerman's questions about Webb and astronomy. I felt a bit embarrassed about this, but then decided the only stupid question is the one you don't ask, and forged ahead. Moreover, the situation probably was far more embarrassing for the press people at the Institute then it was for me.

As for the Webb status, Eric Smith, the program scientist for Webb from NASA headquarters, confirmed to me the three main reasons why Webb is so overbudget and delayed:
It is cutting edge technology. Unlike Hubble, which took advantage of the engineering work done by the military, Webb is so out there that it is doing things the military has never done.
Specifically, the foremost engineering challenge for the telescope is that it will have to function in an extremely cold environment, approximately 40 degrees Celsius above absolute zero. No one, including the military, has ever built something in such an environment before, Just testing the components is very difficult and expensive.
Finally, the fact that Webb will not be maintainable and repairable by humans, as is Hubble, means that everything has to be done with extreme care. It also means that everything must have additional redundancy. This added complexity has compounded all the other difficulties the telescope has faced.
Because of the spiraling costs and delays, the project last year was shifted from NASA's astrophysics budget and put directly under the supervision of headquarters. This means that, though I am sure most of the additional funds needed will be taken from the astrophysics budget, the agency will also have the freedom to take funds from other departments if necessary.
As for the science at this press conference, there were two details of note, one minor and one major. The minor story is that the Hubble Space Telescope is going to do another ultra deep field image later this year, using the new instruments installed during the 2009 repair mission. Scientists hope to use this observation to learn more about the time only a few hundred million years after the Big Bang, shortly after the formation of the very first galaxies. They also want this data as a prelude to what Webb will get them in the infrared.
The major story has to do with the discovery of a whole new class of super luminous supernovae. This discovery also ties into a story I did for BBC Sky at Night in 2009 about unknown transients in the sky. In particular, the article focused on SCP 06F6, a mysterious object that appeared suddenly in a blank spot in the sky, brightening slowly over almost three months to reach its peak on May 17, 2006, then steadily fading for the another three months until it disappeared from sight.
No one knew what SCP 06F6 was. Supernovae do not act like this, as they normally brighten quickly, in a matter of days, and then dim slowly over many months. The symmetrical bell-curve shape of SCP 06F6's rise and fall was unprecedented. Also, the spectroscopy of the object was weird, unlike anything seen previously. Finally, most supernovae occur in galaxies. SCP 06F6 however was all by itself in the sky, and when it disappeared there was nothing left behind to mark its passing.
The new data suggests that SCP 06F6 was actually one of a new class of super-luminous supernovae, of which only six such explosions have been detected. Robert Quimby and Shri Kulkani of the California Institute of Technology were able to link SCP 06F6's weird spectroscopy with five other very bright and unusual supernovae, and realized they had discovered a new class of stellar explosion.
These events appear to be caused when a very massive star, 100 times the mass of the Sun, collapses, producing an explosion ten times brighter with ten times the energy of a normal supernovae. As Kulkani noted at the conference today, "They appear to be the largest thermonuclear explosions in the universe."
There will be an article in Nature about their work tomorrow.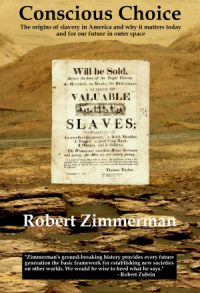 Now available in hardback and paperback as well as ebook!
From the press release: In this ground-breaking new history of early America, historian Robert Zimmerman not only exposes the lie behind The New York Times 1619 Project that falsely claims slavery is central to the history of the United States, he also provides profound lessons about the nature of human societies, lessons important for Americans today as well as for all future settlers on Mars and elsewhere in space.
Conscious Choice: The origins of slavery in America and why it matters today and for our future in outer space
, is a riveting page-turning story that documents how slavery slowly became pervasive in the southern British colonies of North America, colonies founded by a people and culture that not only did not allow slavery but in every way were hostile to the practice.
Conscious Choice
does more however. In telling the tragic history of the Virginia colony and the rise of slavery there, Zimmerman lays out the proper path for creating healthy societies in places like the Moon and Mars.
"Zimmerman's ground-breaking history provides every future generation the basic framework for establishing new societies on other worlds. We would be wise to heed what he says." —Robert Zubrin, founder of founder of the Mars Society.
All editions are available at Amazon, Barnes & Noble, and all book vendors, with the ebook priced at $5.99 before discount. The ebook can also be purchased direct from my ebook publisher, ebookit, in which case you don't support the big tech companies and I get a bigger cut much sooner.
Autographed printed copies are also available at discount directly from me (hardback $24.95; paperback $14.95; Shipping cost for either: $5.00). Just email me at zimmerman @ nasw dot org.