In today's version of global warming fear-mongering, Senator John Kerry (D-Massachusetts) declared that the Arctic will be ice-free in "five or 10 years." He apparently based this statement on a 2009 Geophysical Research Letters paper [pdf] that, using computer models, predicted an ice-free Arctic in September could occur as soon as the late 2020s but was more likely in the late 2030s.
Wanna bet? Since that 2009 paper was published, Arctic ice has seen a rebound in ice extent. Moreover, the Arctic oscillation remains in the deepest freeze it has seen in years. And the sun remains quiet, less active than we have seen it since scientists began tracking its behavior from space. Such inactivity means a dimmer sun, which in turn brings with it cold temperatures. Here is the most recent graph (updated on July 20) from the Total Solar Irradiance Time Series produced by Physikalisch- Meteorologisches Observatorium Davos (PMOD) using satellite data since 1978: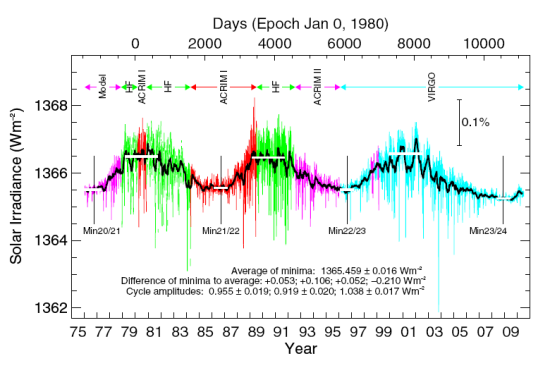 Even though the sun's total irradiance has shown an up-tick recently as it slowly moves from solar minimum towards solar maximum, if you look closely you will see this up-tick still remains below the lowest points for the previous three solar minimums. And as I have noted here, we appear to be heading for the weakest solar maximum in two centuries.
Of course (as stock brokers say), the past performance of all of these trends is no guarantee of the future performance. Nonetheless, the data indicates clearly the simplistic nature of statements like Kerry's.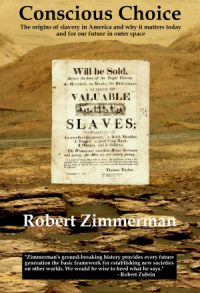 Now available in hardback and paperback as well as ebook!
From the press release: In this ground-breaking new history of early America, historian Robert Zimmerman not only exposes the lie behind The New York Times 1619 Project that falsely claims slavery is central to the history of the United States, he also provides profound lessons about the nature of human societies, lessons important for Americans today as well as for all future settlers on Mars and elsewhere in space.
Conscious Choice: The origins of slavery in America and why it matters today and for our future in outer space
, is a riveting page-turning story that documents how slavery slowly became pervasive in the southern British colonies of North America, colonies founded by a people and culture that not only did not allow slavery but in every way were hostile to the practice.
Conscious Choice
does more however. In telling the tragic history of the Virginia colony and the rise of slavery there, Zimmerman lays out the proper path for creating healthy societies in places like the Moon and Mars.
"Zimmerman's ground-breaking history provides every future generation the basic framework for establishing new societies on other worlds. We would be wise to heed what he says." —Robert Zubrin, founder of founder of the Mars Society.
All editions are available at Amazon, Barnes & Noble, and all book vendors, with the ebook priced at $5.99 before discount. The ebook can also be purchased direct from my ebook publisher, ebookit, in which case you don't support the big tech companies and I get a bigger cut much sooner.
Autographed printed copies are also available at discount directly from me (hardback $24.95; paperback $14.95; Shipping cost for either: $5.00). Just email me at zimmerman @ nasw dot org.