In today's version of global warming fear-mongering, Senator John Kerry (D-Massachusetts) declared that the Arctic will be ice-free in "five or 10 years." He apparently based this statement on a 2009 Geophysical Research Letters paper [pdf] that, using computer models, predicted an ice-free Arctic in September could occur as soon as the late 2020s but was more likely in the late 2030s.
Wanna bet? Since that 2009 paper was published, Arctic ice has seen a rebound in ice extent. Moreover, the Arctic oscillation remains in the deepest freeze it has seen in years. And the sun remains quiet, less active than we have seen it since scientists began tracking its behavior from space. Such inactivity means a dimmer sun, which in turn brings with it cold temperatures. Here is the most recent graph (updated on July 20) from the Total Solar Irradiance Time Series produced by Physikalisch- Meteorologisches Observatorium Davos (PMOD) using satellite data since 1978: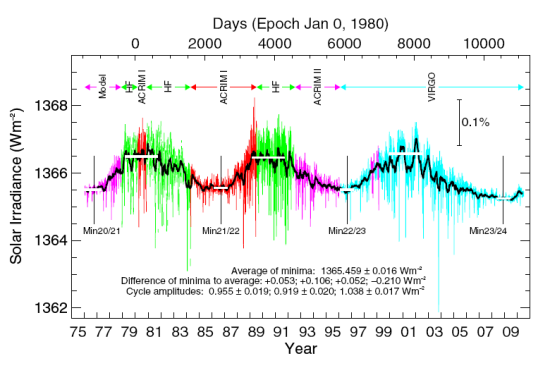 Even though the sun's total irradiance has shown an up-tick recently as it slowly moves from solar minimum towards solar maximum, if you look closely you will see this up-tick still remains below the lowest points for the previous three solar minimums. And as I have noted here, we appear to be heading for the weakest solar maximum in two centuries.
Of course (as stock brokers say), the past performance of all of these trends is no guarantee of the future performance. Nonetheless, the data indicates clearly the simplistic nature of statements like Kerry's.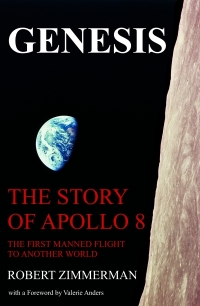 On Christmas Eve 1968 three Americans became the first humans to visit another world. What they did to celebrate was unexpected and profound, and will be remembered throughout all human history. Genesis: the Story of Apollo 8, Robert Zimmerman's classic history of humanity's first journey to another world, tells that story, and it is now available as both an ebook and an audiobook, both with a foreword by Valerie Anders and a new introduction by Robert Zimmerman.
The ebook is available everywhere for $5.99 (before discount) at
amazon
, or direct from my ebook publisher,
ebookit
. If you buy it from
ebookit
you don't support the big tech companies and the author gets a bigger cut much sooner.
The audiobook is also available at all these vendors, and is also
free with a 30-day trial membership to Audible.
"Not simply about one mission, [Genesis] is also the history of America's quest for the moon... Zimmerman has done a masterful job of tying disparate events together into a solid account of one of America's greatest human triumphs."--San Antonio Express-News