In a new paper published yesterday, climate scientists described a newly discovered deep, cold current flowing off Iceland's coast that appears to make the ocean conveyor belt that warms the northern Atlantic less sensitive to climate change than previously thought.
In other words, another one of Al Gore's doomsday predictions has proven false.
More significantly, scientists now have no understanding why the ocean conveyor belt shut down during past ice ages, as their most favored theory now appears insufficient.

The conveyor belt exists because the northern Atlantic has a higher salt content than most of the ocean. Put more salt in water and you increase that water's density, thus causing it to sink to the ocean floor. The dense water then flows south along the ocean floor around Africa and into the Indian Ocean, where it rises and begins its journey back north, bringing with it warm weather to the northern latitudes of North American and Europe.
The consensus theory has been that fresh water from melting Arctic glaciers — caused by man-made global warming — would lower the high salt content of the northern Atlantic Ocean, which in turn would lighten the water, stop it from sinking, and thus cause the conveyor belt to turn off. With the conveyor shut down the flow of warm surface water to the northern hemisphere would cease. Thus, you not only would get a much hotter world, global warming would make Europe much colder and less habitable.
This new data says no, Arctic glaciers don't produce enough fresh water. The newly discovered current dominates instead, acting to stabilize the conveyor belt.
What complicates this complicated and confusing climate science is that there is evidence in the paleoclimate record that the conveyor belt has shut down repeatedly in the past. Unfortunately, scientists now have really no clear understanding why.
Not that they ever did, based on our limited present knowledge.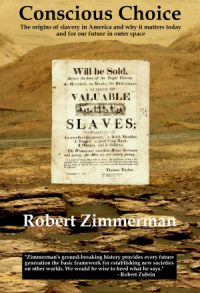 Now available in hardback and paperback as well as ebook!
From the press release: In this ground-breaking new history of early America, historian Robert Zimmerman not only exposes the lie behind The New York Times 1619 Project that falsely claims slavery is central to the history of the United States, he also provides profound lessons about the nature of human societies, lessons important for Americans today as well as for all future settlers on Mars and elsewhere in space.
Conscious Choice: The origins of slavery in America and why it matters today and for our future in outer space
, is a riveting page-turning story that documents how slavery slowly became pervasive in the southern British colonies of North America, colonies founded by a people and culture that not only did not allow slavery but in every way were hostile to the practice.
Conscious Choice
does more however. In telling the tragic history of the Virginia colony and the rise of slavery there, Zimmerman lays out the proper path for creating healthy societies in places like the Moon and Mars.
"Zimmerman's ground-breaking history provides every future generation the basic framework for establishing new societies on other worlds. We would be wise to heed what he says." —Robert Zubrin, founder of founder of the Mars Society.
All editions are available at Amazon, Barnes & Noble, and all book vendors, with the ebook priced at $5.99 before discount. The ebook can also be purchased direct from my ebook publisher, ebookit, in which case you don't support the big tech companies and I get a bigger cut much sooner.
Autographed printed copies are also available at discount directly from me (hardback $24.95; paperback $14.95; Shipping cost for either: $5.00). Just email me at zimmerman @ nasw dot org.