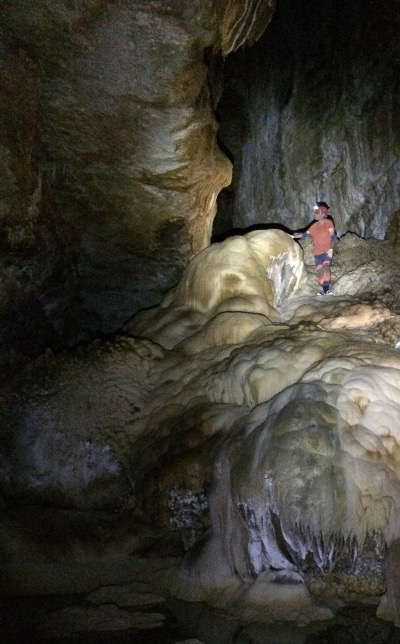 The picture on the right will explain why I have been silent posting since Friday. I have just returned with five friends from three days of caving in New Mexico, doing some wild caving plus my first visit to Carlsbad Caverns since 1992, guided by a local caver who has been helping me with my cave survey project in Arizona.
New Mexico probably has the largest concentration of truly large and spectacularly decorated caves in the entire world. I've caved there previously, but this was my first trip driving from Arizona. We went to two wild caves, one of which I had never visited before and a second that I had seen during my 1992 trip. The picture shows me in the latter, standing above a large clear pool near the back of the cave with some giant flowstone speleothems all around me.
The new cave contained a room dubbed Speleogasm, because every formation there, of which there are too many to count, is completely festooned with helectites and sodastraws in a mad protrusion that no geologist can as yet explain. Nor is there any way to describe it adequately or photograph it successfully. To witness it you need to go, requiring the specialized caving skills that include the techniques and equipment required to rappel and climb a 40 foot rope.
As always, the advantages of learning how to do this successfully is the reward of seeing things that few ever see. It is why engineers and scientists strive so hard to get planetary probes to distant planets. And why humans want to travel to the planets. For me, getting inside a remote and beautifully decorated cave will just have to do.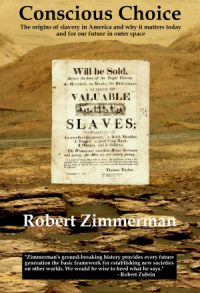 Now available in hardback and paperback as well as ebook!
From the press release: In this ground-breaking new history of early America, historian Robert Zimmerman not only exposes the lie behind The New York Times 1619 Project that falsely claims slavery is central to the history of the United States, he also provides profound lessons about the nature of human societies, lessons important for Americans today as well as for all future settlers on Mars and elsewhere in space.
Conscious Choice: The origins of slavery in America and why it matters today and for our future in outer space
, is a riveting page-turning story that documents how slavery slowly became pervasive in the southern British colonies of North America, colonies founded by a people and culture that not only did not allow slavery but in every way were hostile to the practice.
Conscious Choice
does more however. In telling the tragic history of the Virginia colony and the rise of slavery there, Zimmerman lays out the proper path for creating healthy societies in places like the Moon and Mars.
"Zimmerman's ground-breaking history provides every future generation the basic framework for establishing new societies on other worlds. We would be wise to heed what he says." —Robert Zubrin, founder of founder of the Mars Society.
All editions are available at Amazon, Barnes & Noble, and all book vendors, with the ebook priced at $5.99 before discount. The ebook can also be purchased direct from my ebook publisher, ebookit, in which case you don't support the big tech companies and I get a bigger cut much sooner.
Autographed printed copies are also available at discount directly from me (hardback $24.95; paperback $14.95; Shipping cost for either: $5.00). Just email me at zimmerman @ nasw dot org.