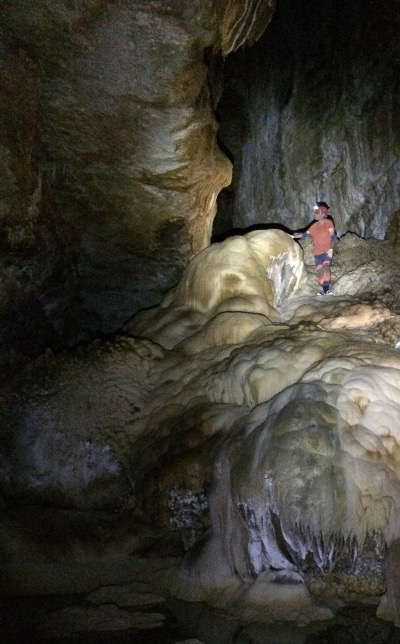 The picture on the right will explain why I have been silent posting since Friday. I have just returned with five friends from three days of caving in New Mexico, doing some wild caving plus my first visit to Carlsbad Caverns since 1992, guided by a local caver who has been helping me with my cave survey project in Arizona.
New Mexico probably has the largest concentration of truly large and spectacularly decorated caves in the entire world. I've caved there previously, but this was my first trip driving from Arizona. We went to two wild caves, one of which I had never visited before and a second that I had seen during my 1992 trip. The picture shows me in the latter, standing above a large clear pool near the back of the cave with some giant flowstone speleothems all around me.
The new cave contained a room dubbed Speleogasm, because every formation there, of which there are too many to count, is completely festooned with helectites and sodastraws in a mad protrusion that no geologist can as yet explain. Nor is there any way to describe it adequately or photograph it successfully. To witness it you need to go, requiring the specialized caving skills that include the techniques and equipment required to rappel and climb a 40 foot rope.
As always, the advantages of learning how to do this successfully is the reward of seeing things that few ever see. It is why engineers and scientists strive so hard to get planetary probes to distant planets. And why humans want to travel to the planets. For me, getting inside a remote and beautifully decorated cave will just have to do.
Readers!
Please consider donating to Behind the Black, by giving either a one-time contribution or a regular subscription, as outlined in the tip jar below. Your support will allow me to continue covering science and culture as I have for the past twenty years, independent and free from any outside influence.
Your support is even more essential to me because I keep this site free from advertisements and do not participate in corrupt social media companies like Google, Twitter, and Facebook. I depend wholly on the direct support of my readers.
You can provide that support to Behind The Black with a contribution via Patreon or PayPal. To use Patreon, go to my website there and pick one of five monthly subscription amounts, or by making a one-time donation. For PayPal click one of the following buttons:

If Patreon or Paypal don't work for you, you can support Behind The Black directly by sending your donation by check, payable to Robert Zimmerman, to


Behind The Black
c/o Robert Zimmerman
P.O.Box 1262
Cortaro, AZ 85652