After several months of delay for a variety of reasons that I do not need to go into, my policy paper for the Center of New American Security has gone to the printers will be released to the public early next week. The title: Capitalism in Space: Private Enterprise and Competition Reshape the Global Aerospace Launch Industry.
I will have the pdf of this paper available here on Behind the Black the instant it is available. To give everyone a taste, here are my concluding words:
A close look at these recommendations will reveal one common thread. Each is focused on shifting power and regulatory authority away from the federal government and increasing the freedom of American companies to act as they see fit to meet the demands of the market. The key word that defines this common thread is freedom, a fundamental principle that has been aspired to since the nation's founding. Political leaders from both parties have made the concept a central core tenet of American policy. Democrat John Kennedy stated that his commitment to go to the Moon was a "stand for freedom" in the Cold War. Republican Ronald Reagan proposed "Freedom" as the name for the new space station, and viewed it as a platform for promoting private enterprise in space.

Freedom is actually a very simple idea. Give people and companies the freedom to act, in a competitive environment that encourages intelligent and wise action, and they will respond intelligently and wisely.

The United States' history proves that freedom can work. It is time that it prove it again, in space.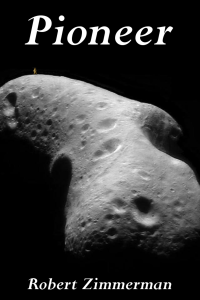 From the press release: From the moment he is handed a possibility of making the first alien contact, Saunders Maxwell decides he will do it, even if doing so takes him through hell and back.
Unfortunately, that is exactly where that journey takes him.
The vision that Zimmerman paints of vibrant human colonies on the Moon, Mars, the asteroids, and beyond, indomitably fighting the harsh lifeless environment of space to build new societies, captures perfectly the emerging space race we see today.
He also captures in Pioneer the heart of the human spirit, willing to push forward no matter the odds, no matter the cost. It is that spirit that will make the exploration of the heavens possible, forever, into the never-ending future.
Available everywhere for $3.99 (before discount) at
amazon
,
Barnes & Noble
, all ebook vendors, or direct from the ebook publisher,
ebookit
.