I finally have an hour free here in Nevada.
For the past three days we have been intensely hiking up mountains over a vast area of Nevada. The goal has been to locate and map caves for the Forest Service in some of the most remote areas of the state. So far we have focused on mapping known caves, putting the possible discoveries aside for later work.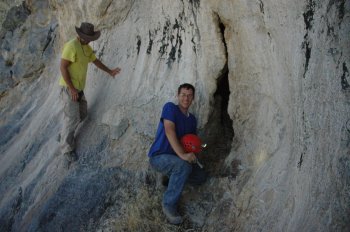 The hiking has been spectacular, though very exhausting. For example, one cave was located only about 3,500 feet from where we parked our cars. The problem was that it also was about 1,800 feet above us in elevation. Thus, we found ourselves going up hill at probably the steepest angle for any hike I have ever done. Plus, the cave was located at about 8.600 elevation, so you were doing this hiking at high elevation with its thin atmosphere. To top it off, much of the hike was up a scree slope, made up of loose pebbles and rocks that would slide down one foot for every foot you climbed. The only way to manage it was to focus on one step at a time, and take many rests.
To put it mildly, it was a slow trip, taking about two and a half hours just to reach the cave entrance.
The cave at the top was worth it, however. After a rappelling down a 40 foot pit, we entered a 600 foot long cave with many formations. The register in the cave showed that the last cavers to visit this remote place had been there in 2009, with the previous visitors from 2002.
Other caves were less challenging to reach, but also less interesting. In the picture on the right Jason Knight (with Anthony Smith to the left) is about to poke his head into a crack that ended up only going about two body lengths. We had been more hopeful the cave would go farther, but alas, that is how things go sometimes.
I'll have more to say after I get back. Right now I have to go to down for breakfast before heading out again.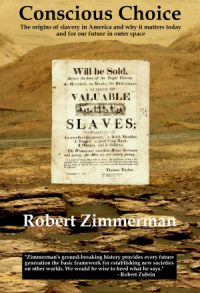 Now available in hardback and paperback as well as ebook!
From the press release: In this ground-breaking new history of early America, historian Robert Zimmerman not only exposes the lie behind The New York Times 1619 Project that falsely claims slavery is central to the history of the United States, he also provides profound lessons about the nature of human societies, lessons important for Americans today as well as for all future settlers on Mars and elsewhere in space.
Conscious Choice: The origins of slavery in America and why it matters today and for our future in outer space
, is a riveting page-turning story that documents how slavery slowly became pervasive in the southern British colonies of North America, colonies founded by a people and culture that not only did not allow slavery but in every way were hostile to the practice.
Conscious Choice
does more however. In telling the tragic history of the Virginia colony and the rise of slavery there, Zimmerman lays out the proper path for creating healthy societies in places like the Moon and Mars.
"Zimmerman's ground-breaking history provides every future generation the basic framework for establishing new societies on other worlds. We would be wise to heed what he says." —Robert Zubrin, founder of founder of the Mars Society.
All editions available at Amazon, Barnes & Noble, and all book vendors. The ebook can be purchased direct from my ebook publisher, ebookit, in which case you don't support the big tech companies and I get a bigger cut much sooner. Note that the price for the ebook, $3.99, goes up to $5.99 on September 1, 2022.
Autographed printed copies are also available at discount directly from me (hardback $24.95; paperback $14.95). Just email me at zimmerman @ nasw dot org.