Readers!
For many reasons,
mostly political but partly ethical
, I do not use Google, Facebook, Twitter. They practice corrupt business policies, while targeting conservative websites for censoring, facts repeatedly
confirmed
by news stories and by my sense that Facebook has taken action to prevent my readers from recommending Behind the Black to their friends.
Thus, I must have your direct support to keep this webpage alive. Not only does the money pay the bills, it gives me the freedom to speak honestly about science and culture,
instead of being forced to write it as others demand.
Please consider donating by giving either a one-time contribution or a regular subscription, as outlined in the tip jar below.
Regular readers can support Behind The Black with a contribution via paypal:
If Paypal doesn't work for you, you can support Behind The Black directly by sending your donation by check, payable to Robert Zimmerman, to

Behind The Black
c/o Robert Zimmerman
P.O.Box 1262
Cortaro, AZ 85652

You can also support me by buying one of my books, as noted in the boxes interspersed throughout the webpage. And if you buy the books through the ebookit links, I get a larger cut and I get it sooner.
I finally have an hour free here in Nevada.
For the past three days we have been intensely hiking up mountains over a vast area of Nevada. The goal has been to locate and map caves for the Forest Service in some of the most remote areas of the state. So far we have focused on mapping known caves, putting the possible discoveries aside for later work.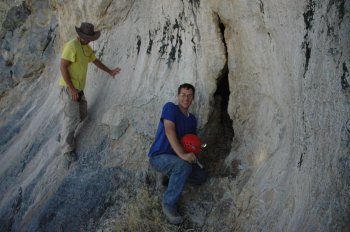 The hiking has been spectacular, though very exhausting. For example, one cave was located only about 3,500 feet from where we parked our cars. The problem was that it also was about 1,800 feet above us in elevation. Thus, we found ourselves going up hill at probably the steepest angle for any hike I have ever done. Plus, the cave was located at about 8.600 elevation, so you were doing this hiking at high elevation with its thin atmosphere. To top it off, much of the hike was up a scree slope, made up of loose pebbles and rocks that would slide down one foot for every foot you climbed. The only way to manage it was to focus on one step at a time, and take many rests.
To put it mildly, it was a slow trip, taking about two and a half hours just to reach the cave entrance.
The cave at the top was worth it, however. After a rappelling down a 40 foot pit, we entered a 600 foot long cave with many formations. The register in the cave showed that the last cavers to visit this remote place had been there in 2009, with the previous visitors from 2002.
Other caves were less challenging to reach, but also less interesting. In the picture on the right Jason Knight (with Anthony Smith to the left) is about to poke his head into a crack that ended up only going about two body lengths. We had been more hopeful the cave would go farther, but alas, that is how things go sometimes.
I'll have more to say after I get back. Right now I have to go to down for breakfast before heading out again.