We're here to help you: A House subcommittee held hearings yesterday to consider updating the Commercial Space Launch Act that regulates the commercial space tourism industry.
Forgive me if I am pessimistic about anything Congress might do. So far, every time they have updated the law Congress has increased the regulatory regimen, making it harder and more expensive for these companies to get started. Consider these words from Donna Edwards (D-Maryland), the ranking Democrat on the subcommittee:

"I've said it before and I'll say it again, I want to fly as a passenger one day. However, my enthusiasm is tempered by the recognition that there are number of questions about this growing industry that remain unanswered, and issues that need to be resolved. I raise them because they are questions of national policy and safety that deserve our due diligence and that help us, as Members of Congress, to fulfill our responsibilities to the American taxpayers." [emphasis mine]
The only "issues" that anyone has noted needing resolving have been the clumsy regulatory requirements imposed by the 2004 amendments to the Space Launch Act, requiring Congress to scramble to revise them temporarily. Nor would I expect Edwards to want make those requirements any simpler or less imposing. Consider this editorial in Aviation Week on February 3, written by her fellow Democrat Eddie Bernice Johnson (D-Texas). In it, Johnson and Edwards fret over the safety of any astronauts launched on the new privately built commercial spacecraft, like Dragon, and demand that Congress move in to make sure all is well.
In the years since the shuttle orbiters were retired, NASA has been making progress in developing follow-on systems. Last November, a request for proposals (RFP) for the development and certification of commercial crew transportation systems was released.

Before the RFP was finalized, the ranking minority member of the space subcommittee, Donna Edwards of Maryland, and I wrote the NASA administrator, voicing our concerns about the document. One of those was that the draft solicitation ran counter to the CAIB's [Columbia Accident Investigation Board's] finding that crew safety be given priority over other evaluation factors. We expressed deep concern that Congress was being asked to invest taxpayer dollars in the development of a U.S. human spaceflight system that does not make crew safety the No. 1 priority, as recommended by the CAIB.
Let me rephrase what Edwards and Johnson are really saying: "You've got a great little company here. It would really be a shame if something bad happened to it. In fact, why don't you pay us some protection money so we can guarantee nothing bad will happen to it."
What these Democrats really want to do, undoubtedly with a lot of Republican help, is to either squelch these new companies so that the old established companies that already exist in their districts can continue to dominate — and continue to dump campaign contributions into the pockets of these elected officials — or to squeeze some campaign contributions from these new companies in order to convince Congress not to squelch them.
All in all, it stinks. If these elected officials really wanted to help the country, they would instead be doing everything they could to eliminate as much government interference in this industry as they can. Other than protecting innocent third parties from falling debris from a failed launch, the government should stay out. If a private citizen has the cash and the willingness to buy a ticket to fly in space, and a private company has the rocket and spacecraft willing to fly them, it is none of Congress's business what these parties agree to.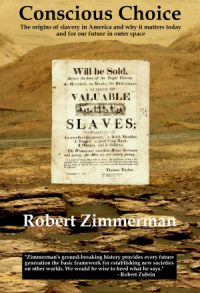 From the press release: In this ground-breaking new history of early America, historian Robert Zimmerman not only exposes the lie behind The New York Times 1619 Project that falsely claims slavery is central to the history of the United States, he also provides profound lessons about the nature of human societies, lessons important for Americans today as well as for all future settlers on Mars and elsewhere in space.
Conscious Choice: The origins of slavery in America and why it matters today and for our future in outer space
, is a riveting page-turning story that documents how slavery slowly became pervasive in the southern British colonies of North America, colonies founded by a people and culture that not only did not allow slavery but in every way were hostile to the practice.
Conscious Choice
does more however. In telling the tragic history of the Virginia colony and the rise of slavery there, Zimmerman lays out the proper path for creating healthy societies in places like the Moon and Mars.
"Zimmerman's ground-breaking history provides every future generation the basic framework for establishing new societies on other worlds. We would be wise to heed what he says." —Robert Zubrin, founder of founder of the Mars Society.
Available everywhere for $3.99 (before discount) at Amazon, Barnes & Noble, and all ebook vendors, or direct from the ebook publisher, ebookit. And if you buy it from ebookit you don't support the big tech companies and I get a bigger cut much sooner.