For the past two months I have been very focused on writing what I hope will be a somewhat influential space policy paper for the Center for New American Security, comparing the different approaches the federal government has taken in the past fifteen years toward encouraging a robust launch industry in the United States. Essentially the policy paper, Exploring Space in the 21st Century: How the American space effort since 2000, both private and public, is changing the global aerospace industry, compares the big government rocket launch programs like Orion/SLS and the Air Force's EELV/ULA with the commercial rocket launch contracts that NASA has signed with companies like SpaceX, Orbital ATK, Boeing, and Sierra Nevada to get cargo and crews up and down from ISS.
The comparison is profound, and is devastating to the supporters of big government programs. Commercial space has literally accomplished ten times more in a third the time for a tenth the cost.
That bears repeating: Commercial space ($4 billion) cost one tenth that of Orion/SLS ($43 billion), took one third the time to go from concept to launch (5 years versus 15 years), and accomplished ten times more (22 rockets/capsules versus 2.5 rockets/capsules). In analyzing these numbers, I also took a close look at why the differences are so profound. Surprisingly, the high cost of Orion/SLS has little to do with its engineering challenges, nor is it caused by any significant overcharges by the contractors. The problem is more fundamental.
The paper also reviews the effect the competition introduced by SpaceX has had on the entire launch industry. Launch costs are dropping and innovation is increasing. This, combined with the lessons learned by NASA in commercial space, suggests that the future of getting into space looks quite bright indeed.
This policy paper should be ready for publication sometime in the next two months. On Monday, however, I will be part of a space policy panel at the Center for New American Security's annual conference in Washington, DC., where I will give a short overview of my findings to a lot of major players in the upper echelons of the Washington elite community. Their response should be quite interesting.
Thus, I will be traveling to DC this weekend, and am not sure if I will be able to post much on Monday, since I very much wish to attend the entire day's conference and listen to the other speakers, including Vice President Joe Biden. It is my plan to write about what I see once I get back.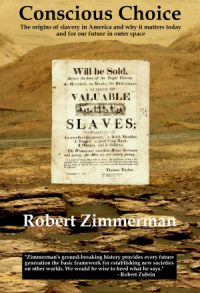 Now available in hardback and paperback as well as ebook!
From the press release: In this ground-breaking new history of early America, historian Robert Zimmerman not only exposes the lie behind The New York Times 1619 Project that falsely claims slavery is central to the history of the United States, he also provides profound lessons about the nature of human societies, lessons important for Americans today as well as for all future settlers on Mars and elsewhere in space.
Conscious Choice: The origins of slavery in America and why it matters today and for our future in outer space
, is a riveting page-turning story that documents how slavery slowly became pervasive in the southern British colonies of North America, colonies founded by a people and culture that not only did not allow slavery but in every way were hostile to the practice.
Conscious Choice
does more however. In telling the tragic history of the Virginia colony and the rise of slavery there, Zimmerman lays out the proper path for creating healthy societies in places like the Moon and Mars.
"Zimmerman's ground-breaking history provides every future generation the basic framework for establishing new societies on other worlds. We would be wise to heed what he says." —Robert Zubrin, founder of founder of the Mars Society.
All editions are available at Amazon, Barnes & Noble, and all book vendors, with the ebook priced at $5.99 before discount. The ebook can also be purchased direct from my ebook publisher, ebookit, in which case you don't support the big tech companies and I get a bigger cut much sooner.
Autographed printed copies are also available at discount directly from me (hardback $24.95; paperback $14.95; Shipping cost for either: $5.00). Just email me at zimmerman @ nasw dot org.