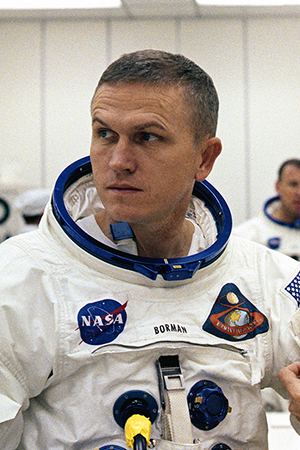 Frank Borman, suited up just before
the launch of Apollo 8 in 1968
Frank Borman, who was the commander of both the Gemini 7 manned mission that proved that humans could live in weightlessness for two weeks as well as the Apollo 8 mission to the moon, the first human mission ever to another world, passed away on November 7, 2023 in Montana at the age of 95.
For a detailed obituary, go here. Though still survived by his crewmates on Apollo 8, Jim Lovell and Bill Anders, his death ends that mission's status as the last fully surviving crew of an Apollo mission.
My experience with Frank Borman was personal, as I interviewed him several times in writing Genesis: the Story of Apollo 8. In fact, he in many ways made the book possible. At the time I was still a relatively new science journalist, with no books to my credit. In trying to reach all three astronauts from Apollo 8, I did many web searches, and though I was able to locate the business numbers of Borman and Lovell, I found it impossible to locate contact information for Bill Anders.
Nonetheless, I started with Borman, and cold-called the car dealership he then owned in Corpus Cristi. When the phone was answered I was astonished to recognize the voice of Borman on the other end saying "How can I help you?" (Apparently it was lunch time, and Borman was holding the fort while his staff went out to eat.)
I immediately asked, "Is this commander Borman?" and got a very skeptical and suddenly doubtful "Yes" in reply. I realized immediately that Borman's fame meant he was often harassed by fans in ways that could be annoying. I quickly explained who I was and that I wanted to write a history of the Apollo 8 mission, and to do so I wished to personally interview both him and his wife Susan. I explained that I strongly felt the story of the mission couldn't be told properly without her perspective.

Borman asked me to mail him some clippings of my published magazine work, which he would read on a business flight planned the next week. I did so, and less than two days later he called me back, scheduling a visit for me shortly thereafter. He later told me that one of the things that convinced him to help me was my desire to include his wife's perspective. No one had ever offered that previously. He thus didn't need much time to review my clippings. As soon as they arrived he was sold.
At the end of that first interview, which lasted several hours, he asked me if I had my interviews scheduled with Jim and Marilyn Lovell and Bill and Valerie Anders. I said that the Jim Lovell interview was arranged, but I had not been able to locate Bill Anders. Borman immediately said he would arrange contact. Without that help Genesis could not have been written.
What struck anyone who ever met Borman was his utter honesty and charming forthrightness. He told you the exact truth, as he saw it, at all times. If you prevaricated with him he wouldn't go ballistic on you, he would simply put you aside politely to find a better person to deal with. It was these personal characteristics that caused NASA to chose him as the astronaut's representative in its investigation of the 1967 launchpad fire of Apollo 1 that killed Gus Grissom, Ed White, and Roger Chafee. The agency knew that Borman would tolerate no excuses, and would find out what went wrong, without mercy but without antagonizing anyone unnecessarily. It also knew that his presence would force utter honesty from everyone else, as everyone knew Borman would not tolerate anything else.
Though he spent most of the first half of his life in the military and NASA, he never worked for the government, he worked in the government. His goal was always to achieve success for the American people and the nation, not for himself and the government itself. As he explained to me when I asked him why he became an astronaut, he made it very clear his goal was to help win the Cold War against the Soviet Union, to demonstrate as Kennedy said, "that a free people could do it better." Space exploration by itself was not that important to him, which was why he could so easily retire from NASA after Apollo 8. He considered the space race with the Soviet Union won after Apollo 8, with every later mission simply "frosting on the cake."
This attitude also explained why he could so easily transition from a government employee to a businessman and the CEO of Eastern Airlines, which he ran for ten years. Then his goal was to make the company profitable, in any way he could. Though union problems eventually made that task impossible, Borman used his fame to sell the company, becoming one of the first corporate heads to do commercials for his company.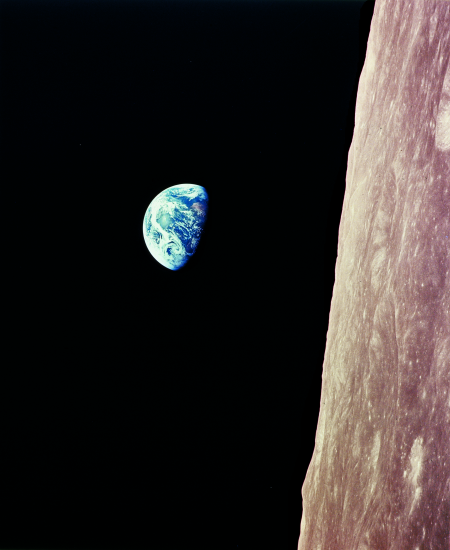 Earthrise, as photographyed by Bill Anders
In all ways Borman was an old-fashioned honest American, working at a time where integrity and honesty were highly valued in American culture. That culture quickly recognized his value wherever he went, and would quickly enlist his skills and dedication to get whaever it needed done. It was for this reason that NASA officials trusted him with the command of Apollo 8, which everyone knew would be forced to orbit the Moon on Christmas eve, due to orbital mechanics. That timing would require the astronauts to make some approprate statement on one of the most important holidays of one of the world's largest religions.
As Julian Scheer, NASA's assistant administrator for public affairs, said to Borman, "We figure more people will be listening to your voice than that of any other man in history." When Borman asked him for help, he bluntly added, "I think it would be inappropriate for NASA and particularly for a public affairs person to be putting words in your mouth. NASA will not tell you what to say."
Borman's effort to find the right words, with the help of many others, eventually led to the perfect choice, reading the first twelve verses of the Old Testament to the entire human race.
America's greatness is sadly reduced with Borman's passing. We can only pray that many others come forward to replace him, following in his honest footsteps to rebuild the America that without hesitation led the fight against tyranny for most of its history and then, to prove that a free people could do it better, took humanity to the Moon.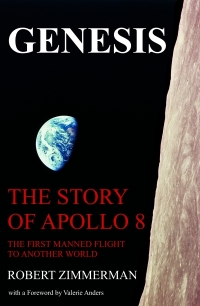 On Christmas Eve 1968 three Americans became the first humans to visit another world. What they did to celebrate was unexpected and profound, and will be remembered throughout all human history. Genesis: the Story of Apollo 8, Robert Zimmerman's classic history of humanity's first journey to another world, tells that story, and it is now available as both an ebook and an audiobook, both with a foreword by Valerie Anders and a new introduction by Robert Zimmerman.
The ebook is available everywhere for $5.99 (before discount) at
amazon
, or direct from my ebook publisher,
ebookit
. If you buy it from
ebookit
you don't support the big tech companies and the author gets a bigger cut much sooner.
The audiobook is also available at all these vendors, and is also
free with a 30-day trial membership to Audible.
"Not simply about one mission, [Genesis] is also the history of America's quest for the moon... Zimmerman has done a masterful job of tying disparate events together into a solid account of one of America's greatest human triumphs."--San Antonio Express-News