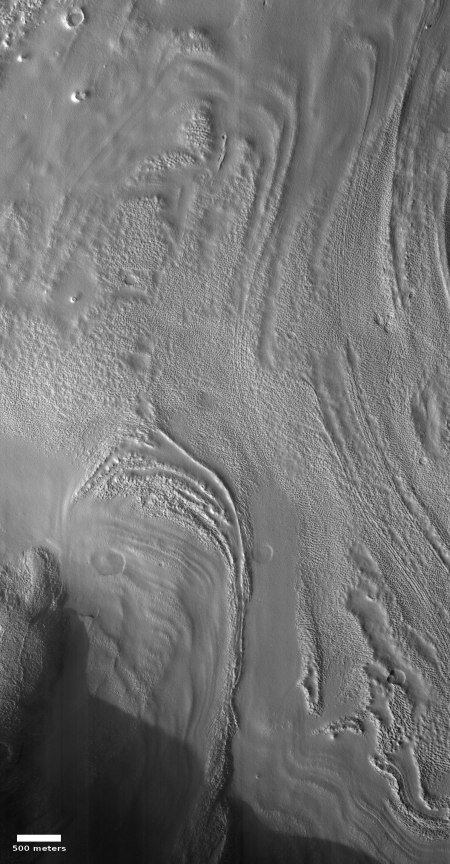 Click for full image.
Cool image time! The photo to the right, rotated, cropped, and reduced to post here, was taken on May 24, 2020 by the high resolution camera on Mars Reconnaissance Orbiter (MRO), and provides a wonderful example of the kind of evidence of buried glaciers found extensively in the mid-latitudes of Mars.
This particular region, called Protonilus Mensae, is a region of chaos terrain at the transition zone between the southern cratered highlands and the northern lowland plains. I have featured a number of cool images in Protonilus, all of which show some form of buried glacial flow, now inactive.
The last cool image above was one that the MRO science team had picked to illustrate how to spot a glacier on Mars.
In this particular image are several obvious glacier features. First, we can see a series of moraines at the foot of each glacier in the photo, each moraine indicating the farthest extent of the glacier when it was active and growing. It also appears that there are two major layers of buried ice, the younger-smaller layer near the image's bottom and sitting on top of a larger more extensive glacier flow sheet. This suggests that there was more ice in the past here, and with each succeeding ice age the glaciers grew less extensive.
Second, at the edges of the flows can be seen parallel ridges, suggestive also of repeated flows, each pushing to the side a new layer of debris.
Third, the interior of the glacier has parallel fractures in many places, similar to what is seen on Earth glaciers.
Protonilus Mensae, as well as the neighboring chaos regions Deuteronilus to the west and Nilosyrtis to the east, could very well be called Mars' glacier country. Do a search on Behind the Black for all three regions and you will come up with numerous images showing glacial features.
Below is an overview of Protonilus, the red box showing the location of this image. Also highlighted by number are the locations of the three features previously posted and listed above.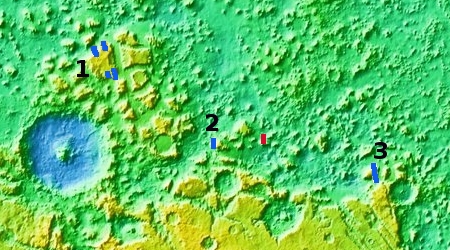 If you go to the MRO archive of images from its high resolution camera and go specifically to this location (link here), you will get access to all the high resolution photos so far taken of Protonilus. Click on any red box at this archive and you will see a different MRO image that invokes the same glacial features. If I wanted to, I could post a cool glacier image for practically every single one.
It truly appears that buried inactive glaciers are flowing down the sides of all the mesas, buttes, and hills in Protonilus. I suspect that in the future, when Mars is well settled, the colonists will come here in large numbers to mine for water. It will amply available.
I also suspect that many will stay gladly, because this terrain of buttes, mesas, and canyons is also dramatic and beautiful. And from here, at the transition zone, it will be a short journey north to the lowland plains, or south to the cratered highlands.
Readers!
Please consider donating to Behind the Black, by giving either a one-time contribution or a regular subscription, as outlined in the tip jar below. Your support will allow me to continue covering science and culture as I have for the past twenty years, independent and free from any outside influence.
Your support is even more essential to me because I keep this site free from advertisements and do not participate in corrupt social media companies like Google, Twitter, and Facebook. I depend wholly on the direct support of my readers.
You can provide that support to Behind The Black with a contribution via Patreon or PayPal. To use Patreon, go to my website there and pick one of five monthly subscription amounts, or by making a one-time donation. For PayPal click one of the following buttons:

If Patreon or Paypal don't work for you, you can support Behind The Black directly by sending your donation by check, payable to Robert Zimmerman, to


Behind The Black
c/o Robert Zimmerman
P.O.Box 1262
Cortaro, AZ 85652