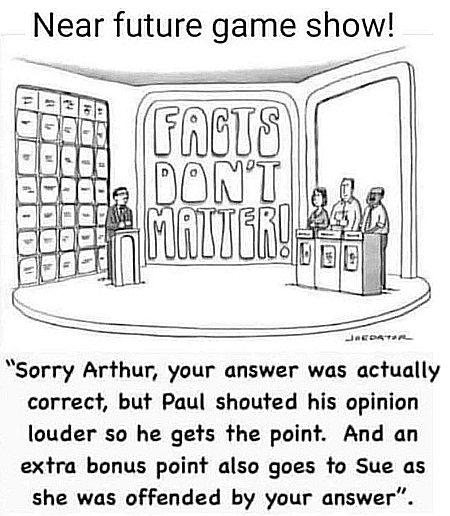 How governments today determine policy
When looked at dispassionately, the news about COVID in the past few months has consistently proven two very basic points. First, the reasons to fear COVID are now definitely gone, assuming they ever existed at all. Second, the oppressive lockdown and mask policies imposed by most governments were an epic failure.
Rather than write a lot of text, I am going to provide my readers instead a nice linkfest, divided up into a variety of subcategories. Not only do the recent facts prove the failure of the government reaction to COVID, all these stories should be cause for celebration, as they show that not only has the Wuhan flu never been as dangerous as the fear-mongers have claimed, its limited but serious threat to the aged and sickly is now also fading.
The real question is whether the public and governments will actually celebrate, or stick their heads in the sand because they have fallen in love with their fear of COVID.
So, let's take a look at the recent facts:

The end of the epidemic
All research has found that though Omicron spreads fast, for most people they are either asypmtomatic, or experience something no worse than an ordinary cold. In fact, if we weren't so focused on documenting this disease so obssessively, we would probably not even notice this new wave, and would have as in the past merely noted that "something appears to be going around."
The studies also appear to show that Omicron is taking over from past varients, thus eliminating most of the danger from this virus.
All in all, the data shows the epidemic is over.
The failure of the vaccines
Apparently, we have just completed one of the largest medical experiments of a new drug in history, and found that it is not relatively ineffective, it can be harmful — especially to the young — and should probably not have been administered.
The continuing failure of masks
None of the facts in the links below are really new. The uselessness of masks to protect against viruses has been documented for more than a century. That they also can be socially, mentally, and physically harmful if used improperly has also been known for decades.That government health departments have demanded their indiscriminate use for the past two years suggests an utter ignorance and incompetency on their part.
The last story simply proves what I wrote above, that health authorities have shown their utter ignorance and incompetency by their demands that masks be used.
Policy failures
The last story was essentially an admission at last by the Tory government of Great Britain that none of its lockdown and mask mandates were accomplishing anything. This basic fact has similarly been proven in the U.S., when you compare the situations in states like Florida and New York. Florida ended all lockdowns and mandates a long time ago, and has seen its COVID numbers drop as it reached herd immunity quickly. New York has continued to impose the most stringent rules, and its infection and death rate has skyrocketed.
I could post hundreds of more links under this category, but since I have been documenting these failures for the past two years, it seems pointless.

Would you throw the Kirwood Derby away?
To sum all these stories up, the oppressive policies instituted by governments to stop the spread of COVID were an unmitigated failure, and in general caused far more harm than anything the virus has done. Those policies should now cease, worldwide, as they have in Great Britain. And the officials who imposed them should be removed from any position of governmental authority, forever.
But most important, the epidemic is over. COVID is no longer a threat. Stop panicking. Go back to living your life normally.
And if you won't, then stop demanding that others join you in your childish panic. You might want to throw the Kirwood Derby away and remain dumb, but everyone else would rather wear it and be smart.
Readers!
In order to remain completely independent and honest in my writing, I accept no sponsorships from big space companies or any political organizations. Nor do I depend on ads.
Instead, I rely entirely on the generosity of readers to keep Behind the Black running. You can either make a one time donation for whatever amount you wish, or you sign up for a monthly subscription ranging from $2 to $15 through Paypal, or $3 to $50 through Patreon, or any amount through Zelle.
The best method to donate or subscribe is by using Zelle through your internet bank account, since it charges no fees to you or I. You will need to give my name and email address (found at the bottom of the "About" page). What you donate is what I get.
To use Patreon, go to my website there and pick one of five monthly subscription amounts, or by making a one-time donation.

For PayPal click one of the following buttons:

If these electronic payment methods don't work for you, you can support Behind The Black directly by sending your donation by check, payable to Robert Zimmerman, to


Behind The Black
c/o Robert Zimmerman
P.O.Box 1262
Cortaro, AZ 85652