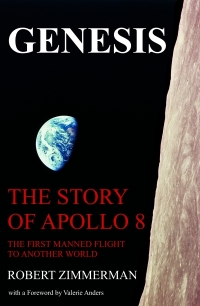 On Christmas Eve 1968 three Americans became the first humans to visit another world. What they did to celebrate was unexpected and profound, and will be remembered throughout all human history. Genesis: the Story of Apollo 8, Robert Zimmerman's classic history of humanity's first journey to another world, tells that story, and it is now available as both an ebook and an audiobook, both with a foreword by Valerie Anders and a new introduction by Robert Zimmerman.
The ebook is available everywhere for $5.99 (before discount) at
amazon
, or direct from my ebook publisher,
ebookit
.
The audiobook is also available at all these vendors, and is also
free with a 30-day trial membership to Audible.
"Not simply about one mission, [Genesis] is also the history of America's quest for the moon... Zimmerman has done a masterful job of tying disparate events together into a solid account of one of America's greatest human triumphs." --San Antonio Express-News
Guest post by Phil Berardelli
John H. Marburger III, former science adviser to President George W. Bush and head of the White House Office of Science and Technology Policy, died this past week from non-Hodgkins lymphoma. He was 70.
Just about every news article reporting the death describes Dr. Marburger, a physicist and former head of the Brookhaven National Laboratory, as a controversial figure. This article, for instance, in The New York Times, said the following about Marburger:
In a critical editorial in April 2004, The New York Times, addressing accusations that the Bush administration had distorted or suppressed scientific information that would conflict with its policy preferences, acknowledged the respect Dr. Marburger commanded, calling him "a respected physicist and lifelong Democrat who would not seem an automatic apologist for this administration." But it added, "The question yet to be answered is whether he is speaking from conviction when he claims that the critics are off base or is serving as a frontman for an administration whose activities in this area are sometimes hard to defend."
Apparently, because Marburger — a Democrat and one of the longest-serving members of the administration — supported some of the positions espoused by the Bush White House, that made him controversial. But in my 40 years as a journalist and 15 years of covering science, I can't think of a person I encountered who was more earnest and straightforward.

I interviewed Dr. Marburger once when I was Science & Technology Editor at UPI on a wide range of topics, including the persistent charge that he and the administration were looking to starve basic research. [Ed: You can read the full interview in three parts: Part 1, Part 2, Part 3.] He quietly responded that the White House had been "very generous to science, more so than the previous administration, and that's factually borne out by increases almost across the board in science areas." That was true. The science budgets under Bush, developed by Marburger, grew during those years, where they had actually flattened out in the second term of the Clinton administration.
It didn't seem to matter. The misperception that the White House was hostile to science persisted throughout Marburger's tenure, even to the point of rudeness by his audiences. I attended one such event in Washington where the two main speakers were Marburger and Tom Daschle of South Dakota, then the Senate Majority Leader. Marburger, who went first, was greeted by tepid applause, and his description of the administration's science budget and policy goals was met largely with indifference. Daschle, on the other hand, was applauded warmly and interrupted several more times by clapping. His presentation included nothing specific and consisted mostly of vague political charges — charges shown to be false by the numbers Marburger had just presented.
But if Marburger felt insulted or frustrated by such disrespectful displays, he never showed it. In the interview he characterized such incidents as examples of the "high level of sort of rather shallow dialogue" that had followed him ever since he had taken his post. That dialogue, along with reams of articles and piles of books, had been beating the drum against the administration's positions on a number of hot-button issues, including stem-cell research and climate change. On the former, President Bush had made an arguable but morally defensible decision to use federal funding only for efforts utilizing adult stem cells, plus lines of embryonic cells that already existed. He imposed no outright ban on embryonic research — an effort whose potential remains unproven to this day.
On the latter, the administration sided with scientists who were urging caution and further study before committing the nation's resources to combating a problem that might not exist. Based on a new decade of data and other findings, it now appears that caution was indeed the best tack to take.
Much has been and will continue to be written about the controversies surrounding the scientific issues of our day. But with John Marburger's passing, the science and journalism communities have lost a voice of reason in their midst. More than that, they lost a gracious and kind soul, a precious commodity in today's world — a man of science who was a true gentleman.
Readers!
My July fund-raiser for Behind the Black is now over. The support from my readers was unprecedented, making this July campaign the best ever, twice over. What a marvelous way to celebrate the website's tenth anniversary!

Thank you! The number of donations in July, and continuing now at the beginning of August, is too many for me to thank you all personally. Please forgive me by accepting my thank you here, in public, on the website.

If you did not donate or subscribe in July and still wish to, note that the tip jar remains available year round.
Regular readers can support Behind The Black with a contribution via paypal:
If Paypal doesn't work for you, you can support Behind The Black directly by sending your donation by check, payable to Robert Zimmerman, to

Behind The Black
c/o Robert Zimmerman
P.O.Box 1262
Cortaro, AZ 85652