Guest post by Phil Berardelli
John H. Marburger III, former science adviser to President George W. Bush and head of the White House Office of Science and Technology Policy, died this past week from non-Hodgkins lymphoma. He was 70.
Just about every news article reporting the death describes Dr. Marburger, a physicist and former head of the Brookhaven National Laboratory, as a controversial figure. This article, for instance, in The New York Times, said the following about Marburger:
In a critical editorial in April 2004, The New York Times, addressing accusations that the Bush administration had distorted or suppressed scientific information that would conflict with its policy preferences, acknowledged the respect Dr. Marburger commanded, calling him "a respected physicist and lifelong Democrat who would not seem an automatic apologist for this administration." But it added, "The question yet to be answered is whether he is speaking from conviction when he claims that the critics are off base or is serving as a frontman for an administration whose activities in this area are sometimes hard to defend."
Apparently, because Marburger — a Democrat and one of the longest-serving members of the administration — supported some of the positions espoused by the Bush White House, that made him controversial. But in my 40 years as a journalist and 15 years of covering science, I can't think of a person I encountered who was more earnest and straightforward.

I interviewed Dr. Marburger once when I was Science & Technology Editor at UPI on a wide range of topics, including the persistent charge that he and the administration were looking to starve basic research. [Ed: You can read the full interview in three parts: Part 1, Part 2, Part 3.] He quietly responded that the White House had been "very generous to science, more so than the previous administration, and that's factually borne out by increases almost across the board in science areas." That was true. The science budgets under Bush, developed by Marburger, grew during those years, where they had actually flattened out in the second term of the Clinton administration.
It didn't seem to matter. The misperception that the White House was hostile to science persisted throughout Marburger's tenure, even to the point of rudeness by his audiences. I attended one such event in Washington where the two main speakers were Marburger and Tom Daschle of South Dakota, then the Senate Majority Leader. Marburger, who went first, was greeted by tepid applause, and his description of the administration's science budget and policy goals was met largely with indifference. Daschle, on the other hand, was applauded warmly and interrupted several more times by clapping. His presentation included nothing specific and consisted mostly of vague political charges — charges shown to be false by the numbers Marburger had just presented.
But if Marburger felt insulted or frustrated by such disrespectful displays, he never showed it. In the interview he characterized such incidents as examples of the "high level of sort of rather shallow dialogue" that had followed him ever since he had taken his post. That dialogue, along with reams of articles and piles of books, had been beating the drum against the administration's positions on a number of hot-button issues, including stem-cell research and climate change. On the former, President Bush had made an arguable but morally defensible decision to use federal funding only for efforts utilizing adult stem cells, plus lines of embryonic cells that already existed. He imposed no outright ban on embryonic research — an effort whose potential remains unproven to this day.
On the latter, the administration sided with scientists who were urging caution and further study before committing the nation's resources to combating a problem that might not exist. Based on a new decade of data and other findings, it now appears that caution was indeed the best tack to take.
Much has been and will continue to be written about the controversies surrounding the scientific issues of our day. But with John Marburger's passing, the science and journalism communities have lost a voice of reason in their midst. More than that, they lost a gracious and kind soul, a precious commodity in today's world — a man of science who was a true gentleman.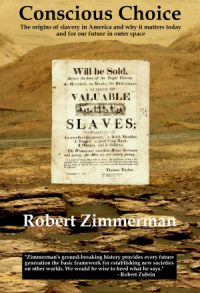 Now available in hardback and paperback as well as ebook!
From the press release: In this ground-breaking new history of early America, historian Robert Zimmerman not only exposes the lie behind The New York Times 1619 Project that falsely claims slavery is central to the history of the United States, he also provides profound lessons about the nature of human societies, lessons important for Americans today as well as for all future settlers on Mars and elsewhere in space.
Conscious Choice: The origins of slavery in America and why it matters today and for our future in outer space
, is a riveting page-turning story that documents how slavery slowly became pervasive in the southern British colonies of North America, colonies founded by a people and culture that not only did not allow slavery but in every way were hostile to the practice.
Conscious Choice
does more however. In telling the tragic history of the Virginia colony and the rise of slavery there, Zimmerman lays out the proper path for creating healthy societies in places like the Moon and Mars.
"Zimmerman's ground-breaking history provides every future generation the basic framework for establishing new societies on other worlds. We would be wise to heed what he says." —Robert Zubrin, founder of founder of the Mars Society.
All editions are available at Amazon, Barnes & Noble, and all book vendors, with the ebook priced at $5.99 before discount. The ebook can also be purchased direct from my ebook publisher, ebookit, in which case you don't support the big tech companies and I get a bigger cut much sooner.
Autographed printed copies are also available at discount directly from me (hardback $24.95; paperback $14.95; Shipping cost for either: $5.00). Just email me at zimmerman @ nasw dot org.