The image below from Mars Reconnaissance Orbiter shows gullies remarkably similar to gullies formed on Earth by flowing water, thus providing striking evidence that at some time in the past liquid water did flow on the Martian surface, something that is not possible now. Key quote from the caption:
The gullies shown in the subimage (approximately 710 x 1100 yards) have well developed alcoves, deeply incised channels, and large depositional fans, and are similar to terrestrial landscapes sculpted by surficial water.

The gullies shown in the subimage experienced several periods of activity, as evidenced by older channels cut by younger ones or by their deposits. The current and recent Martian temperatures and atmospheric conditions would not allow for water to be stable at the surface for extended periods of time: it is so cold that the water would freeze, and then it would sublime quickly, because the air is very thin and dry. These gullies could have formed under a different climate, or maybe by repeated bursts of transient fluids. Current leading hypotheses explaining the origin of gullies includes erosion from seepage or eruption of water from a subsurface aquifer, melting of ground ice, or dust-blanketed surface snow.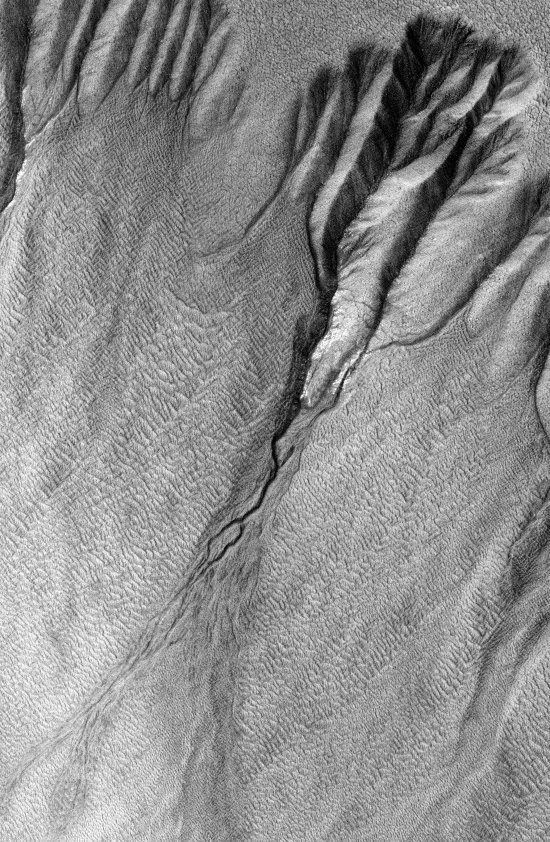 Readers!
My July fund-raising campaign for 2021 has now ended. Thank you all for your donations and subscriptions. While this year's campaign was not as spectacular as last year's, it was the second best July campaign since I began this website.
And if you have not yet donated or subscribed, and you think what I write here is worth your support, you can still do so. I depend on this support to remain independent and free to write what I believe, without any pressure from others. Nor do I accept advertisements, or use oppressive social media companies like Google, Twitter, and Facebook. I depend wholly on the direct support of my readers.
If you choose to help, you can contribute via Patreon or PayPal. To use Patreon, go to my website there and pick one of five monthly subscription amounts, or by making a one-time donation. For PayPal click one of the following buttons:

If Patreon or Paypal don't work for you, you can support Behind The Black directly by sending your donation by check, payable to Robert Zimmerman, to


Behind The Black
c/o Robert Zimmerman
P.O.Box 1262
Cortaro, AZ 85652