The image below from Mars Reconnaissance Orbiter shows gullies remarkably similar to gullies formed on Earth by flowing water, thus providing striking evidence that at some time in the past liquid water did flow on the Martian surface, something that is not possible now. Key quote from the caption:
The gullies shown in the subimage (approximately 710 x 1100 yards) have well developed alcoves, deeply incised channels, and large depositional fans, and are similar to terrestrial landscapes sculpted by surficial water.

The gullies shown in the subimage experienced several periods of activity, as evidenced by older channels cut by younger ones or by their deposits. The current and recent Martian temperatures and atmospheric conditions would not allow for water to be stable at the surface for extended periods of time: it is so cold that the water would freeze, and then it would sublime quickly, because the air is very thin and dry. These gullies could have formed under a different climate, or maybe by repeated bursts of transient fluids. Current leading hypotheses explaining the origin of gullies includes erosion from seepage or eruption of water from a subsurface aquifer, melting of ground ice, or dust-blanketed surface snow.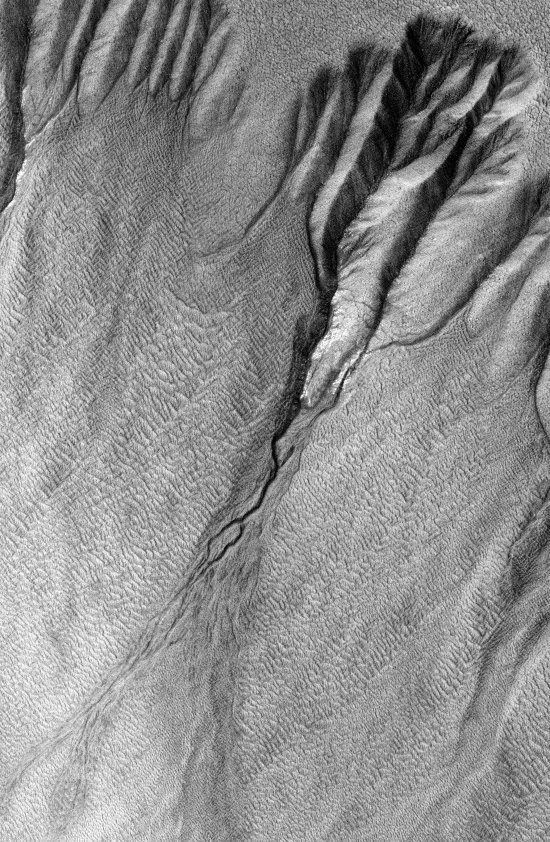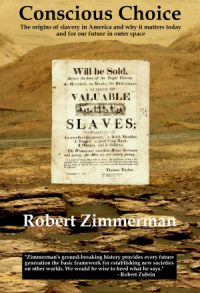 Now available in hardback and paperback as well as ebook!
From the press release: In this ground-breaking new history of early America, historian Robert Zimmerman not only exposes the lie behind The New York Times 1619 Project that falsely claims slavery is central to the history of the United States, he also provides profound lessons about the nature of human societies, lessons important for Americans today as well as for all future settlers on Mars and elsewhere in space.
Conscious Choice: The origins of slavery in America and why it matters today and for our future in outer space
, is a riveting page-turning story that documents how slavery slowly became pervasive in the southern British colonies of North America, colonies founded by a people and culture that not only did not allow slavery but in every way were hostile to the practice.
Conscious Choice
does more however. In telling the tragic history of the Virginia colony and the rise of slavery there, Zimmerman lays out the proper path for creating healthy societies in places like the Moon and Mars.
"Zimmerman's ground-breaking history provides every future generation the basic framework for establishing new societies on other worlds. We would be wise to heed what he says." —Robert Zubrin, founder of founder of the Mars Society.
All editions are available at Amazon, Barnes & Noble, and all book vendors, with the ebook priced at $5.99 before discount. The ebook can also be purchased direct from my ebook publisher, ebookit, in which case you don't support the big tech companies and I get a bigger cut much sooner.
Autographed printed copies are also available at discount directly from me (hardback $24.95; paperback $14.95; Shipping cost for either: $5.00). Just email me at zimmerman @ nasw dot org.