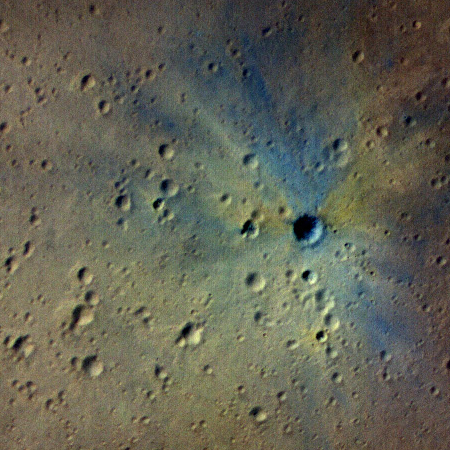 Cool image time! The high resolution camera on Mars Reconnaissance Orbiter (MRO) keeps finding recent impact craters, all of which the science team try to monitor periodically to see how the surface evolves over time. The image on the right, cropped to post here, is one such crater, the image taken in January 2018 and released with as one of the captioned images from this month's image catalog release. If you click on the image you can see the full picture.
What is notable about this particular impact are the colors.
The new crater and its ejecta have distinctive color patterns. Once the colors have faded in a few decades, this new crater will still be distinctive compared to the secondaries by having a deeper cavity compared to its diameter.
Those colors of course have importance to researchers, as they reveal the different materials found beneath the surface at this location, normally hidden by surface dust and debris.
Nor is this the only impact crater revealed in this month's image release. Earlier in the month the science team highlighted an image that captured two small impacts. While all three of these impacts are in the general region called Elysium Planitia, they are not particularly close to each other. They are however surrounding the landing site for the InSight lander now heading to Mars. This last link takes you to my January 28, 2018 post detailing some information about this landing site, and also includes another recent crater impact, found at the center of the landing zone.
It is not clear if these recent impacts are related to each other. As noted by Alfred McEwen of the science team, "Often, a bolide breaks apart in the atmosphere and makes a tight cluster of new craters." It could be that all these recent impacts came from the same bolide, which is why there appear to be a surplus of them in Elysium Planitia.
Then again, our surface survey of Mars is very incomplete. These impacts could simply be marking the normal impact rate for Mars. We will not know until we have completed a detail survey of all recent impacts on Mars, and have been able to date them all.
Who wants to do it?
Please consider donating to Behind the Black, by giving either a one-time contribution or a regular subscription, as outlined in the tip jar below. Your support will allow me to continue covering science and culture as I have for the past twenty years, independent and free from any outside influence.
Regular readers can support Behind The Black with a contribution via paypal:
If Paypal doesn't work for you, you can support Behind The Black directly by sending your donation by check, payable to Robert Zimmerman, to

Behind The Black
c/o Robert Zimmerman
P.O.Box 1262
Cortaro, AZ 85652