Readers!
Scroll down to read this post.
For many reasons,
mostly political but partly ethical
, I do not use Google, Facebook, Twitter. They practice corrupt business policies, while targeting conservative websites for censoring, facts repeatedly
confirmed
by news stories and by my sense that Facebook has taken action to prevent my readers from recommending Behind the Black to their friends.
Thus, I must have your direct support to keep this webpage alive. Not only does the money pay the bills, it gives me the freedom to speak honestly about science and culture,
instead of being forced to write it as others demand.
Please consider donating by giving either a one-time contribution or a regular subscription, as outlined in the tip jar below.
Regular readers can support Behind The Black with a contribution via paypal:
If Paypal doesn't work for you, you can support Behind The Black directly by sending your donation by check, payable to Robert Zimmerman, to

Behind The Black
c/o Robert Zimmerman
P.O.Box 1262
Cortaro, AZ 85652

You can also support me by buying one of my books, as noted in the boxes interspersed throughout the webpage. And if you buy the books through the ebookit links, I get a larger cut and I get it sooner.
Summary: Curiosity finally gets drill samples from the top of Vera Rubin Ridge. Opportunity's silence now extends to five months.
For a list of past updates beginning in July 2016, see my February 8, 2018 update.
Curiosity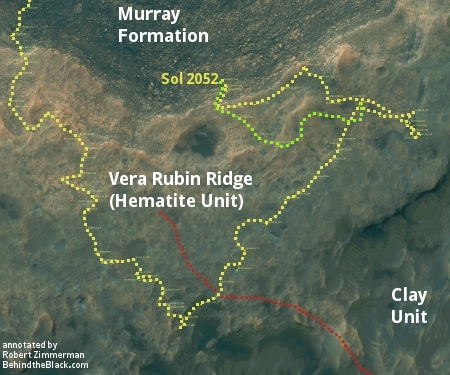 For the overall context of Curiosity's travels, see Pinpointing Curiosity's location in Gale Crater.
The traverse map on the right, unchanged from my last rover update on July 17, 2018, shows almost all of Curiosity's travels on Vera Rubin Ridge. The yellow dotted line is the oldest travel, up onto the ridge and then back down to get a successful drill sample. The green dotted line shows the rover's return back up onto the top of the ridge, where it attempted and failed to drill into the ridge's top layer, then experienced a serious computer issue in mid-September that essentially shut down science operations for about five weeks.
With the resumption of science operations about two weeks ago, the rover has moved a short distance on the top of the ridge to a new drill location, where it finally succeeded this week in drilling a hole in the hardest top layer of Vera Rubin Ridge.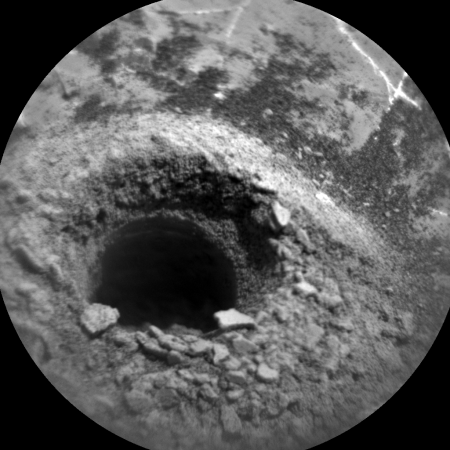 To[day] we received confirmation that Curiosity's drill yestersol was successful, as shown in this Navcam image of the "Highfield" target – our eighteenth drill hole in the martian surface!

Not quite a 'hole in one,' as we tried to sample the same gray Jura rock type about 50 sols ago, but we finally have a sample of our highest value target on Vera Rubin Ridge. Rather than retreat to the club house for a well-earned celebration, however, Curiosity and the team stayed busy in Sol 2225, doing Mastcam and ChemCam imaging of the new drill hole and tailings. This was in preparation for the weekend plan, in which there'll be further imaging and ChemCam LIBS on the drill hole, and samples will be dropped off to CheMin for further analysis.
The image above and on the right, slightly reduced to post here, is a close-up of that drill hole, taken by the rover's ChemCam camera, designed to take close-ups. They plan to stay where they are for several more days to study how the Martian wind changes the pile of drill tailings surrounding the drill hole.
The red line on the traverse map above shows the rover's long term planned route up Mount Sharp. Once they finish their research at this successful drill hole, the science team is expected to resume that journey, heading south across the saddle down off of the ridge and then up the mountain into a spectacular canyon, visible near the left edge of the photograph below, and towards two intermittent dark streaks thought to be water seeps.
Opportunity
For the context of Opportunity's travels along the rim of Endeavour Crater, see my May 15, 2017 rover update.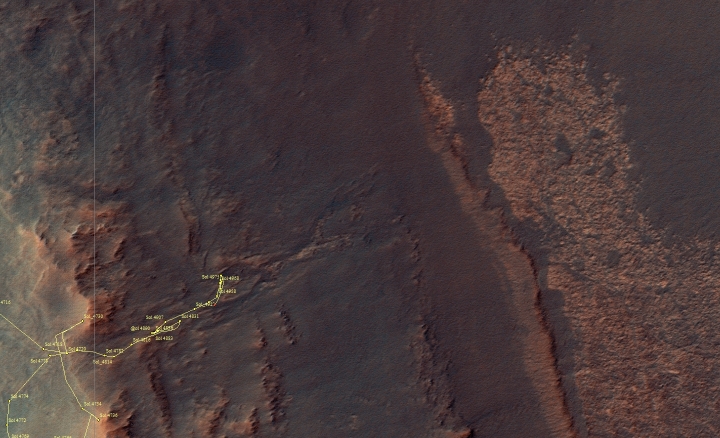 The traverse map above, showing Opportunity's location halfway down the rim of Endeavour Crater inside Perserverance Valley, was released on February 15, 2018. Through June, Opportunity stayed at this general location as it did contact science.
Then, the global dust storm took place, and since June 11, 2018 Opportunity has been silent. It has now been five months since the science team has had any contact with the rover. They continue to ping it and listen for a response, but have so far had no luck.
It is thought that the rover's solar panels became covered with dust during the dust storm, and will require a dust devil to pass close by to clear the panel so the rover can once again store energy in its batteries. This has happened previously, and the dust devil season is just now beginning, so there remains hope at this time that contact will be restored.
At the same time, it is also very likely that the lack of power for so long has made it impossible for Opportunity to recharge its batteries. If so, its mission will have finally ended, a mission that lasted fourteen years longer than its planned 90 days.