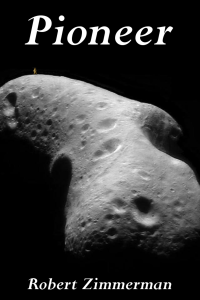 From the press release: From the moment he is handed a possibility of making the first alien contact, Saunders Maxwell decides he will do it, even if doing so takes him through hell and back.
Unfortunately, that is exactly where that journey takes him.
The vision that Zimmerman paints of vibrant human colonies on the Moon, Mars, the asteroids, and beyond, indomitably fighting the harsh lifeless environment of space to build new societies, captures perfectly the emerging space race we see today.
He also captures in Pioneer the heart of the human spirit, willing to push forward no matter the odds, no matter the cost. It is that spirit that will make the exploration of the heavens possible, forever, into the never-ending future.
Available everywhere for $3.99 (before discount) at
amazon
,
Barnes & Noble
, all ebook vendors, or direct from the ebook publisher,
ebookit
.
Today I attended an space industry conference here in Orange County, California, sponsored by the American Institute of Aeronautics and Astronautics. Unlike the Space Hackers conference which also occurred today and to which I was also invited, this was not a New Space get-together, but a standard aerospace event which included a lot of old time engineers from the big old-time companies like Boeing and Lockheed Martin.
Most of the talks today were engineering related. For example, one described in detail the engineering advantages of building ion engines and solar sails at the molecular level, nanotechnology to the max. Another talk, which I found astonishing and exciting, was an analysis of the orbital mechanics of getting to Mars. This analysis found that using constant acceleration as low as .01 G it would be possible to get to Mars in weeks, not years, and without the necessity of waiting for the perfect launch window. You could launch almost anytime. Though we don't have engines that as yet can provide this much constant low acceleration, these numbers are not so high as to make it impossible. With some clever refinements, it might be possible to come up with propulsion systems capable of these constant Gs, and to do it in the near future. If so, it will open up the entire solar system to manned exploration very quickly. Not only will we be able to travel to the planets in a reasonable time, the constant Gs would overcome the medical problems caused by prolonged weightlessness.
It wasn't these interesting engineering presentations that got my juices flowing however. Instead, it was presentation on public policy issues that completely surprised me and made me think the future of the American aerospace industry is really going in the right direction. This significant take-away was further reinforced by the audience's reaction to my lecture in the evening.

The presentation was by the local AIAA Orange County public policy vice chairman, Kamal Shweyk, on the AIAA's efforts to influence Congress in how it spends its money on aerospace. Each year they have a day in which members of the AIAA descend upon Washington, visiting Congressmen and Senators to explain and educate them on the importance of aerospace to the nation. This is essentially a lobbying effort by American citizens, though they are very careful not to use that word because if they do, they might be required to register as officially lobbyists, something they understandably want to avoid.
Historically, AIAA has not been considered a New Space organization. Its members mostly come from the older aerospace companies like Lockheed Martin and Boeing. Since these companies have generally been hostile to the new commercial space companies like SpaceX and Virgin Galactic — seeing them as a dangerous and competitive threat — I would have expected an effort by AIAA to influence Congress would mean they are trying to encourage funding for Big Space projects like the Space Launch System (SLS). In the past it has been these Big Space projects that has filled the coffers of Boeing and Lockheed Martin. The contracts for these project have been cost-plus, meaning that they have been able to rake in a lot of cash, whether or not they even build anything.
To my joy Mr. Shweyk's presentation described something completely different. Instead, the AIAA is gung-ho for commercial space, and is doing everything it can to encourage Congress to come up with the money to fund the efforts of new companies like SpaceX, Sierra Nevada, Orbital Sciences, and Boeing to build new cheap cargo and manned ferrying spacecraft to low Earth orbit. The Space Launch System was not on their agenda. They had no interest in promoting it. Instead, they wanted money to go to the new efforts, so that more rockets and spaceships could be built by more companies, for less money.
For this organization, dominated as it is by the big and older aerospace companies, to push this agenda suggests to me that the culture truly has shifted, and that private space is definitely winning the political and cultural battle.
I had further proof of this during my evening keynote banquet lecture, in which I also tried to explain from a historical perspective the advantages of commercial private space. The audience was generally enthusiastic and interested. There was some skepticism expressed, but no hostility. Instead, the skepticism was merely an effort to better understand how the industry was changing, and where it was heading.
Had I attended the Space Hackers Conference, I am sure that I would have heard everyone talking about the importance and significance of private space. This really wouldn't taught me anything, however, since everyone there is already a true believer. By going instead to this AIAA conference, however, I saw evidence that those who formerly had been doubters were now convinced. Private space, built on the concept of free competition, has apparently won the day.
With the AIAA backing private space to Congress, the days of big NASA projects like SLS, expensive and not very effective, appears to me to be very numbered.
Readers!
Every July, to celebrate the anniversary of the start of Behind the Black in 2010, I hold a month-long fund-raising campaign to make it possible for me to continue my work here for another year.

This year's fund-raising drive however is more significant in that it is also the 10th anniversary of this website's founding. It is hard to believe, but I have been doing this for a full decade, during which I have written more than 22,000 posts, of which more than 1,000 were essays and almost 2,600 were evening pauses.

This year's fund drive is also more important because of the growing intolerance of free speech and dissent in American culture. Increasingly people who don't like what they read are blatantly acting to blackball sites like mine. I have tried to insulate myself from this tyrannical effort by not depending on Google advertising or cross-posts Facebook or Twitter. Though this prevents them from having a hold on me, it also acts to limit my exposure.

Therefore, I hope you will please consider donating to Behind the Black, by giving either a one-time contribution or a regular subscription, as outlined in the tip jar below. Your support will allow me to continue covering science and culture as I have for the past twenty years, independent and free from any outside influence.
Regular readers can support Behind The Black with a contribution via paypal:
If Paypal doesn't work for you, you can support Behind The Black directly by sending your donation by check, payable to Robert Zimmerman, to

Behind The Black
c/o Robert Zimmerman
P.O.Box 1262
Cortaro, AZ 85652