The monthly update of the solar cycle graph produced by NOAA's Space Weather Prediction Center was released yesterday. I have posted the graph below the fold.
The fast ramp up to solar maximum is continuing. For the fifth month in a row the Sun's sunspot activity leaped upward. Not only has the sunspot activity once again exceeded the prediction for this particular time period, the activity is shot way above the solar maximum peak predicted for several years hence. This behavior is far different then what we've seen during the just completed long and deep solar minimum, when the Sun consistently underperformed the predictions for sunspot activity. Now it appears to be outperforming the predictions.

I should mention that it is not unusual to see a fast ramp up like this. The Sun routinely ramps down from maximum slowly, and then ramps up quickly. What makes this interesting is how the ramp up has suddenly made the Sun far more active than predicted.
Interestingly, the the solar scientists at the Marshall Space Flight Center have not adjusted their prediction for the next solar maximum, as they have for the past three months. At this moment they still predict a peak sunspot number of 89 for the next solar maximum, occurring in May 2013. This would make the upcoming maximum the weakest in 80 years.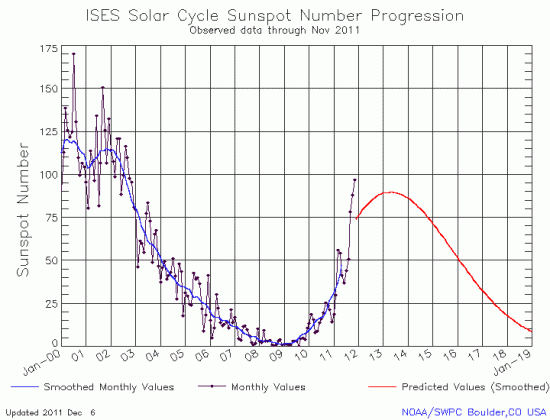 Readers!
Please consider donating to Behind the Black, by giving either a one-time contribution or a regular subscription, as outlined in the tip jar below. Your support will allow me to continue covering science and culture as I have for the past twenty years, independent and free from any outside influence.
Your support is even more essential to me because I keep this site free from advertisements and do not participate in corrupt social media companies like Google, Twitter, and Facebook. I depend wholly on the direct support of my readers.
You can provide that support to Behind The Black with a contribution via Patreon or PayPal. To use Patreon, go to my website there and pick one of five monthly subscription amounts, or by making a one-time donation. For PayPal click one of the following buttons:

If Patreon or Paypal don't work for you, you can support Behind The Black directly by sending your donation by check, payable to Robert Zimmerman, to


Behind The Black
c/o Robert Zimmerman
P.O.Box 1262
Cortaro, AZ 85652