Two more stories this week provide additional evidence that Roscosmos, the new Russian government-run space corporation that controls Russia's entire space industry, intends to eliminate its dependence on any foreign contributions, even if that contribution comes from the former Soviet province of Ukraine.
In the first story, Roscosmos ends the commercial use of the Dnepr anti-ballistic missile, built originally in the Ukraine. In the second story Roscosmos makes it very clear that it will focus on using its Russia-made Angara rocket rather than depend on the Ukrainian Zenit, even though Zenit is what the Roscosmos-owned Sea Launch platform was designed to use and Angara is far from operational.
The main result of these decisions will be the bankrupt many Ukrainian space companies. Whether it will bring more business to Angara, however, remains to be seen. Angara has only had one orbital launch, and has hardly tested its many different configurations. At this stage it is highly unlikely that the commercial customers who have depended on Dnepr and Zenit will flock to it, especially since they now have other competitive options available in the west.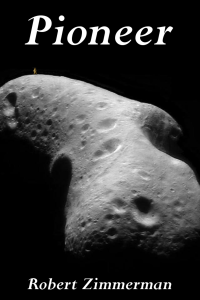 From the press release: From the moment he is handed a possibility of making the first alien contact, Saunders Maxwell decides he will do it, even if doing so takes him through hell and back.
Unfortunately, that is exactly where that journey takes him. The vision that Zimmerman paints of vibrant human colonies on the Moon, Mars, the asteroids, and beyond, indomitably fighting the harsh lifeless environment of space to build new societies, captures perfectly the emerging space race we see today. He also captures in Pioneer the heart of the human spirit, willing to push forward no matter the odds, no matter the cost. It is that spirit that will make the exploration of the heavens possible, forever, into the never-ending future. Available everywhere for $3.99 (before discount) at
amazon
,
Barnes & Noble
, all ebook vendors, or direct from the ebook publisher,
ebookit
. And if you buy it from
ebookit
you don't support the big tech companies and I get a bigger cut much sooner.