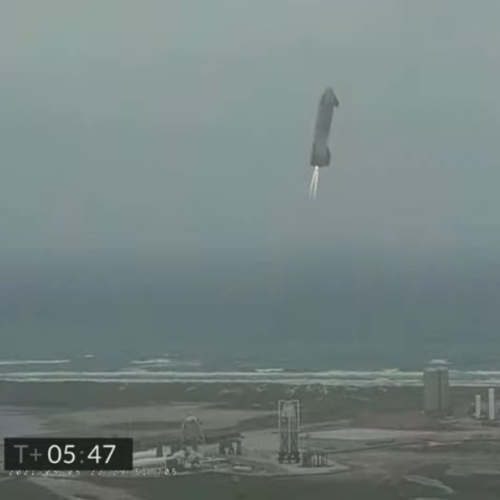 Starship prototype #15 about to land, May 5, 2021
A series of articles at Teslarati in the past two days suggest strongly that the next Starship flight will be on top of a Superheavy first stage, and will likely be the first near orbital flight from Texas around the globe to splashdown softly in the Pacific Ocean northeast of Hawaii.
And it will likely happen this year!
First there was the report from locals in the McGregor, Texas, area indicating that SpaceX has completed a full duration launch burn of a Raptor engine.
A local resident and unofficial SpaceX observer has reported hearing a test of one of Starship's Raptor engines that lasted more than five minutes at the company's McGregor, Texas development facilities.

If accurate, it could be the longest static fire of a Starship engine that SpaceX has ever completed in the two years since full-scale Raptor testing first began. Whether it was successful or not, a five or six-minute static fire would also confirm that SpaceX is well into the process of qualifying Raptor for Starship's first orbital launch attempts.
This burn is somewhat longer than the engine burns during the Starship test hops, and approaches the burn time required for Superheavy during a launch.
Next there was the report describing the newest known engine configurations SpaceX is planning for Superheavy itself, with the first version possibly having 29 engines and a future more powerful version sporting 32.

This high number of Raptor engines needed for the planned upcoming test flights, most of which will not be recovered, has also required SpaceX to accelerate its engine production rate, apparently completing one engine every 48 hours. The total number of engines on hand appears to be approaching 150, with that number likely doubling over the next year.
Then today was an additional story describing not only the anticipating assembly plans for Superheavy but also noting that the company is in the process of completing the first tank test on the second Superheavy prototype.
All in all, it appears that SpaceX's Starship development program is now focusing itself entirely on that first near-orbital flight, which also tells us that this flight might very well occur before the end of the summer, an achievement that would be beyond astonishing.
The last Teslarati article also had this factoid about Superheavy's anticipated capabilities:
With 29 identical Raptors, the simplest possible Super Heavy booster would produce up to 5800 tons (12.8M lbf) of thrust at liftoff. If SpaceX has already completed Raptor Boost's design and qualification and kicked off mass production of a 250-mTf engine, that liftoff thrust climbs to 6800 tons (~15M lbf). If SpaceX achieves performance goals (~210 mTf stock; ~300 mTf RBoost) mentioned by Musk last year, a 32-engine Super Heavy could achieve peak liftoff thrust greater than 8500 metric tons (~18.7M lbf).

Even in its weakest configuration, Super Heavy will still be more than 60% more powerful than Saturn V and 25% more powerful than N1 – the largest rockets to have ever successfully or unsuccessfully flown.
Moreover, as designed, Superheavy will return to Earth, ready to fly again. And it will do it for pennies on the dollar when compared with the cost of both the Saturn 5 and SLS.
Finally, a story at Business Insider highlighted a tweet by Musk which stated that the refurbishment of one of two floating oil rigs, dubbed Deimos and Phobos, is aiming for completion next year. If all goes as intended the first regular orbital launches and landings will take place from these platforms.
All the pieces appear to be falling into place. The next year or so could be by far the most exciting year in space exploration since 1969.
Readers!
Please consider donating to Behind the Black, by giving either a one-time contribution or a regular subscription, as outlined in the tip jar below. Your support will allow me to continue covering science and culture as I have for the past twenty years, independent and free from any outside influence.
Your support is even more essential to me because I keep this site free from advertisements and do not participate in corrupt social media companies like Google, Twitter, and Facebook. I depend wholly on the direct support of my readers.
You can provide that support to Behind The Black with a contribution via Patreon or PayPal. To use Patreon, go to my website there and pick one of five monthly subscription amounts, or by making a one-time donation. For PayPal click one of the following buttons:

If Patreon or Paypal don't work for you, you can support Behind The Black directly by sending your donation by check, payable to Robert Zimmerman, to


Behind The Black
c/o Robert Zimmerman
P.O.Box 1262
Cortaro, AZ 85652