The Sun is now in what appears to be the longest stretch ever recorded, since the 11-year solar sunspot cycle reactivated in the 1700s after the last grand minimum, of sunspot inactivity. This record-setting dearth of practically no sunspots has now stretched to six months in a row.
On December 8 NOAA released its November update of its graph showing the long term sunspot activity of the Sun. As I have done now every month since this webpage began in 2011, I have posted it below, with annotations: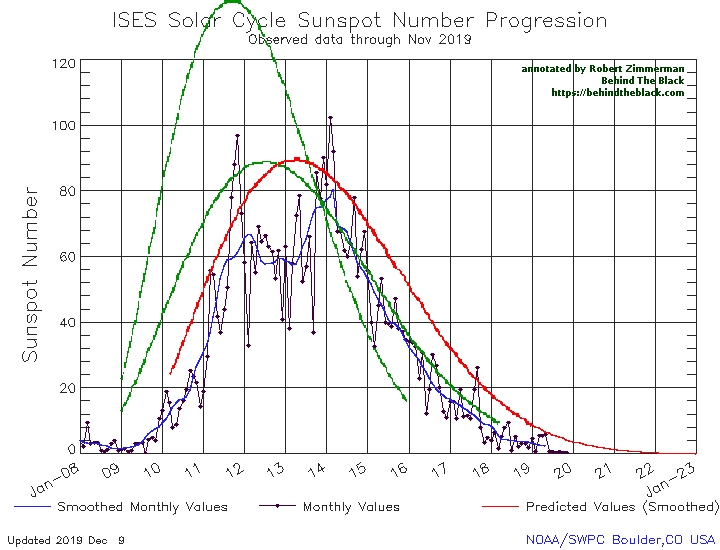 The graph above has been modified to show the predictions of the solar science community for the previous solar maximum. The green curves show the community's two original predictions from April 2007, with half the scientists predicting a very strong maximum and half predicting a weak one. The red curve is their revised May 2009 prediction, extended in November 2018 four years into the future.
In November the Sun saw two official sunspots (here and here) and one active area that never received an official sunspot number, with two of these three weak events having a polarity linking them to the next solar maximum.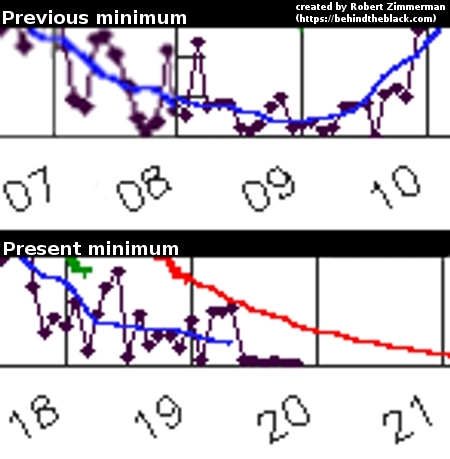 The image to the right illustrates just how unprecedented this present stretch of inactivity is. It zooms in on the previous solar minimum from 2007 to 2010 and compares this with a close-up of the present on-going minimum. Even though the last minimum was the deepest and longest in a century, it had far more sunspot activity than what we are seeing now. At no time during the last minimum were there ever six months of almost no sunspots.
This fact is further reinforced by the overall lack of sunspots this entire year. As of today the visible hemisphere of the Sun has been blank 262 days, or 76% of the time. During the past minimum the Sun set a record of blankness in 2008, being blank 73% of the time, with a total number of blank days of 268. As of today the Sun has already been blank 262 days, making it very likely that by the end of the year it will have easily beaten that 2008 record.
Furthermore, the few sunspots we have been seeing have been very weak and short-lived. Though a number have had a polarity assigning them to the next solar maximum, there is solid evidence that many of them would not have been detected during the grand minimum of the 1600s, dubbed the Maunder Minimum. During that grand minimum, which lasted almost a century, there was no recorded 11-year sunspot cycle, and astronomers observed almost no sunspots, using the technology available at the time. Many of the sunspots that have occurred in the last six months have been so weak that it is quite possible they would not have been detected by those 17th century astronomers.
Are we therefore entering a new grand minimum? No one yet knows, and we probably will not know until this upcoming solar maximum unfolds in the next four years. If it is merely weak, it means a grand minimum has not yet begun. If it is so weak however that we only see a scattering of very short-lived feeble sunspots that a 17th century astronomer would have not seen, then a new grand minimum will be upon us.
And as I have noted repeatedly in the past decade in these monthly sunspot updates, the arrival of a new grand minimum, the first since the 1600s, could have important consequences for our climate. Past grand minimums have been accompanied by a cooling climate. In the 1600s they called it the Little Ice Age, with failed crops and some years with no summers at all.
At the moment we do not know the link between these two events (a grand minimum and a cooling climate). There is evidence that lack of activity allows more cosmic rays to hit the upper atmosphere, which produces more cloud cover which repels sunlight, thus causing the climate to cool. This theory has not been confirmed however. A new grand minimum will allow scientists to find out, however.
If we find that a lack of sunspot activity does cool the climate, then every climate model predicting a coming age of global warming will turn out to be very wrong. And those models have not been very right so far.
So stay tuned. We could be in for some very cold times, during which it will become difficult to grow crops, resulting in some famines. If so, we might all be wishing fervently for some global warming.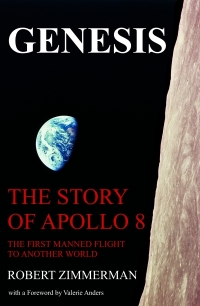 On Christmas Eve 1968 three Americans became the first humans to visit another world. What they did to celebrate was unexpected and profound, and will be remembered throughout all human history. Genesis: the Story of Apollo 8, Robert Zimmerman's classic history of humanity's first journey to another world, tells that story, and it is now available as both an ebook and an audiobook, both with a foreword by Valerie Anders and a new introduction by Robert Zimmerman.
The ebook is available everywhere for $5.99 (before discount) at
amazon
, or direct from my ebook publisher,
ebookit
. If you buy it from
ebookit
you don't support the big tech companies and the author gets a bigger cut much sooner.
The audiobook is also available at all these vendors, and is also
free with a 30-day trial membership to Audible.
"Not simply about one mission, [Genesis] is also the history of America's quest for the moon... Zimmerman has done a masterful job of tying disparate events together into a solid account of one of America's greatest human triumphs."--San Antonio Express-News