My monthly sunspot for December is late this month because I simply forgot to do it. (Thanks to reader Phill Oltmann for prodding my memory.)
Below is NOAA's monthly graph for tracking the Sun's monthly sunspot activity, annotated by me to show the past solar cycle predictions.
The increasing sunspot activity we saw in October continued spectacularly in November. In fact, the amount of activity was the most seen since the summer of 2017, when the last solar maximum gave us its last big outburst.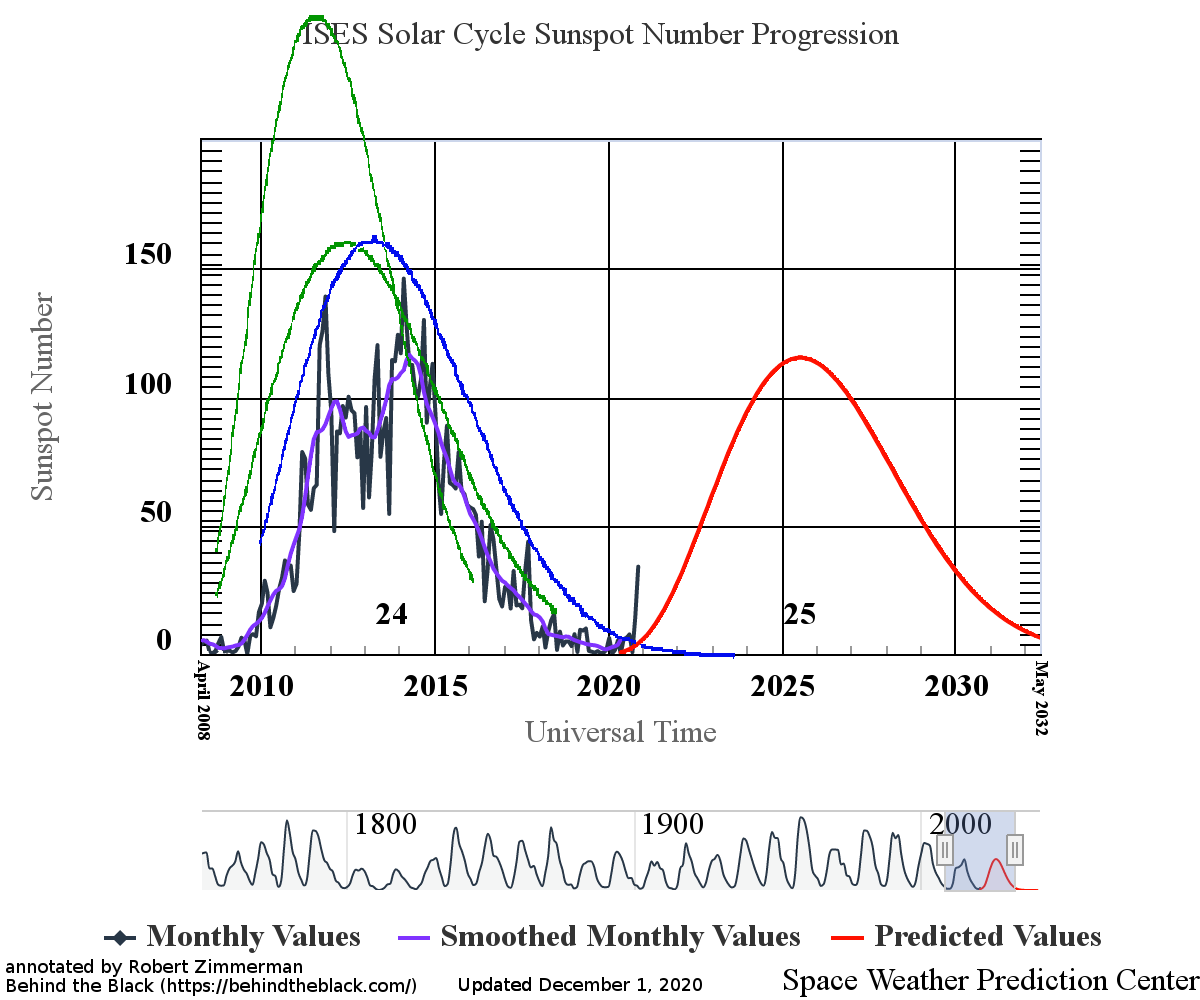 The graph above has been modified to show the predictions of the solar science community for the previous solar maximum. The green curves show the community's two original predictions from April 2007 for the previous maximum, with half the scientists predicting a very strong maximum and half predicting a weak one. The blue curve is their revised May 2009 prediction. The red curve is the new prediction, first posted by NOAA in April 2020.
November's activity proves unequivocally that a new solar maximum is coming. We will have no grand minimum this cycle, despite the unprecedented knowledge it would bring us. The sudden increase in November is not unusual during the initial ramp up to solar maximum, but if a grand minimum was coming we would have likely not seen such a burst of activity.
November's outburst demonstrates again that solar scientists still don't understand the fundamental processes that cause the Sun's magnetic dynamo to cycle as it does. In the past decade we have had predictions calling for either a decline in sunspots, a significant increase, or no significant change during this upcoming cycle.
While the middle prediction now appears more correct, it is still too soon to say. As I noted in 2019, "The range of predictions here is so great that essentially it shows that there really is no consensus on what will happen."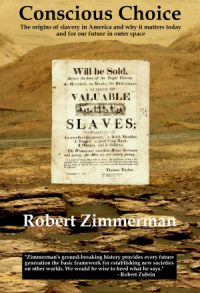 Now available in hardback and paperback as well as ebook!
From the press release: In this ground-breaking new history of early America, historian Robert Zimmerman not only exposes the lie behind The New York Times 1619 Project that falsely claims slavery is central to the history of the United States, he also provides profound lessons about the nature of human societies, lessons important for Americans today as well as for all future settlers on Mars and elsewhere in space.
Conscious Choice: The origins of slavery in America and why it matters today and for our future in outer space
, is a riveting page-turning story that documents how slavery slowly became pervasive in the southern British colonies of North America, colonies founded by a people and culture that not only did not allow slavery but in every way were hostile to the practice.
Conscious Choice
does more however. In telling the tragic history of the Virginia colony and the rise of slavery there, Zimmerman lays out the proper path for creating healthy societies in places like the Moon and Mars.
"Zimmerman's ground-breaking history provides every future generation the basic framework for establishing new societies on other worlds. We would be wise to heed what he says." —Robert Zubrin, founder of founder of the Mars Society.
All editions are available at Amazon, Barnes & Noble, and all book vendors, with the ebook priced at $5.99 before discount. All editions can also be purchased direct from the ebook publisher, ebookit, in which case you don't support the big tech companies and the author gets a bigger cut much sooner.
Autographed printed copies are also available at discount directly from me (hardback $24.95; paperback $14.95; Shipping cost for either: $5.00). Just email me at zimmerman @ nasw dot org.