In June, shortly after George Floyd met his tragic death while in the hands of arresting police officers, former vice president and Democratic Party presidential candidate Joe Biden was asked by a television reporter, "Do you believe there is systemic racism in law enforcement?" Biden responded as follows:
"Absolutely," Biden responded. "But it's not just in law enforcement, it's across the board. It's in housing, it's in education, and it's in everything we do. It's real. It's genuine. It's serious."
The absurdity of Biden's response is immeasurable. What he says here is a lie, a lie so absurd it is both astonishing and horrifying that anyone believes it. There has been no systematic racism in America for generations, and anyone who thinks so is either lying to themselves, or trying to spread lies to others.
The biggest irony is that those who apparently believe this lie the most, our younger college-aged generation, have grown up in a society where for decades blacks with talent and determination have had no problem achieving success in all sorts of business and fields, with some even becoming the dominate figure in their field. (Think of Barack Obama and Oprah Winfrey as only two examples.) They can also marry anyone they want, can go anywhere they want, and achieve anything they want. Nothing stops them but their own limitations.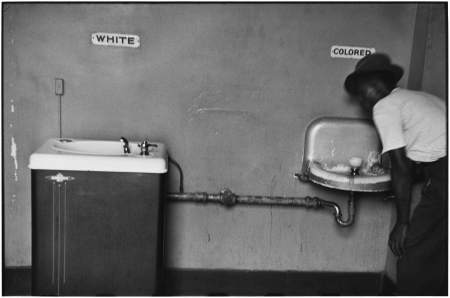 Hasn't existed for generations.
In fact, today's youth are probably two generations separated from any systematic racism at all, and they are even more separated from such things in that before World War II that systematic racism was mostly confined to the Old American South, the rebel states from the Civil War. In fact, the entire reason for the civil rights movement was to end the segregation and systematic racism in the Old South, a place that had been ruled by Democrats since before the Civil War and was home to racially-separate water fountains, racially-separate schools, racially-separate stores and restaurants, and racially-separated seating on buses.
I was raised in Brooklyn, New York, and in the 1950s and 1960s I saw none of that. Blacks could go anywhere and do anything, with little fear. My parents' generation would have been appalled and furious had they seen anyone trying to prevent a black person from eating in any restaurant or using a water fountain. They had fought the Germans in Europe expressly to stop such bigotry, and were quite willing to fight again to stop it from coming into their own communities.
It was for these reasons that, after World War II, there was a vast migration of southern blacks to northern cities. They had found in the north a place that did not oppress them, as they were oppressed in the racist Democratically-controlled south.
With the complete success of the 1960s civil rights movement, blacks have had the freedom to go anywhere, do anything, and achieve anything they want, and even do it in the Old South. America has had equal opportunity for everyone, including blacks, for nigh on fifty years.
Thus, for today's youth to scream "systematic racism" is absurd. They haven't the faintest idea what they are screaming about.
It is even more absurd for modern black sports figures to complain about "systematic racism." These pampered black millionaires are amply rewarded for their talents, because they do a better job at their work, better than anyone, whether white or black, and that is what their employers and fans want. No one cares one iota for their skin color.
In fact, the success of blacks in sports and entertainment, but less so elsewhere, is really at the heart of the lie of "systematic racism." What the Black Lives Matter bigots, including Joe Biden, really want when they scream "systematic racism!" isn't equal opportunity, but guaranteed power and success for blacks, in all fields, regardless of talent or ability.
There are many fields where blacks in general have not excelled. This failure however is not because blacks have been blocked because of their race, because using race to deny someone a job has been both illegal and culturally prohibited for decades, and no one does it. And the proof of this is that if you look, you will find successful blacks in all fields, just not as many in some places as others.
No, the failures of blacks in general in certain fields is simply the normal unequal distributions that always will occur between races and sexes and ethnic groups when it comes to different careers and areas of interest. It is impossible and idiotic to expect a precise and equal distribution of success in all fields, matching the population distribution. To demand it means you want to determine employment based on race, the very injustice that the entire civil rights movement worked to eliminate.
The screams of "systematic racism!" today are also a desire to hide the tragic political failures of the black community and its Democratic Party leaders. One of the reasons blacks do not excel in many fields is that the black community has, since the 1960s, put its entire faith in government aid and Democratic Party promises. Their reward? Welfare and corrupt government intervention in the big cities of the north, resulting in the destruction of the family and the spread of drugs and crime throughout all these black communities.
Thus, the protests about police brutality really center on these failures, not on racism. In practically every case where the police have killed or injured a black in the past five years, it has been because the black was a criminal either on drugs or defying police orders violently. These have not been people whom black communities should idolize. They are the ones those communities should be condemning and rejecting.
That blacks have been saddled with the tragedy of slavery and the harm it caused to generations is undeniable. However, the solution to that problem is not to re-institute racist policies that favor blacks. That would only make matters worse.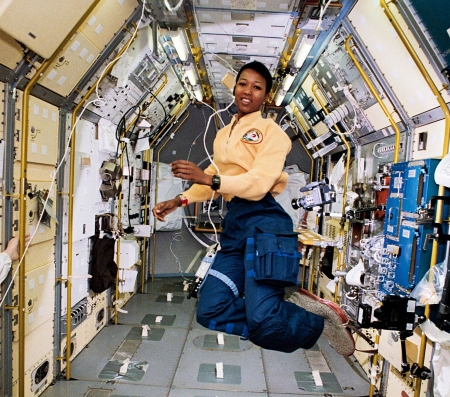 Astronaut Mae Jemison on the space shuttle in 1992.
No, what each person must do, whether they are black or white, is focus on their own abilities, and strive to make their own possibilities as a human being rise as far as is possible.
We are all individuals. American society has always honored individual achievement, and now for generations has honored that achievement from all peoples, regardless of race or ethnicity. It doesn't matter what skin color you have, if you work hard and focus on what you do best. Do that, and the world will be your oyster.
Which brings us back to Joe Biden and the big lie of "systematic racism" that he and other Democratic Party politicians, including their allies in the Marxist BLM movement, have been spreading. What they are really doing is spreading racial hate and fear, while also working to cancel the achievements of the entire civil rights movement. Since the 1960s the rule in America has been: No discrimination due to race or ethnicity. These corrupt Democrats, now led by Biden, wish to return to the old days in the Old South, but instead of discriminating against blacks they want to discriminate for them, which in turn will make everyone else a second class citizen.
Come November 3rd Americans of all colors have to vote against this bigotry. They have to tell these new bigoted Democrats we do not want the future you are offering us, a future where people will be judged not by the content of their character but by the color of their skin.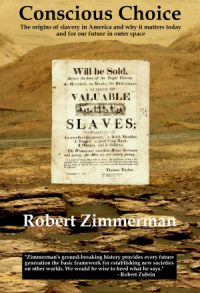 Now available in hardback and paperback as well as ebook!
From the press release: In this ground-breaking new history of early America, historian Robert Zimmerman not only exposes the lie behind The New York Times 1619 Project that falsely claims slavery is central to the history of the United States, he also provides profound lessons about the nature of human societies, lessons important for Americans today as well as for all future settlers on Mars and elsewhere in space.
Conscious Choice: The origins of slavery in America and why it matters today and for our future in outer space
, is a riveting page-turning story that documents how slavery slowly became pervasive in the southern British colonies of North America, colonies founded by a people and culture that not only did not allow slavery but in every way were hostile to the practice.
Conscious Choice
does more however. In telling the tragic history of the Virginia colony and the rise of slavery there, Zimmerman lays out the proper path for creating healthy societies in places like the Moon and Mars.
"Zimmerman's ground-breaking history provides every future generation the basic framework for establishing new societies on other worlds. We would be wise to heed what he says." —Robert Zubrin, founder of founder of the Mars Society.
All editions are available at Amazon, Barnes & Noble, and all book vendors, with the ebook priced at $5.99 before discount. The ebook can also be purchased direct from my ebook publisher, ebookit, in which case you don't support the big tech companies and I get a bigger cut much sooner.
Autographed printed copies are also available at discount directly from me (hardback $24.95; paperback $14.95; Shipping cost for either: $5.00). Just email me at zimmerman @ nasw dot org.