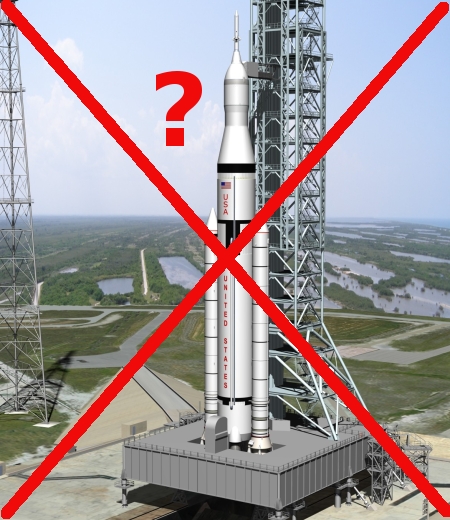 In the past week there have been a slew of stories that all suggest strongly that the political support for the NASA-built rocket dubbed the Space Launch System (SLS) is fading very quickly, and might soon be weak enough that the political class in Washington might finally have the courage to cancel it.
First, a group of eleven Democratic Party senators on February 3rd wrote a letter [pdf] to the Biden administration, begging it to continue the manned lunar program dubbed Artemis that the Trump administration had instigated.
What made that letter remarkable was that it made no mention of SLS at all. Instead, its focus was to encourage Biden to not abandon construction of the Artemis manned lunar lander, what NASA dubs the Human Landing System (HLS).
Until that moment it had always been assumed in political circles that if you continue Artemis it means you continue SLS. Artemis itself was conceived as a program to give that heavy-lift rocket a purpose. SLS had been mandated by Congress a decade ago when Obama cancelled Bush's Ares heavy-lift rocket. The problem was that Congress had not proposed any mission for SLS, and thus Artemis was born to give it that mission.
That these Democrats were pushing Artemis but not SLS was politically significant. It meant that they no longer considered Artemis synonymous with SLS. The former could exist without the latter.

Next, only two days later, we had the announcement by the Biden administration that it now endorses the Artemis program, and fully intends to continue its effort to send Americans back to the Moon. Once again, the administration's statement made no mention of SLS. It committed the country to a program to return to the Moon, but left vague how this would be done. Since the Trump administration had made an effort in the preceding three years to award many contracts to many different private companies to build much of Artemis, without SLS, the implication was that the Biden administration was going to continue that policy.
Over the next week we had strong confirmation of that implication with the announcements of three different commercial contracts. First, on February 5th NASA awarded the new startup Firefly a contract to build an unmanned lunar lander. While this award had nothing to do with SLS itself, as the mission did not require it and never would have, it proved that the Biden administration was going to continue the Trump policy of letting private enterprise build the components of its lunar program, rather than NASA.
Second, and far more significant, on February 9th NASA awarded SpaceX the contract to use its Falcon Heavy rocket to launch the first two modules of the Lunar Gateway space station. Gateway is a core element of Artemis, conceived as a lunar way station for many future interplanetary missions. It was also initially conceived as a payload for SLS to deliver, part of the effort by the Washington political community in Congress, the White House, and NASA to give SLS a reason for existing. Now NASA was suddenly making it clear that it considers SLS irrelevant to Gateway because it can be replaced by commercial carriers that are already operational and cost much less to use.
Third, this switch from SLS was underlined when the very next day NASA announced that its Jupiter unmanned probe Europa Clipper was definitely going to fly on a commercial rocket, not SLS. For years Congress had mandated by law that SLS be Clipper's rocket. In January however the new NASA budget had finally released NASA of that mandate, and the agency wasted no time in exercising its option to dump SLS. The likely replacement will once again be SpaceX's Falcon Heavy, but NASA is reserving that decision for a year.
All these stories were then topped off with the announcement on February 9th by Senator Richard Shelby (R-Alabama) that he would not seek re-election in 2022. Shelby, head of the Senate appropriations committee under Republican rule and now the ranking member under Democratic rule, had been for years SLS's most important supporter, since much of it was being built in his state. No NASA decision on SLS could happen without his okay, and no negative decision on SLS was possible with him in power.
Now he was telling everyone he was leaving, which means his ability to stymie any effort to cancel SLS was now gone.
All in all, these events strongly suggest that the political winds are now blowing against SLS.
Sometime near the end of February Boeing and NASA will attempt the second static fire test of SLS's core stage. The first had aborted only one minute into a planned eight minute test. If this second test fails, it will likely require a third test, which in turn will guarantee that the first unmanned flight of SLS, now set for late this year, will slip into '22. That launch will then be about four years behind schedule, and would have cost the taxpayer about $28 billion.
Twenty-eight billion dollars for a single unmanned launch after a decade of development: Seems a pretty bad deal if you ask me.
For SLS these facts are damning. Even if that static fire test later this month succeeds, the cost and cumbersomeness of SLS make it a poor long term choice for any future space effort. Those numbers become even less favorable when compared to the low cost options now offered by the commercial market.
What really matters however are not these simple, common-sense facts but what the political class in DC wants to do. For a decade they have wanted SLS because of the pork it funneled to their states and districts. It was irrelevant to these corrupt politicians that from almost the beginning it was obvious that SLS was unworkable and expensive and unlikely to ever get us anywhere in space.
Now it appears they are finally beginning to see the private sector as a viable alternative to SLS for providing them that pork, and it appears they are getting ready to make the switch.
When that decision comes the effect will be Earth-shattering. While NASA will still lay out the long term plans for America's space effort, it will no longer be in charge. Private companies will be providing the technology, the resources, and the products that will make NASA's program possible. And those same private companies will own those products, not NASA or the government. They will be able to offer them to others to buy, so that not only will free Americans make money from space exploration, free Americans will be able to go themselves, if they wish it and are willing and able to pay the price.
The exploration of space will finally be truly free, in the philosophical meaning of the word. Any future you can imagine under those circumstances will likely underestimate the possibilities.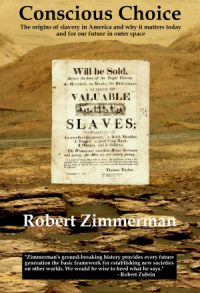 Now available in hardback and paperback as well as ebook!
From the press release: In this ground-breaking new history of early America, historian Robert Zimmerman not only exposes the lie behind The New York Times 1619 Project that falsely claims slavery is central to the history of the United States, he also provides profound lessons about the nature of human societies, lessons important for Americans today as well as for all future settlers on Mars and elsewhere in space.
Conscious Choice: The origins of slavery in America and why it matters today and for our future in outer space
, is a riveting page-turning story that documents how slavery slowly became pervasive in the southern British colonies of North America, colonies founded by a people and culture that not only did not allow slavery but in every way were hostile to the practice.
Conscious Choice
does more however. In telling the tragic history of the Virginia colony and the rise of slavery there, Zimmerman lays out the proper path for creating healthy societies in places like the Moon and Mars.
"Zimmerman's ground-breaking history provides every future generation the basic framework for establishing new societies on other worlds. We would be wise to heed what he says." —Robert Zubrin, founder of founder of the Mars Society.
All editions are available at Amazon, Barnes & Noble, and all book vendors, with the ebook priced at $5.99 before discount. The ebook can also be purchased direct from my ebook publisher, ebookit, in which case you don't support the big tech companies and I get a bigger cut much sooner.
Autographed printed copies are also available at discount directly from me (hardback $24.95; paperback $14.95; Shipping cost for either: $5.00). Just email me at zimmerman @ nasw dot org.