This week there was a bit of a political kerfuffle during House hearings over a House report [pdf] that stated that the cost per pound for launching cargo to ISS was much cheaper using the shuttle versus the new commercial companies under the COTS program. This is shown in this table from page 5 of the report: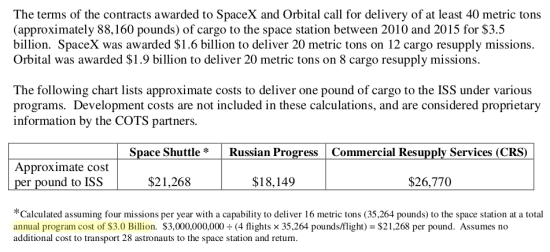 The problem is that these numbers are a complete lie, as they are based on a yearly cost of $3 billion to operate the shuttle (highlighted in yellow). I have been following NASA budget battles now for decades, and the shuttle operational budget has never, ever been that low. Routinely, NASA figures the cost to operate the shuttle per year, regardless of number of flights, to be about $4 billion per year.

Thus, the numbers announced by this House report are garbage. They have intentionally underestimated the launch cost for the shuttle by 25% in order to make the COTS program look overpriced. If you instead use the more reasonable $4 billion per year number for shuttle operations (which in itself is still a lowball estimate) you get a cost per pound for the shuttle of $28,357, which is actually larger than the estimated cost of $26,770 per pound for COTS.
Nor does any of this take into account the long term likelihood that companies like SpaceX will eventually be able to lower their costs further, once research and development is complete, the engineering becomes less experimental and more robust, and they start to take advantage of economies of scale by selling more launches to more customers. With these factors in place I have great confidence they will then be able to beat the Russians in price.
The per pound cost for the shuttle, however, will never go down, under any conditions.
I suspect this House report was fudged in this manner as a political move to bolster support for building the program-formerly-called-Constellation, a government-built rocket and capsule that helps bring jobs to Congressional districts. It is for this reason I haven't paid much attention to it. However, one of my regular readers emailed me to complain about my lack of comment on this subject (Hi Kelly!). Also, I will be discussing this on the Space Show on Monday, Thus I decided this subject deserved comment.
The report does note some legitimate areas of concern in connection with NASA's effort to transfer its launch capabilities from a government-run system (the shuttle) to private suppliers. At the top of those concerns is the unproven nature of these companies. Without question the Obama administration is taking a big gamble by taking this route.
Moreover, despite the fact that I have been a very big cheerleader for SpaceX over the past five years, I do wonder why SpaceX has not launched any of additional commercial satellites on its Falcon 1 rocket since its second launch (the first successful commercial launch) in July 2009. Back in October 2008 after Falcon 1's first successful test flight, Elon Musk wrote that he expected to follow up this success with many more flights. "Flight 6 will probably be a Defense Department satellite in the summer [of 2009] and Flight 7 a commercial satellite mission in the fall [of 2009]. In 2010, I expect the launch cadence for Falcon 1 to step up to a mission every two to three months."
None of these launches ever occurred. And the launch manifest on the SpaceX webpage only says that the multiple Falcon 1e launches of the Orbcomm constellation of 12 satellites will supposedly begin sometime this year. When, however, remains unclear.
It would be help ease the doubts of many people, including myself, if SpaceX started to fly these rockets, as promised, on a regular commercial basis.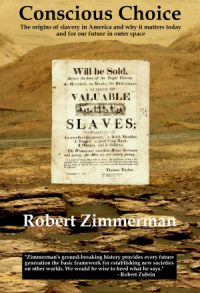 Now available in hardback and paperback as well as ebook!
From the press release: In this ground-breaking new history of early America, historian Robert Zimmerman not only exposes the lie behind The New York Times 1619 Project that falsely claims slavery is central to the history of the United States, he also provides profound lessons about the nature of human societies, lessons important for Americans today as well as for all future settlers on Mars and elsewhere in space.
Conscious Choice: The origins of slavery in America and why it matters today and for our future in outer space
, is a riveting page-turning story that documents how slavery slowly became pervasive in the southern British colonies of North America, colonies founded by a people and culture that not only did not allow slavery but in every way were hostile to the practice.
Conscious Choice
does more however. In telling the tragic history of the Virginia colony and the rise of slavery there, Zimmerman lays out the proper path for creating healthy societies in places like the Moon and Mars.
"Zimmerman's ground-breaking history provides every future generation the basic framework for establishing new societies on other worlds. We would be wise to heed what he says." —Robert Zubrin, founder of founder of the Mars Society.
All editions are available at Amazon, Barnes & Noble, and all book vendors, with the ebook priced at $5.99 before discount. The ebook can also be purchased direct from my ebook publisher, ebookit, in which case you don't support the big tech companies and I get a bigger cut much sooner.
Autographed printed copies are also available at discount directly from me (hardback $24.95; paperback $14.95; Shipping cost for either: $5.00). Just email me at zimmerman @ nasw dot org.