"A little child shall lead them," painting by James L. Johnson.
If there is any hopeful sign coming out of the last two years of Wuhan panic, it might be the long term reaction of the young to how the political community has treated them.
Let me explain. For decades it has been assumed, quite rightly, that the young would automatically gravitate to the Democratic Party. That party's tendency to favor social programs based on helping everyone fit well with the young's lack of experience, their natural instinct to think emotionally, and their personal lives so tightly bound to their school's social community. The young lived in a type of emotional and socialist existence, so it was natural for them to instinctively favor the socialist ideas based on feel-good emotions put forth routinely by the Democratic Party.
Polls and voting patterns have consistently for decades proven this assumption to be true. For example, small college towns found the politics of their communities suddenly shift significantly leftward when the voting age was lowered from 21 to 18. The large but temporary college population in their towns, mostly leaning left, suddenly swamped out the more moderate voting patterns of the smaller general population.
This assumption has also been illustrated by many get-out-the-vote campaigns put forth by the Democratic Party. Rather than try to get voters of all stripes to vote, the Democrats would routinely focus these campaigns inside college campuses, a tactic that for decades has repeatedly brought them great success.
Above all — and most important — the Democratic Party never put forth policy proposals that would offend the young. Instead, the party would aim its policies at businesses, which the young did not own and would thus not be impacted by any negative consequences of any new leftist laws.
The Democrats love affair with "green" policies is a perfect example. A campaign to save the planet from global warming is something that sounds so good to the emotionally-driven young. For children under eighteen environmental issues would especially resonant. They would naturally like the high-minded idealistic sounding goals of environmentalism while feeling none of the negative effects of its sometimes draconian regulation. When these youngsters reached voting age they would thus instinctively pick the Democratic Party as their home, since it had portrayed itself as the true representative of their idealistic but very naive beliefs.
Environmentalism is just one of a whole slate of policy positions taken by the Democrats, from poverty to police abuse to civil rights, that have been designed to please the young without impacting them negatively in any way. The result has been a young population that routinely favored in great numbers the Democratic Party.
The Wuhan panic however has changed this situation radically. For what might be the first time ever, the Democratic Party for the past two years has imposed policies that have directly impacted the young in the most odious ways. It has closed schools, shut down sports and all after-school activities, prohibited children from gathering with their friends, imprisoned and isolated them in their homes, and forced them to wear stupid masks in the most absurd situations.
For the first time, the Democratic Party has taken actions that has broken its long-held ties to this large future voting block. Young people are suddenly experiencing the same types of painful oppression from leftist policies that businesses and land owners have experienced for decades. And they apparently don't like it.
Don't believe me? Below are some nice recent examples of a coming revolt against the Democratic Party's leftist polices, all coming from very young people. All suggest that in the next decade the nation's voting patterns are gong to change drastically, and those changes will not be good for the modern and very radical Marxist Democratic Party.
First we have this very intelligent and sarcastic take down of a school board by a young high school student. Watch it. You will be impressed.
In the past I would have expected a student like her to give speeches campaigning for global warming regulations, as advocated by her leftist teachers. Now she sees these teachers and their political superiors as her enemies, and is thus hostile to everything they propose.
Nor is this girl a rare example. Watch this young high school student rip apart a Virginia school board for its refusal to end mask mandates.
Her speech apparently had an effect. After the comment period and her speech, the board finally voted 4-1 to end mask mandates. Will she now consider that school board her ally? I doubt it. She has learned that they are not really on her side, and thus must be treated as enemies at all times and questioned hard and ruthlessly.
These speeches at school boards have become somewhat ubiquitous in the past two years. Do a search on YouTube, Rumble, or Twitter, and you will find numerous examples. Many young people, some mere children, have courageously spoken out opposing the insane COVID policies of schools and local governments, most of which are controlled by Democrats in urban areas.
Yet, do these speeches indicate a general trend? Other stories strongly suggest they do. For example, in Colorado two teen-age high school students (aged 15 and 16) did their own undercover journalism proving that school officials were eagerly giving COVID shots illegally to underage children, without their parents' knowledge.
In two separate videos that were taken a short time apart by the teenagers – one who's 15 and the other who's 16 – employees of the mobile clinic can be seen signing them in and clearing them to get the jab – even though they showed up alone, which is something the school had assured parents would not happen under any circumstances.

…The employees of the clinic were so willing to jab these children full of experimental drugs that one of the underage students was able to slide past the staff's initial pushback about not having a parent simply by claiming he was 18. The other underage student was able to secure his vaccine by providing a fake consent form that the employees happily accepted.

Both did not have their IDs checked, and both used fake names. It was that easy. [emphasis mine]
The smart phone videos from both students are at the link. Both suggest strongly that young students, below voting age, are no longer automatically the allies of government officials. Both suggest that young people are no longer accepting without question the policies being suggested by such officials.
Still, some might say these few examples I have cited are an exception to the rule. Another recent video from a school in the very liberal state of Washington suggests instead that these students are the rule.
I can't embed the Twitter video, so go to the link to watch. A teacher is taking two students to his superior because they have refused to wear their masks. One student is filming the situation, and the teacher demands he stop filming. When he refuses, the teacher actually physically attacks him, trying but failing to get the phone from him. Meanwhile, they pass numerous other students who are also refusing to wear masks. It is clear that the teacher has been facing a wholesale rebellion at the school, and has become somewhat unhinged because of it.
Finally, the repeated examples of students organizing walk outs in protest of COVID policies — in Washington, in Texas, in Wisconsin for example — suggest that not only do they now question their leftist lords, they are using social media to organize against them.
All of these examples are of course anecdotal, and could be viewed as merely isolated outliers that do not signal a trend. The fact that similar student walk-outs occurred in New York and Chicago, protesting for more COVID restrictions, indicates that a sizable community of young people is still in favor of government control.
The trend I think however is in favor of freedom. In the past two years children have been treated as chattel by school officials — most of whom are routinely leftist or Democrats — at the elementary, high school, and college levels. That treatment can only breed hostility against those officials.
Thus, I expect the next few generations of voters to see the Democratic Party as their enemy, not their savior who will bring about a paradise of utopia by imposing its socialist and environmental policies.
In less than five years, the giant cohort of young people who have been masked, imprisoned, isolated, and treated like cattle by politicians and school boards in Democratic Party strongholds are going to reach voting age. And unlike the voting patterns assumed for the past century, it is very possible they will be voting against that party, in droves.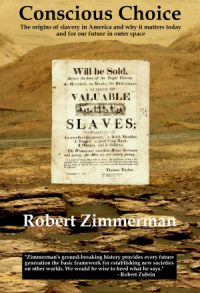 Now available in hardback and paperback as well as ebook!
From the press release: In this ground-breaking new history of early America, historian Robert Zimmerman not only exposes the lie behind The New York Times 1619 Project that falsely claims slavery is central to the history of the United States, he also provides profound lessons about the nature of human societies, lessons important for Americans today as well as for all future settlers on Mars and elsewhere in space.
Conscious Choice: The origins of slavery in America and why it matters today and for our future in outer space
, is a riveting page-turning story that documents how slavery slowly became pervasive in the southern British colonies of North America, colonies founded by a people and culture that not only did not allow slavery but in every way were hostile to the practice.
Conscious Choice
does more however. In telling the tragic history of the Virginia colony and the rise of slavery there, Zimmerman lays out the proper path for creating healthy societies in places like the Moon and Mars.
"Zimmerman's ground-breaking history provides every future generation the basic framework for establishing new societies on other worlds. We would be wise to heed what he says." —Robert Zubrin, founder of founder of the Mars Society.
All editions are available at Amazon, Barnes & Noble, and all book vendors, with the ebook priced at $5.99 before discount. The ebook can also be purchased direct from my ebook publisher, ebookit, in which case you don't support the big tech companies and I get a bigger cut much sooner.
Autographed printed copies are also available at discount directly from me (hardback $24.95; paperback $14.95; Shipping cost for either: $5.00). Just email me at zimmerman @ nasw dot org.